Covid-19: Health chiefs say NI vaccine programme on target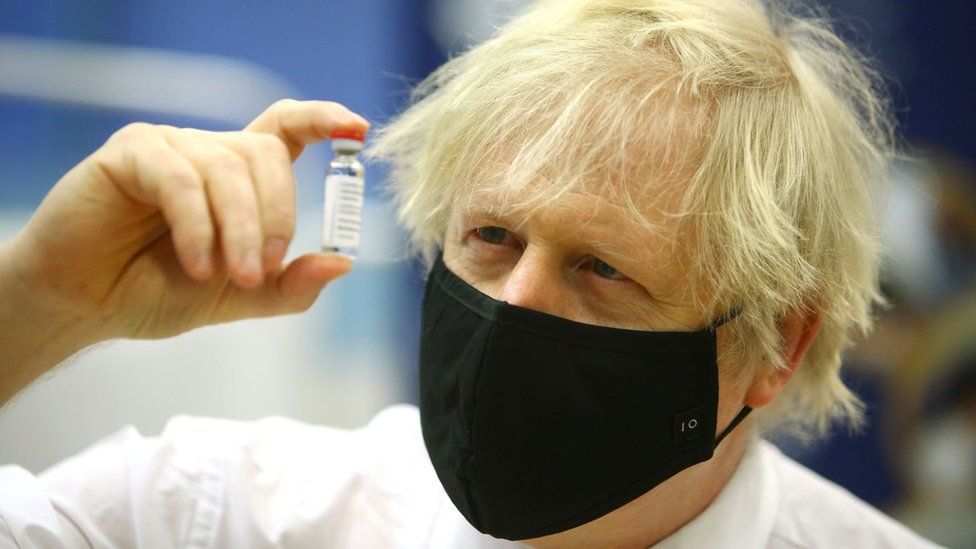 Northern Ireland's Covid-19 vaccine programme is "ahead of schedule," health officials have said, after Boris Johnson announced new UK-wide targets.
The previous target was September for first dose completion, but the PM has now said it should "go further and faster" to help ease lockdown rules.
Stormont's Department of Health said its plans were dependent on supply.
Separately, the department confirmed four more Covid-related deaths in Northern Ireland on Sunday, bringing its overall death toll, based on a positive test for the disease, to 2,033.
Sunday's figures also showed that a further 263 people have tested positive for the virus.
Meanwhile in the Republic of Ireland, one further death with Covid-19 and 679 new cases were confirmed. It brings the Republic's death toll to 4,136.
Under the accelerated vaccination target announced by Prime Minister Boris Johnson, all UK adults aged 50 and over would be offered their first vaccination by 15 April.
In addition, all UK adults at higher risk due to underlying health conditions would also be given the option of receiving a first jab by the same date.
Mr Johnson said moving the vaccine targets forward would protect vulnerable people and help to ease lockdown across the country.
The UK's devolved nations each have the power to set their own coronavirus regulations and have different lockdown rules and vaccination programmes.
Northern Ireland's programme started well and by Friday of last week, just over 23% of the local population had received their first dose of vaccine.
However, that figure was slightly behind other parts of the UK, with Wales leading at 26.8%; Scotland second at 25.7%; and England third at 25.4%.
In a statement to BBC News NI on Sunday, Stormont's Department of Health: "The vaccination programme in Northern Ireland is making good progress and is ahead of schedule.
"As of 18th February, a total of 466,524 vaccines had been delivered, with 436,143 people receiving their first dose. These include many of the most vulnerable in our community."
It added: "Plans are subject to the availability of vaccine supplies from manufacturers - and may therefore be subject to change due to circumstances beyond our control.
"To date the delivery schedule has in large part proceeded according to plan."
The programme could also be about to speed up from this week onwards.
On Friday, Stormont's Health Minister Robin Swann announced that all carers over the age of 18 can now book a Covid-19 vaccine at a vaccination centre.
Previously only carers over 50 were eligible, but Mr Swann said he had decided to remove the age criteria and "open this up to all carers".
Mr Johnson is due to meet senior ministers on Sunday about proposals to ease lockdown in England, before he sets out a full "road map" on Monday.