Brexit: Further trade rules relaxed between GB and NI
By John Campbell
BBC News NI Economics & Business Editor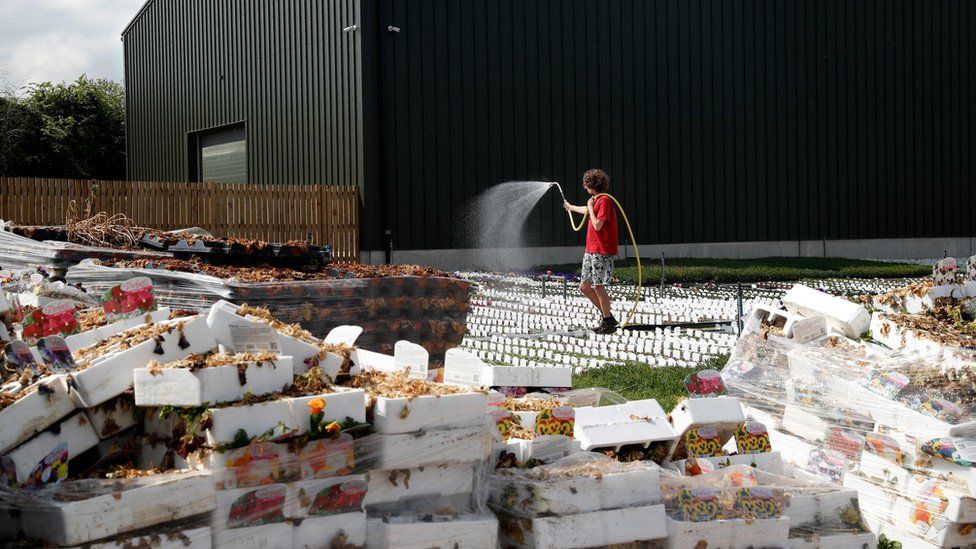 The UK government has announced unilateral moves to ease the trade in plants from GB to NI.
Northern Ireland has remained a part of the EU's single market for goods, which includes following EU plant health rules.
This has meant soil from other parts of the UK cannot legally enter NI, causing difficulties for garden centres.
The government is now temporarily relaxing that rule.
It means that bulbs or vegetables that have been grown in soil can be sent from GB to NI with soil attached.
Plants grown in soil can also be moved with soil attached, provided they are from an authorised business meeting GB plant passporting requirements for soil.
Traders can move used agricultural machinery without the need for a plant health certificate, providing they have been washed to remove excessive soil and plant debris.
This means machinery can still be moved if small amounts of soil remain.
The government said: "These temporary, practical arrangements recognise the need to ensure biosecurity on the island of Ireland is not compromised whilst addressing barriers which stop goods moving into Northern Ireland."
EU Commission spokesperson Eric Mamer said the UK still remained bound to take "practical steps" relating to the implementation of the NI Protocol.
"If people are talking about us trying to find agreement on prolonging the grace periods, which must be a joint decision in the context of the joint committee, then the UK also has to do its homework on those practical steps that it has to implement.
"It should have implemented some of them already some time ago.
"We are looking to the UK to respect and implement those commitments."
DUP Agriculture Minister Gordon Lyons acknowledged the announcements to extend grace periods. He said he was sure it was "a welcome breathing space for local businesses".
"However, I will continue to press both the UK and EU for permanent solutions that ensure GB's agri-food business can trade unfettered with NI," he added.
'Ministers have a responsibility'
Shadow NI Secretary Louise Haigh said that the action did not take Northern Ireland "a single step closer to any lasting solutions that ease the red tape the prime minister's deal created".
"Ministers have a responsibility to secure lasting solutions that benefit Northern Ireland, and ensure stability," she added.
"Without trust that will be impossible, and that trust is being undermined."
Sinn Féin MP Chris Hazzard said the UK government had "gone off on a further solo run".
"This is another reckless and unnecessary move by the British government and, instead of providing the certainty required, only adds to the confusion," he said.