Coronavirus: St Patrick's Day celebrations move online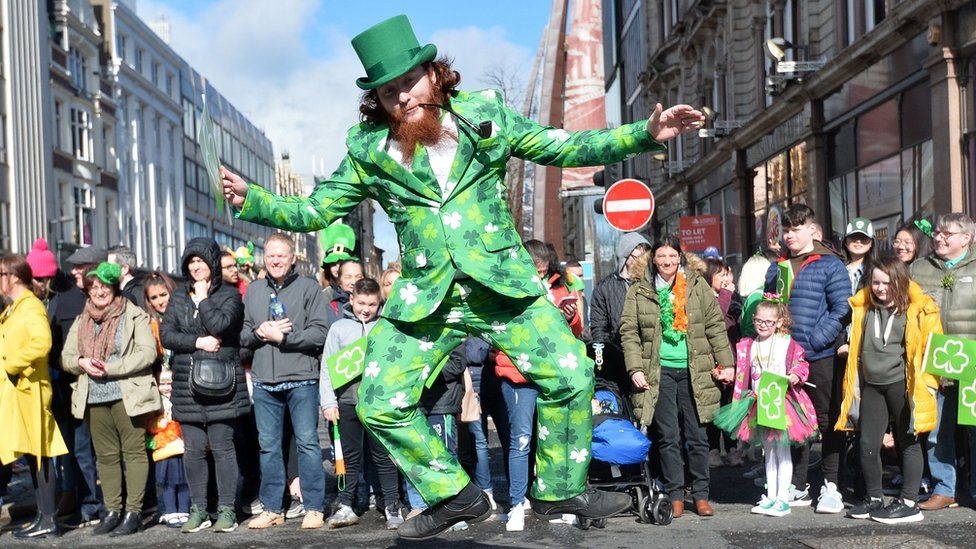 St Patrick's Day celebrations will once again be different this year due to the coronavirus pandemic.
Traditional parades in Belfast and Dublin have been cancelled for the second year in a row, with many events across the island again moving online.
Police have warned that anyone breaking Covid-19 regulations in NI will face a "robust" response.
But while large gatherings are mostly ruled out, attempts have been made to celebrate in style around the world.
Since 2010, landmarks around the world have gone green in honour of St Patrick and this year, a record number of places are taking part.
Some 670 sites in 66 countries will take part in Tourism Ireland's Global Greenings initiative.
The quirkiest additions to this year's list include an abandoned sauna in Finland and a Smurf statue in Brussels.
Here's how other places in Northern Ireland and further afield are planning to mark the occasion:
Belfast has an array of virtual events for people to enjoy from the comfort of their own homes throughout the month of March.
An online disco, Irish language festivals and a virtual guided tour of the city's street art are just some of the events on offer.
Several live music events will also be streamed throughout St Patrick's Day, showcasing the city's talent.
St Joseph's Church in Sailortown is one such venue celebrating with an eight-hour live-streamed event.
The St Patrick's Centre in Downpatrick, County Down is celebrating with a number of online events for St Patrick's Day and also to mark its 20 year anniversary.
A new show about St Patrick, a children's virtual art competition and a series of podcasts from former BBC politics correspondent Martina Purdy and ex-barrister Elaine Kelly, who are pilgrim guides on the new St Patrick's Way, are just some of the events on offer.
"I was probably less aggressive than I was previously with some politicians," she said.
It is claimed that St Patrick is buried outside Downpatrick Cathedral. A large granite stone marks the spot, placed there in the early 20th century.
He thanked event organisers for a programme that "strikes a balance between giving the public something to look forward to and celebrate, while also keeping everyone safe".
Event organiser Jacqueline Whoriskey said: "While we will not be holding any public events or gatherings, we have focused in on how we can creatively bring the spring spirit to our streets with artwork and installations, with fairy dwellings and artistic sculptures that can be enjoyed by everyone when out getting some fresh air and exercise".
Armagh City, Banbridge & Craigavon
All events are free of charge, however, some do require registration in advance.
Police in Northern Ireland have appealed for anyone celebrating St Patrick's Day to ensure that they adhere to all public health regulations.
Hundreds of extra PSNI officers are set to be deployed across Northern Ireland on Wednesday, through to the early hours of Thursday.
The substantial policing operation will see officers patrolling beauty spots and the Holyland area of south Belfast.
Police said that a number of gatherings have already been broken up by officers in south Belfast ahead of St Patrick's Day.
Assistant Chief Constable Alan Todd said that people know the rules and those breaking them could face fines.
Saint Patrick lived in the 5th Century AD and is understood to have played a major part in converting the Irish to Christianity.
While St Patrick really existed, and some of his writings survive, his value does not really come from historical details but from the inspiration of a man who returned to the country where he had been a child slave, in order to bring the message of Christ.
He is traditionally associated with the shamrock plant, which he used to explain the Christian doctrine of the Holy Trinity.
Organisers have partnered with Irish national broadcaster RTÉ for the virtual parade.
The celebrations will be broadcast around the world to a potential audience of 80 million people, organisers said.
'Family, friendship and affection'
The Queen has extended her best wishes to the people of Ireland for St Patrick's Day, 10 years after she visited.
In her message to Irish President Michael D Higgins, she said: "We share ties of family, friendship and affection, the foundation of our partnership that remains as important today as ten years ago."
President Michael D Higgins said that the British monarch's visit in 2011 was "such a moment of healing" and expressed his appreciation for her "good wishes on our national day".
Traditionally, a bowl of shamrock is presented to the US president every year on 17 March by the visiting taoiseach (Irish PM).
That long-standing tradition will continue this year, albeit virtually. The bowl will be placed on President Joe Biden's desk during his meeting with Taoiseach Micheál Martin on Wednesday.
The two leaders will discuss, among other things, combating Covid-19 and supporting political and economic stability in Northern Ireland, according to the White House.
Mr Biden, who has strong links to Mayo and Carlingford, will no doubt want to celebrate his Irish roots.
Before a visit to the land of his forefathers in 2016, the then US vice-president said: "Being Irish, without fear of contradiction, has shaped my entire life."
In Chicago, officials had cancelled the annual colouring of the Chicago River event but the city's mayor was determined to continue with the tradition, minus the fanfare.
Chicago's mayor Lori Lightfoot tweeted: "Happy St. Patrick's Day Weekend, Chicago! Although we didn't gather, we were able to honor long-standing tradition by dyeing the Chicago River green, thanks to the Chicago Journeymen Plumbers."
Happy St. Patrick's Day Weekend, Chicago! ☘️
 
Although we didn't gather, we were able to honor long-standing tradition by dyeing the Chicago River green, thanks to the Chicago Journeymen Plumbers. If you're heading out today, make sure to mask up and watch your distance. pic.twitter.com/UfU2GI74nC

— Mayor Lori Lightfoot (@chicagosmayor) March 13, 2021