Seaview Primary: Catholic school to transform to integrated in NI first
By Robbie Meredith
BBC News NI Education Correspondent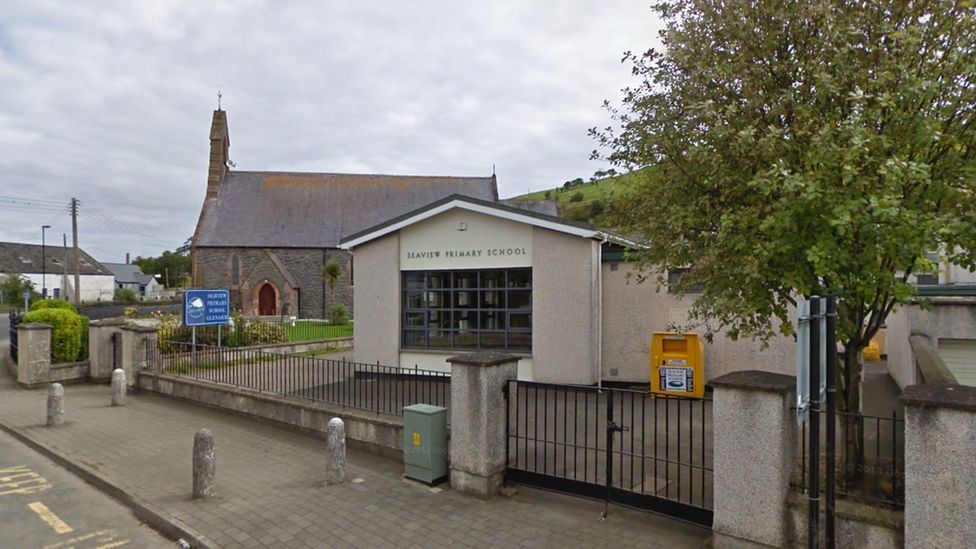 A primary school in Glenarm in County Antrim is to become the first Catholic school in Northern Ireland to transform to an integrated school.
The Education Minister Peter Weir has approved Seaview Primary's plans to make the change.
It will formally become integrated from 1 September 2021.
The decision also means that a proposal from the Council for Catholic Maintained Schools (CCMS) to close the school has been rejected.
The school's principal Barry Corr said he was "delighted" with Mr Weir's decision.
Seaview Primary is a small rural school in the coastal village of Glenarm.
It had been earmarked for closure by CCMS due to concerns over the school's sustainability.
However, existing schools can change to become formally integrated as part of a process that includes a ballot of parents to find out if a majority favours integration.
The legal process by which a school changes to become integrated is called transformation.
But the Education Authority (EA) did not back the plans as there is already an integrated primary school in nearby Carnlough.
However, the decision document published by the Department of Education (DE) said that pupil numbers in Seaview Primary had risen from 42 to 80 in the two years since plans for it to become an integrated school were first revealed.
The number of Protestant pupils at the school had also increased from 7 in 2018/19 to 24 in 2020/21.
In 2020/21 there are 24 Protestant pupils at the school, 34 Catholic pupils and 22 who identify as 'other'.
'Different backgrounds together'
DE's statutory duty to "to encourage and facilitate the development of integrated education" was also cited as a reason for Mr Weir's decision to allow the school to transform to become integrated.
In the New Decade New Approach (NDNA) deal the executive also committed to "support educating children and young people from different backgrounds together in the classroom".
As a result Mr Weir approved Seaview's proposal to become an integrated school from the 1 September and therefore remain open.
The school's principal Barry Corr said the decision was down to the work of pupils, parents, staff and the local community.
"We educate pupils from all faiths and those that do not identify with any," he said.
"Pupils grow up and learn about what makes them the same and what makes them different in a caring, loving and respectful way.
"We look forward to the exciting challenges from choosing a new school name and uniform to establishing a new school development plan."