Brexit: Cross-border medics and nurses must register in UK and Ireland
By Louise Cullen
BBC News NI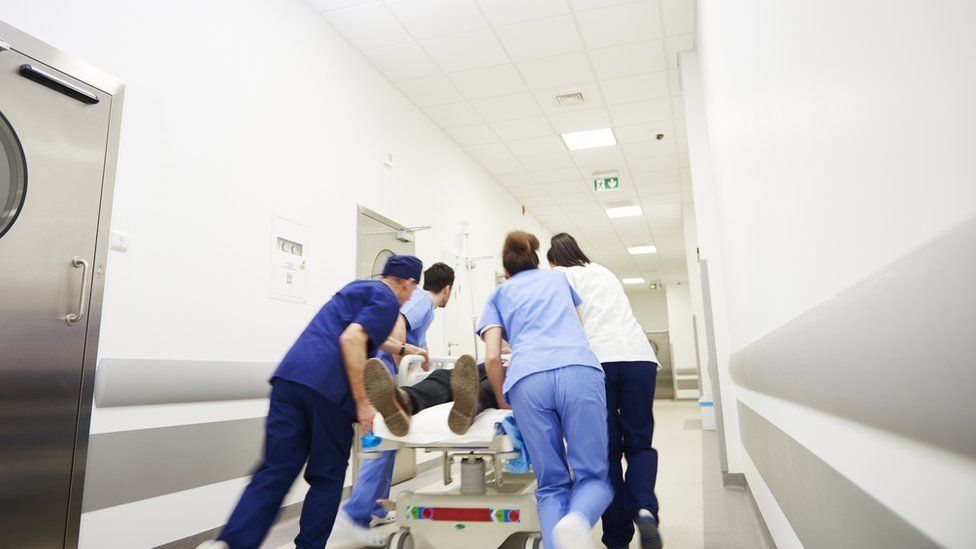 More than 100 medics and nurses must now be registered in both the UK and Republic of Ireland due to their involvement in cross-border transfers and all-island work.
The five health trusts have been told affected staff must be registered by the end of March.
It is because flexibility that was granted under EU legislation after Brexit is coming to an end.
Northern Ireland and the Republic of Ireland share some healthcare services.
These include paediatric cardiology services, some adult cardiac services and some cancer services.
The Department of Health is advising the trusts to take "urgent action to complete applications...by 31 March 2021".
Patients and their care are not affected.
A spokesperson for the Department of Health said it was working closely with the Medical Council of Ireland (MCI) and the Nursing and Midwifery Board of Ireland (NMBI), which were taking "an entirely pragmatic and practical approach".
"For example, MCI has now asked that applications are made by 31 May 2021 to align better with their annual registration cycle.
"NMBI has also now confirmed that it will be satisfied if applications are commenced by 31 March.
"Given the feasibility of the timeframes being worked to, no adverse impact is anticipated."
The burden of paying for registration falls on the medics' and nurses' employers.
First registration costs are about £400 for a nurse and approximately £600 for a doctor.
The department said 37 medics and 74 nurses are being dual registered.
'Unacceptable consequence of Brexit'
SDLP MLA Matthew O'Toole said the matter was not covered by the Northern Ireland Protocol, but is an effect of Brexit.
"All those professionals are going to have to get re-registered, and that is burdensome" said the MLA for South Belfast.
"We also have the burden that this creates into the future," he said.
"This means that all-island healthcare, cross-border co-operation which we know is a real advantage and really critical in some areas, is going to become harder.
"We shouldn't just think about this as the impact for now, we should think about how much more of a burden this is in the future.
"Frankly it's a really unacceptable consequence of Brexit," he added
In a statement, the Royal College of Nurses said it was aware of the letter and has written to the Department of Health requesting clarity around the need for dual registration.
While the Royal College of Surgeons said their members had not thus far raised it as an issue, the Northern Ireland Ambulance Service said it was covered by humanitarian legislation and is unaffected.