Teaching unions have 'significant concerns' over results process
By Robbie Meredith
BBC News NI Education Correspondent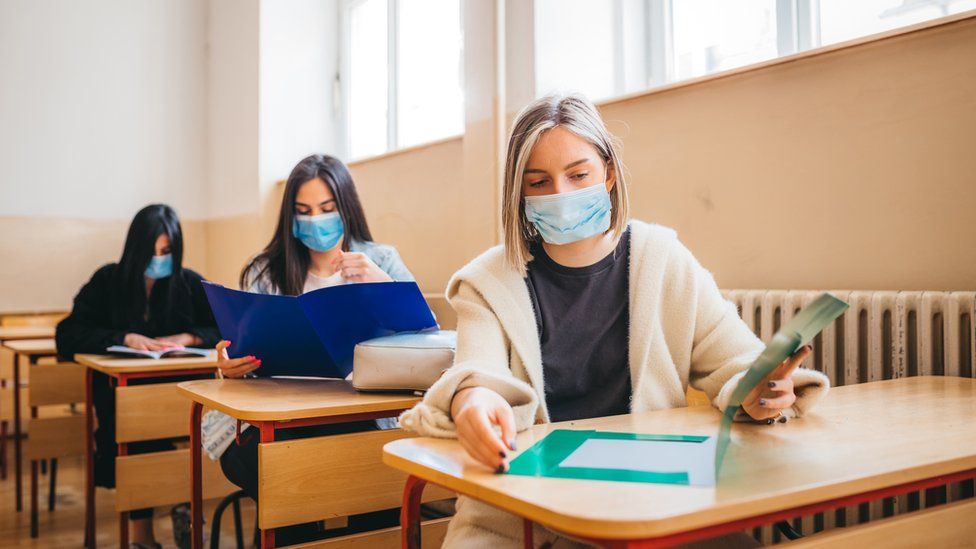 The body for five of NI's teaching unions has "significant concerns" about the process for awarding GCSE, AS and A-level results in 2021.
The NI Teachers Council (NITC) has criticised the workload for schools and said the process was "bureaucratic".
Some pupils' representatives had previously expressed concerns over how their grades will be decided this year.
The evidence schools can use to decide grades includes mock exams, results of class tests, work completed at home during lockdown or performance in past exam papers.
CCEA is also going to send schools exam papers in each subject which pupils can sit when they return to school.
Schools have not yet received those tests and CCEA have said they are optional, but some school pupils have previously told MLAs on Stormont's education committee they are "exams by the back door".
Cormac Savage from the Secondary Students' Union for Northern Ireland told MLAs that many pupils felt "anxiety and fear" over being asked by their schools to sit numerous tests when they return to school on 22 March.
Similar worries were also expressed by young people from the youth mental health organisations Pure Mental and Crisis Cafe.
The NITC - which represents the NASUWT, INTO, UTU, NEU and NAHT unions - is to informally brief MLAs on the committee about their concerns on Tuesday.
In a statement to BBC News NI, the unions said they recognised the "challenges" faced by CCEA in awarding grades in 2021.
"However, NITC have significant concerns regarding the higher than expected levels of administrative accountability," they said.
"We strongly urge both CCEA and the minister to reduce the workload for school leaders and teachers with regard to the bureaucratic nature of the process that is required after a grade has been determined.
"NITC believe the paperwork required for each individual student and subject department is unnecessarily burdensome."
Support for mental health
CCEA has said that no more than three pieces of evidence are needed for each student's grade in each subject, and that there will be "flexibility" for schools.
But NITC said that teachers would have to help pupils returning on 22 March readjust to school and support their mental health and well-being.
They also pointed out that teachers would continue to provide remote learning for pupils in years eight to 11, who do not yet know when they will go back to school.
"NITC fully appreciate the necessity to have appropriate evidence that demonstrates students have met the assessment objectives to be awarded a particular grade," NITC said.
"We do, however, call for immediate guidance outlining a reduction in the post-award administrative burden, communication from CCEA and the minister permitting schools greater flexibility within the established guidance."
They also said pupils in years 11 and 13 taking GCSEs and AS-levels needed to know now how any results they are awarded in 2021 will contribute to their final GCSE or A-level grades in 2022.
Schools and colleges have to provide AS and A-level grades to CCEA by 21 May and GCSE grades no later than 4 June.