Covid-19: Young cancer patients on facing treatment alone
By Louise Cullen
BBC News NI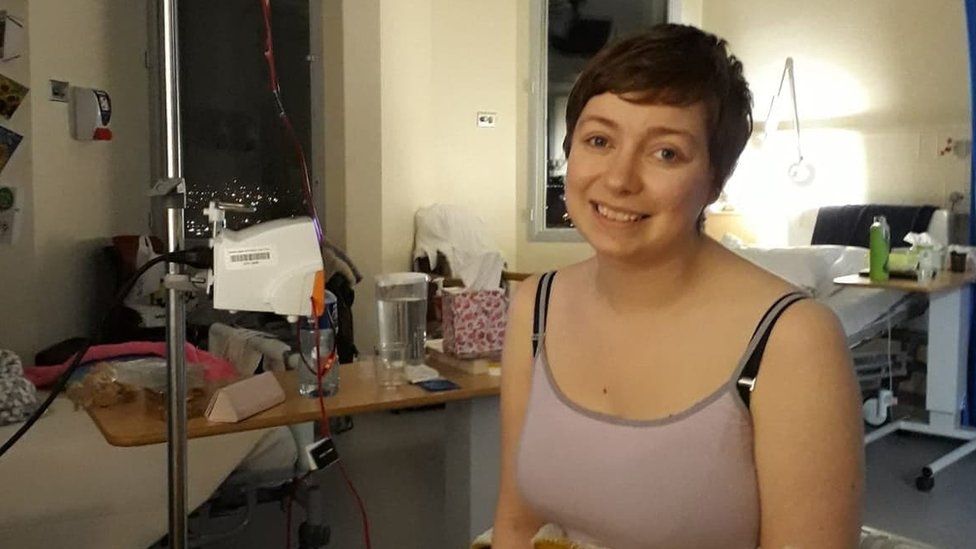 Almost all of Northern Ireland's cancer waiting time targets were missed in the last quarter, according to statistics published by the Department of Health.
In December 2020, 792 people started their treatment for cancer.
93.4% of those patients began treatment within the 31 day target - the target is 95%.
Covid restrictions have affected many hospital treatments, including cancer.
Many patients have had to attend appointments and treatment sessions alone - something young people have found particularly hard.
Lauren Lester, 25, grew up in Ballymena, County Antrim. After attending Stirling University in Scotland, she had settled in Glasgow when she was first diagnosed with Acute Myeloid Leukaemia, a blood cancer, in 2018.
Following a relapse, she received a stem cell transplant in Dublin in late 2019, and had high hopes for 2020 as she recovered with her family in Northern Ireland.
"I was looking forward to just the next year being positive and a change and seeing all these new things and getting my life back together, without sounding too clichéd," she said.
"But it just didn't happen that way and I think that's been really hard."
Instead, having already been in isolation for weeks as she prepared for her transplant, she again found herself alone, as she tried to absorb medical information and advice.
"In my initial appointments after my transplant my memory was horrible, and I couldn't even write down notes to try and remember things because I had quite shaky hands from some of the treatment.
"Really I was desperately in need of someone just to be there and listen and just take it all in for me as well."
'I had no human interaction'
That sounds very familiar to Mia Mackin, 24, who was recovering from Hodgkin Lymphoma when lockdown began.
She attended treatments and appointments alone, and was on her own outside the hospital as well.
"At that point, I'd just started living by myself and I had to shield, so I literally had no human interaction," she said.
"My doctor had told me, 'you really can't be leaving the house, and you can't be seeing anybody'.
"Even whenever the restrictions weren't that bad, I still had to stay at home, and under no circumstances was I to leave in case my treatment would be delayed."
She got a kitten, Alfie, for company, and her dog Rhea became more important than ever. Then, as restrictions eased over the summer, she was diagnosed with thyroid cancer.
"So the first cancer, for me, I took on the chin," Mia said.
"The second one knocked me for six. I was there alone.
"Sometimes you literally just need someone to hold you and tell you that it's actually going to be okay, and that's something I wasn't able to have at that time.
"Wearing a mask everywhere, and even the doctors and nurses keeping their distance.
"Whenever you're going through that, all you need is a hug.
"A hug is all you need to get you through the day."
Waiting times missed again
The latest waiting time figures from the Department of Health account for patients seen between October and December.
During that time over 6,000 people were referred for suspect breast cancer.
The target to see all urgent breast cancer referrals within 14 days was also breached.
The cancer charity Macmillan said the figures are a reminder that people living with cancer in NI are being "let down by their Government from the moment of diagnosis onwards".
Alasdair O'Hara, policy and public affairs manager for the charity, said the health and social care system "wasn't fit for purpose" before the pandemic, adding "Something has to change".
He said: "As waiting times deteriorate, the backlog of people living with cancer who are in the system grows.
"Demand on cancer services increases and cancer care will become even more complex."
Left alone at appointments
For many young cancer patients who were diagnosed in the last year there could be no hugs and no hand-holding.
Although the guidance is that cancer patients can have someone with them if their appointment or treatment is being conducted in a Covid-secure environment, according to young people's cancer charity CLIC Sargent, many are finding that's not happening.
"A CLIC Sargent survey found that 90% of young people have experienced hospital appointments or treatment, or fertility preservation alone," said Helen Gravestock, from the charity.
It's appealing for standardised visiting guidance across the UK.
"We absolutely recognize the immense pressure that the NHS is under right now," said Ms Gravestock.
"That's why we want to work alongside NHS colleagues and with the governments and each of the four nations, including Northern Ireland, to make sure that young people have a hand to hold throughout the pandemic.
"We're asking for some unique guidance to be developed, so that hospital trusts know how to enable a family member, a parent or a loved one or friend to accompany young people throughout their cancer treatment, so that they're not alone in one of the most terrifying times of their lives."
'Someone in the background'
For Lauren, now back in Scotland, many consultations are still conducted online. Surprisingly, that has advantages.
"You're face-to-face and there's no masks. You can see expressions which sounds silly, but it means so much to a patient just to see a reassuring smile," she said.
"Plus it gives me the opportunity to have someone, even if it was off-camera and the doctor wasn't aware.
"I always knew there was someone in the background that was listening out for me as well, and was paying attention to little details - what tablets was I to stop and what I was meant to be doing next and new treatments that are coming up and things like that.
"Just little things that you don't really pay attention to when you're stressed about what's going to come out of his mouth next.
"You could just get that more intimate personal touch to it, which goes a long way."
After another recent health scare, Mia is again celebrating being cancer-free and is using her cancer journey to inspire others on Instagram and YouTube.
"Although I can sit here and I can smile, and I can talk positively about it, cancer comes with really dark, bad days and it's just getting through those and take it one step at a time," she said.
"They all add up, and then before you know, you'll be out the other end."