NI 100: The 'Russian tailor of Belfast' and his WW2 links
By Laura McDaid
BBC News NI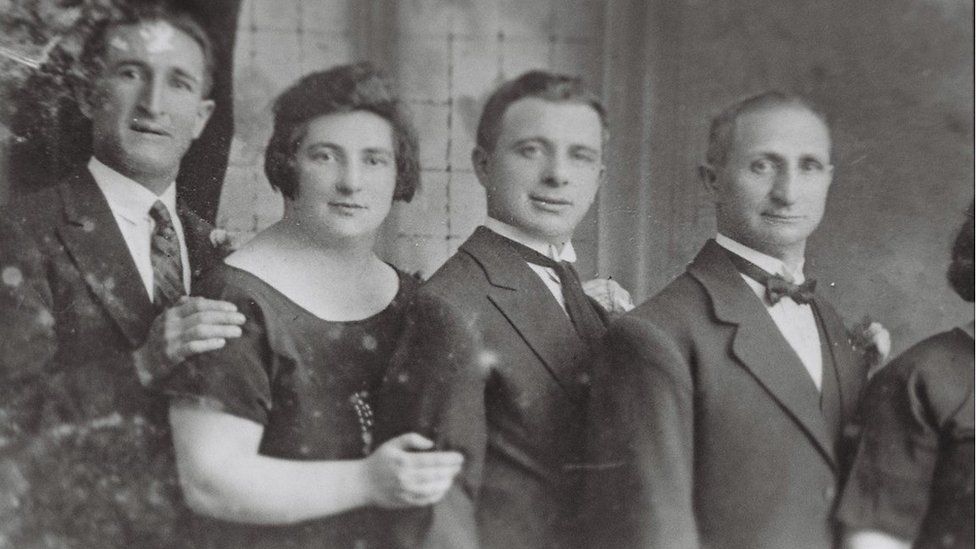 A century has passed since Geraldine Connon's Jewish great-grandfather set up a tailoring business in 1920s Belfast.
The fashion designer from Larne never met her family patriarch - or "the Russian tailor of Belfast", as she describes him.
But through a book she has written, Geraldine feels she is reconnecting with Philip Leopold, who fled persecution in Lithuania in 1894.
The 17-year-old initially found refuge in Leeds, England, before settling in Belfast four years later.
At that time, Northern Ireland had not been created and Belfast was the largest city in Ireland's second largest province - Ulster.
In Belfast, Philip met and married his wife Rose - also a Russian Jew - in 1899.
The couple made the city their home, raising eight children - one of whom was Geraldine's grandmother.
"Philip became a tailor on the cusp of the greatest manufacturing and industrialization movement in the world at the turn of the century," said Geraldine.
Although he arrived in Belfast with very little money, his work ethic, skill and talent was recognised, and two decades later, he had established his own tailoring business - P Leopold and Son.
By 1925, it employed 49 staff at its workshop at 129 Donegall Street.
Great-granddaughter Geraldine, who would eventually become a successful Northern Ireland fashion designer, sees "a certain symmetry" in their career paths.
"He started out on the cusp of a huge growth in manufacturing and tailoring, and I started out in fashion in the early eighties, just after the wedding of Charles and Diana, when there was this explosion of interest in fashion design."
The story of the Leopold family is a personal one, but it is also a story that reflects the history of Northern Ireland in a way that "isn't defined by orange and green traditions", Geraldine said.
"Northern Ireland has been home to people of many different cultures and religions with stories to tell that aren't about nationalist or unionist identities," she added.
Philip became a British citizen after the partition of Ireland, but the Jewish faith remained the most defining element of his family's sense of identity.
However, controversy arrived in December 1930, when Philip's daughter Neska secretly married a Catholic man in St Patrick's Church on Donegall Street.
Neska and her husband Tommy Rolston, from County Fermanagh, were Geraldine's grandparents.
"Philip's workshop was right next to the church, but he had no idea my grandparents were in there saying their vows - no one in the family did. Marrying outside your own faith really wasn't the done thing back then," Geraldine said.
Tommy had been a member of the Royal Irish Constabulary (RIC) - the police force in Ireland from 1822 until 1922 - and was stationed at Glenravel Police Station on North Queen Street.
There were no celebrations to mark the couple's marriage, such was the secrecy that surrounded it.
However, despite the initial scandal around Neska's "marrying out" of the Jewish faith, Philip eventually treated the couple with great affection and even paid for private maternity care for their first child, Geraldine's mother Beryl.
During the 1920s, P Leopold and Son had a lucrative government contract to make prison and military uniforms, so they were well placed to take advantage of a surge in demand at the beginning of World War Two.
Geraldine's uncle, Sonny Leopold, was "a bit of a charmer" who established friendships with powerful people, securing business for the firm in the process.
"The Leopolds were in an influential political circle, so they were aware of rumours of dangerous times ahead," said Geraldine.
"Sonny Leopold struck up a friendship with one of the most influential press barons in Britain, Lord Beaverbrook, who became minister of supply in 1940.
"So even before 1939, Sonny had his bid [to manufacture military uniforms] formally presented to the Ministry of Supply Office and the Belfast workshop then began manufacturing at full capacity - a deal sealed with dinner and drinks at a private London club."
In September 1940, Sonny received an urgent call to a meeting in London, where he received some top secret military intelligence that would lead to a drastic uprooting of the company's workshop.
"The ultimatum was: 'Get out of Belfast or lose the contract - Belfast is going to be bombed.'''
So months before the 1941 Belfast Blitz, the Leopolds were privy to highly classified Downing Street information that led to their Donegall Street workshop being boarded up and relocated to Dromore, County Down.
"Two disused mills became dispersal factories working 24-hour shifts, seven days a week manufacturing British Army uniforms," Geraldine said.
"There were dangerous journeys, often at night during blackouts and curfews, but the staff were loyal and signed up to the move.
"I'm sure it wasn't easy to convince the Belfast worker, who was used to walking just a short distance to their workplace, to get on a bus or train and travel sometimes up to three hours, war or no war."
This, and many other stories of the Leopold family, are detailed in a book Geraldine has written but has not yet been published.
In the first lockdown of 2020, the fashion designer found herself with more time on her hands and when Beryl, who was ill, moved in to form a social bubble, Geraldine became increasingly aware of the need to finish what she had begun to write years previously.
"Mum started telling me all these old stories about her family at night, and I realised that if I didn't record them, they'd be lost forever," said Geraldine.
Now she wants those stories to be read, so that people can learn about Belfast's Jewish heritage and a family who not only survived, but thrived through a tumultuous period in Ireland and Northern Ireland's history.
The BBC News NI website has a dedicated section marking the 100th anniversary of the creation of Northern Ireland and partition of the island.
There are special reports on the major figures of the time and the events that shaped modern Ireland available at bbc.co.uk/ni100.
Year '21: You can also explore how Northern Ireland was created a hundred years ago in the company of Tara Mills and Declan Harvey.
Listen to the latest Year '21 podcast on BBC Sounds or catch-up on previous episodes.