Pitt Park: 'Doubt' over claims residents fled UVF in east Belfast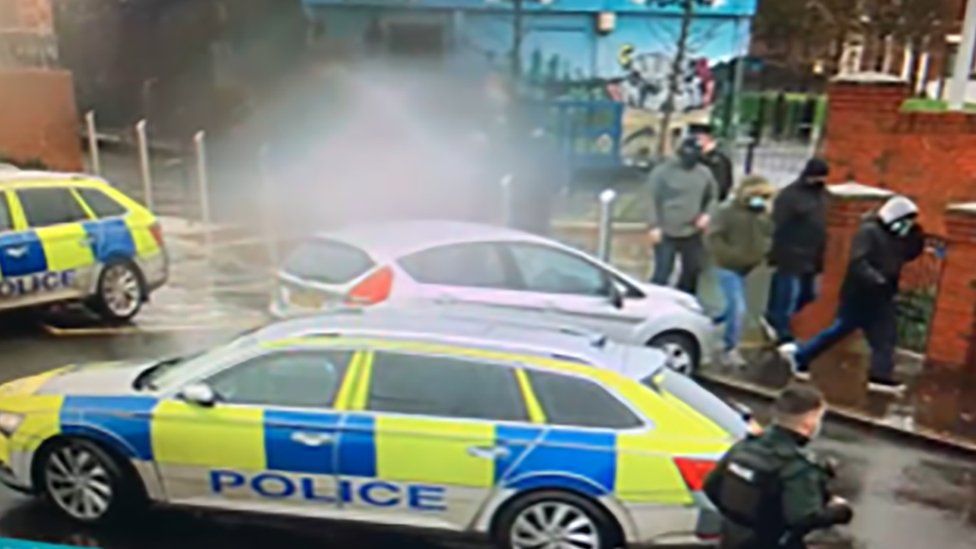 New details may cast doubt on claims residents fled and sheltered for over a week from a suspected Ulster Volunteer Force (UVF) show of strength in east Belfast, a court has heard.
Urgent inquiries are being made with the Public Prosecution Service (PPS) over events in Pitt Park last month.
Stephen Matthews, 58, Derek Lammey, 56, and David Matthews, 34, are facing charges over the 2 February incident.
On Friday, David Matthews, of Millreagh in Dundonald, was denied bail.
He is accused of unlawful assembly and affray.
Stephen Matthews, of Pansy Street in Belfast, and Derek Lammey, 56, from Spring Place in the city, who did not make bail applications on Friday, also remain in custody accused of the same offences.
With the case against all three men based on disputed identification evidence, the defendants do not accept involvement.
'A display of sinister force'
According to the prosecution, a large group of men arrived in the Pitt Park area and split up into sub-groups.
Previous courts were told 11 members of the public fled to the nearby Ballymac Community Centre, remaining there for up to eight days under a constant police presence.
They included a pregnant woman and children, it was contended, with dogs also brought due to concerns for their safety.
The incident was described as "a display of sinister force" by a group allegedly linked to the East Belfast UVF.
However, none of the defendants are charged with membership of a proscribed organisation.
At Belfast Magistrates' Court on Friday, Stephen Matthews' lawyer said he has received new details about the case.
Referring to claims that residents spent eight days in the community centre, solicitor Andrew Russell said: "There is information now which has been provided to me which would call that into question.
"Urgent inquiries are being made with the PPS in regard to that matter."
The development came as David Matthews mounted a fresh bid to be released from custody.
District Judge George Conner was told he could live at another location more than 20 miles from Belfast and put up a £10,000 cash surety.
His lawyer, Darragh Mackin, described the case against his client as "evidentially and legally flawed".
One police officer allegedly recognised and "tracked" him moving through the crowd based on a khaki jacket allegedly worn.
But Mr Mackin contended: "Disclosure has since come to light which indicates the individual wearing the khaki jacket is someone totally different, it is not David Matthews."
Prosecution counsel Natalie Pinkerton countered that the issues were raised at previous hearings.
She added that two people wearing a khaki coat and hoodie were identified at different locations.
Denying bail to David Matthews, Judge Conner said: "I'm not persuaded there's a significant change in circumstances."
He adjourned the cases for one week due to the ongoing defence inquiries.