Covid-19 vaccination of NI's homeless under way
By Dominic McGrath
BBC News NI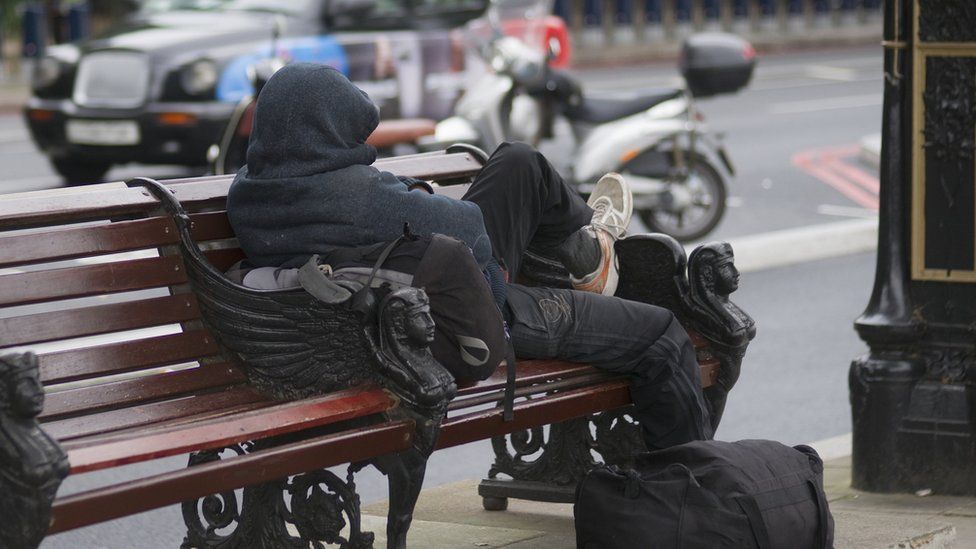 The Covid-19 vaccination of homeless people is under way in Northern Ireland.
Approximately 1,200 homeless people in Northern Ireland will receive a vaccine in the coming weeks, the Public Health Agency (PHA) has said.
Some of Northern Ireland's five health trusts have begun vaccinating people who are sleeping rough or find themselves in temporary accommodation.
One Covid-related death was reported by the Department of Health on Sunday.
Its total death toll for the pandemic stands at 2,104.
There were also 125 confirmed new cases of the virus reported. There are 158 people in hospital with coronavirus, 14 are in intensive care.
The latest figures show that across Northern Ireland 746,254 people have now received one dose of a Covid-19 vaccine, while 78,496 have received two.
It is expected that all trusts will offer the service to homeless people by the end of March.
The vaccinations are being delivered through mobile clinics and mass vaccination centres.
In the Belfast Trust, where the programme has begun, between 650-700 homeless people will begin to receive their Covid-19 vaccine in the coming weeks.
Almost 300 people in the Western Trust are also expected to have received their first doses by early April.
Deputy Lord Mayor of Belfast, SDLP councillor Paul McCusker, said vaccinators were out on Friday in Belfast, visiting hostels and vaccinating homeless people.
Mr McCusker, who has worked with the homeless for more than 10 years, described the development as "fantastic news".
"Belfast Trust's Homeless Health Hub is doing excellent work breaking down health inequalities for homeless people," he said.
Paula Devine, who is leading the Western Trust's efforts to vaccinate people who are homeless, said it is really important that they are protected from the virus.
Speaking to BBC Radio Foyle, Ms Devine said that many people who are homeless may suffer from "multiple health issues" and could therefore be classed as "clinically vulnerable".
She highlighted the issue of "unseen" homelessness in the north west, with people living in "hostels, sheltered accommodation and B&Bs, as well as those who sofa surf".
The trusts have said they will be collaborating together to deliver the two doses of the vaccine, given the fact that some people could move from one place to another from week-to-week.
"For people who cross over trust boundaries or move around... we will make sure we work together to make sure everything is done and closed off safely," Ms Devine said.
The delivery of vaccines in the Western Trust will be managed using a combination of mobile units and scheduled appointments at the Foyle Arena mass vaccination centre.
A spokesperson for the PHA said that vaccines for those who are homeless will also be provided using a "door step" delivery approach.
Vaccination teams will deliver to facilities such as "hostels, day shelter facilities, crash facilities, non-standard accommodation facilities, and to those sleeping rough".
Anyone who is not living in fixed accommodation will be eligible to receive the vaccine.