Ulster University Students' Union says mental health 'left in the shadows'
By Robbie Meredith
BBC News NI Education Correspondent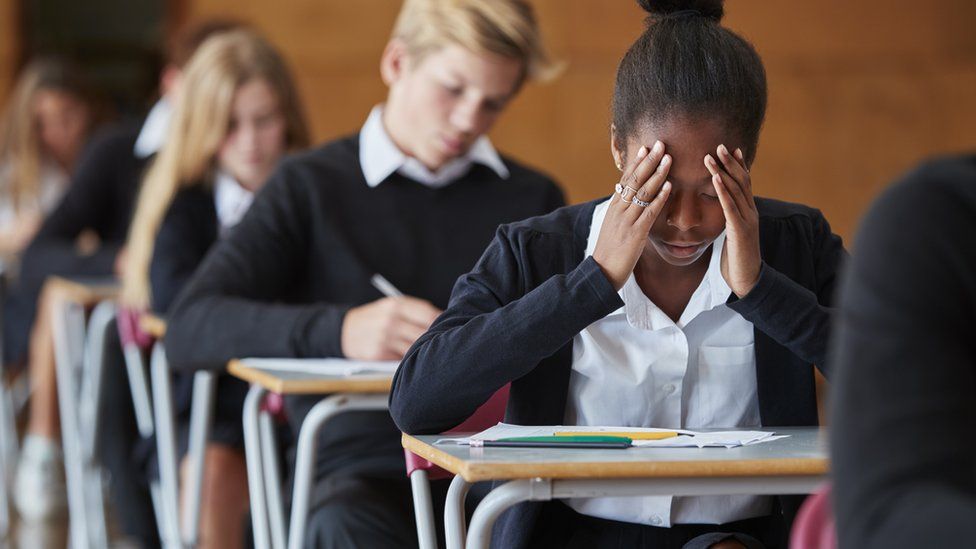 All school pupils should be taught about how to protect their mental health, according to Ulster University Students' Union (UUSU).
The union said a preventative approach would help pupils be more independent.
Separate figures from Ulster University (UU) show more than 1,600 students have sought help from its wellbeing team since August 2020.
The university also said the number of pupils seeking support for a mental health condition had risen by 17%.
Recent studies in Northern Ireland have raised a number of concerns about young people's mental health.
'Left behind in the shadows'
An action plan released by UUSU said the mental health of students had been "left behind in the shadows".
It made eight recommendations, which have been backed by NUS-USI and other students' unions.
One of those recommendations is for school pupils to be taught more about positive mental health and resilience.
The Education and Training Inspectorate has previously estimated that about 45,000 school pupils had some form of mental health condition.
"These young people are then entering the FE (further education) sector with underlying difficulties and significantly less support both for their mental health and due to the enhanced requirement for independent learning at third level, peer support," the UUSU action plan said.
"It is imperative that ad-hoc resilience programmes often undertaken by individual schools or learning communities, are integrated into the curricula for all key stages to prepare pupils for the challenges they will face in later life."
Among other recommendations, the action plan calls for more funding for mental health services for students and more awareness campaigns targeted specifically at young people.
It also said that MLAs should ensure that students are represented when mental health services are being planned.
Separate figures provided by Ulster University to BBC News NI show that more than 3,600 UU students have sought help from the university's student wellbeing service over the past two years.
In the 2020/21 academic year up until 19 March, 1,603 students had booked appointments with the wellbeing service.
In the 2019/20 academic year, 2,152 students sought help.
"We have seen a significant (almost 10%) increase of the number of students who have disclosed a disability to access reasonable adjustment recommendations (2,351 currently, 2,156 in 2019/20)," a university spokesperson said.
"This includes a 17% increase in the number of students seeking support for a diagnosed mental health condition compared to 2019/20."
The university also said that students were facing "uncertain and unprecedented times".
"We have prioritised and expanded our student wellbeing offer to ensure help is at hand at any time for anyone struggling personally or academically," they said.
The spokesperson added that UU had introduced a number of new digital services for students and staff including dedicated webinars and an online mental health support group.