Covid-19: How positive do NI's statistics look?
By Eunan McConville
BBC News NI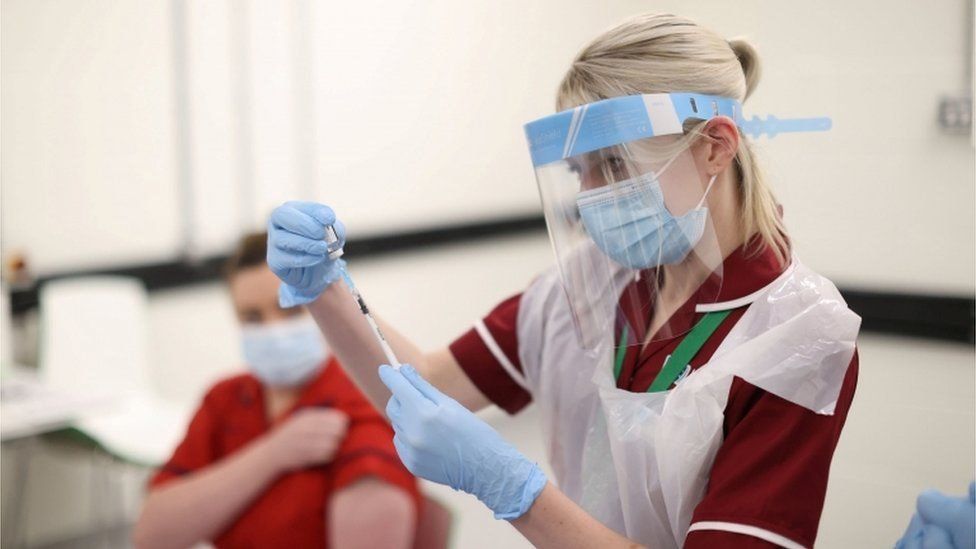 There is much cause for positivity in what statistics are currently telling us about the coronavirus pandemic in Northern Ireland.
Infection rates and the number of positive cases are down.
The amount of people in hospital and the number of patients in intensive care with Covid-19 are likewise down.
And the percentage of the population that has received a vaccine dose continues to rise.
That all comes with a proviso however - the process of unlocking will almost certainly mean some of these numbers will go the wrong way.
It is all a case of balance and proportionality. Yes, the figures indicate that we are in a much better place than we have been in a long time.
The Stormont Executive will soon have tough decisions to make about when - and which - restrictions are eased, but here is what the numbers tell us about Covid-19 in Northern Ireland right now.
Northern Ireland's infection rate continues to fall. It has undulated slightly in recent weeks, but has generally maintained a downward trend over the past eight weeks or so.
Data from the UK government indicate Northern Ireland's infection rate to be 67.1 cases per 100,000 population. This figure takes in the seven days up until 14 March.
The Department of Health's indicative infection rate for Northern Ireland up until 18 March is 58.6 per 100,000 population.
This suggests a continuation of the downward trend, although it's worth noting that the most current data published by the department can frequently be subject to some revision and updating.
In any case, it is fair to say that Northern Ireland's infection rate is falling.
According to the UK government figures, the infection rates in the UK - based on cases per 100,000 population (up until 14 March) are as follows:
UK - 59.2
Scotland - 73.4
Wales - 44.6
England - 58.3
Northern Ireland - 67.1
The Republic of Ireland does not publish an equivalent infection rate on its dashboard, but based on published data, the infection rate for the week up until 14 March was 70.9 - slightly higher but very similar to Northern Ireland.
Most council areas in Northern Ireland have seen falling infection rates over the past week.
Eight council areas had falling rates, with Derry and Strabane seeing the biggest rise. Fermanagh and Omagh rose ever so slightly, while Newry, Mourne and Down remained the same.
On a more local level, the infection rate remains higher around Ballymena. This has been the case for a few weeks.
The greater Shankill/Ballysillan area of Belfast has seen an increase in infections, and is now just behind Ballymena in its rate of spread of the virus.
Whether you consider Northern Ireland's current infection rate to be low is a matter of perspective. Considering where we were two months ago, it is indeed a lot lower.
At previous points in the pandemic, authorities started to introduce restrictions when infection rates hit the 200 per 100,000 population mark. And our current rate is evidently lower than that.
But the current rate is still one that many experts would not be comfortable with.
Another continuing trend is in testing. For the past few weeks the number of people in Northern Ireland getting tested for coronavirus has been increasing week-on-week - but the number of positive results have been falling.
This is another really good indication that the spread of the virus is subsiding.
Currently about one in every 29 people tested for Covid-19 gets a positive result. At the height of the winter wave, it was more than one in four.
The infection rates and number of cases help inform the R number - the indicator of whether the spread of the virus is speeding up or slowing down.
If the value is over one, the virus is spreading; under one means the spread is contracting.
The R number for cases in the public is currently estimated to be between 0.9 and 1.1. This is a slight rise from the previous week.
There is every chance that the R number will fall again next week, but if the increase continues, it will be a cause for concern.
The number of patients in our hospitals with the virus is falling and has been since the middle of January.
There are fewer than 170 people with the virus in hospital at the minute. There were more than 1,000 at the peak of the new year surge.
Admissions are also low, indicating that the number of people in hospital with Covid-19 should continue to fall.
That fall is mirrored somewhat in intensive care units (ICU). It's five months since there have been as few Covid-positive patients in ICU - that is undoubtedly good news.
But it should be tempered by the fact that we still have more people receiving intensive care than there would usually be in non-Covid times.
In short, ICUs remain under pressure.
Northern Ireland's Covid-19 death rate is particularly low at the minute. According to the Department of Health here have been six deaths over the past week, meaning a rolling average of fewer than one death per day.
The last time our Covid death rate was so low was September. However, a note of caution - this rate can change quickly if there are multiple deaths on consecutive days.
Based on a rolling seven-day time window, Northern Ireland has the lowest death rate by population in the UK. In the same period, the Republic of Ireland has seen comparatively more deaths than the UK.
However, looking at deaths across the entire duration of the pandemic indicates that Britain has had higher death tolls than the island of Ireland.
The figures below for the UK nations indicate deaths within 28 days of a positive Covid-19 test result. The figure for the Republic includes probable and possible Covid deaths.
UK - about 190 deaths per 100,000 population
England - about 198 deaths per 100,000 population
Scotland - about 139 deaths per 100,000 population
Wales - about 175 deaths per 100,000 population
Northern Ireland - about 110 deaths per 100,000 population
Republic of Ireland - about 91 deaths per 100,000 population
Another way of looking at death rates is to consider the number of fatalities among those who tested positive for the virus. Again, there is an Ireland-Britain split in the rates.
England - about one in 34 cases has resulted in fatality
Scotland - about one in 28 cases has resulted in fatality
Wales - about one in 38 cases has resulted in fatality
Northern Ireland - about one in 54 cases has resulted in fatality
Republic of Ireland - about one in 50 cases has resulted in fatality
Taking a look at deaths in Northern Ireland on a more local level, there are indications that Mid and East Antrim, and Antrim and Newtownabbey council areas have had the highest rates of death over the course of the pandemic.
Northern Ireland's vaccination programme continues to make good progress, although the speed at which first dose jabs are being administered has slowed somewhat over the past two weeks or so.
The plans for the mass vaccination centre at the SSE Arena in Belfast have been scaled down because of the anticipated delay in delivery of some vaccine doses.
Those appointments already booked for first and second doses will be honoured, but another dip in the administration of the vaccination programme should be anticipated.
Dr Patricia Donnelly told a Stormont committee that the delay in vaccine delivery could set Northern Ireland's vaccination programme back by four weeks in the worst case scenario. But added that she was hopeful it would be more like a two week delay.
More than 650,000 people in Northern Ireland have been vaccinated so far - about 35% of the overall population, or almost 46% of the adult population.
Comparatively, the other parts of the UK are slightly ahead of Northern Ireland in terms of percentage of the population vaccinated.
The Republic of Ireland is still languishing quite far behind Northern Ireland and the UK. To date, about 9.3% of the Republic's population has been vaccinated.
More second doses are now being given out in Northern Ireland - the vast majority of them to health care workers. This is unsurprising as we are about 10-12 weeks on from when the vaccination programme started in earnest.
More than half the people vaccinated so far in Northern Ireland got their jab through GPs.