Covid-19: Community pharmacists on front line during pandemic
By Louise Cullen
BBC News NI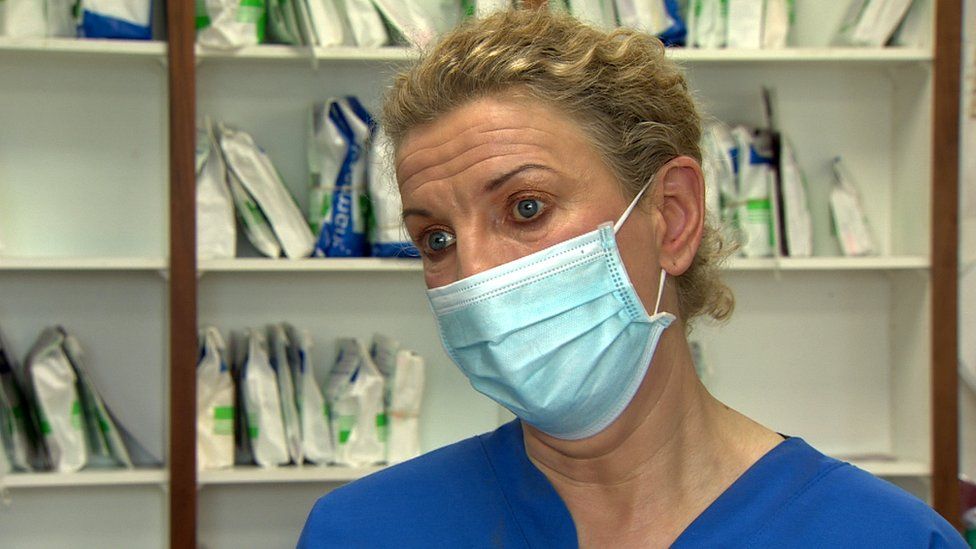 As the effects of the pandemic began to be felt, and lockdown became a reality, the 528-strong community pharmacy network in Northern Ireland found itself on its own frontline.
"We were really the most accessible health professional in the community," said Anita Gribbin, a community pharmacist in Toome, County Antrim.
"You nearly don't remember it now, it is like a blur.
"And I hasten to add, this wasn't just me, this was every community pharmacy.
"You just had to think on your feet - you made changes, we had to make changes in here with regard to social distance.
"Obviously masks came in, and we actually all kitted out in scrubs at that stage."
Like their colleagues across Northern Ireland, Anita and her staff found themselves being turned to on all fronts.
"We have always dealt with lots and lots of minor ailments," she said.
"I probably became - with lots of other pharmacists, the team here - doctor, pharmacist, social worker, counsellor, all at the one time.
"And we probably always have done that, but it took on a different magnitude.
"My priority all the time was, the more I can do, the more we can do here in our community, the less demand on emergency services."
How Anita and her team worked had to change as well.
"We actually met that weekend as a team and decided to close the shop, and keep open a consultation room, which - we were very lucky - opened up on to the outside.
"People were able to queue, social distance and come in one at a time."
The pharmacy opened to the public again after 12 weeks, though the consultation room with the outside door is still used as a prescription collection point.
Being able to see people meant a lot to those on both sides of the pharmacy counter.
"The day we reopened, people were saying, 'it's so lovely to be able to talk to someone face-to-face'," Anita said.
"We knew who needed help, who was living on their own, so it was always trying to reduce who would need to go to emergency services.
"We were doing our best to give people advice, but also, people didn't want to go to the doctor, didn't want to go to hospital, they were worried.
"So there were times I had to beg people to go to hospital."
Some of the other changes caused by Covid have endured.
A number of pharmacy regulars ended up shielding, so they and their pharmacists had to work together to find ways to meet their needs.
For many of Anita's customers, like Sharon Scullin who lives a few miles away, that meant moving to deliveries.
"I am a carer for my dad, who had a stroke," said the mother-of-three.
"Anita has delivered medication here.
"They have been, I suppose, a real lifeline in the midst of this.
"You know, she has been there for the emotional side of it as well and has signposted us in the right direction."
Despite all the family's precautions, Sharon's father contracted Covid-19 and spent time in hospital.
She turned to Anita for support to provide care for him when he returned home.
"There was a possibility my dad was going to have to go back in," Sharon said.
"But thanks to Anita and her work with the multi-agencies and other healthcare professionals, we were able to care for Daddy at home."
As the community pharmacy network gears up to become part of the next stage of the vaccination programme, Anita believes the pandemic has had an impact on how the public view pharmacists and their future role.
"They recognise we're a very good triage, and they recognise that we are experts in medicine and we are experts in probably more knowledge than maybe even sometimes we realise ourselves," she said.
"And we're very accessible.
"By us playing an integral part of the multi-disciplinary approach to healthcare in our community, it can reduce morbidity and mortality for not only now, not only through Covid, but for the future."