Newtownabbey: Lives lost to violence an 'absolute tragedy' says justice minister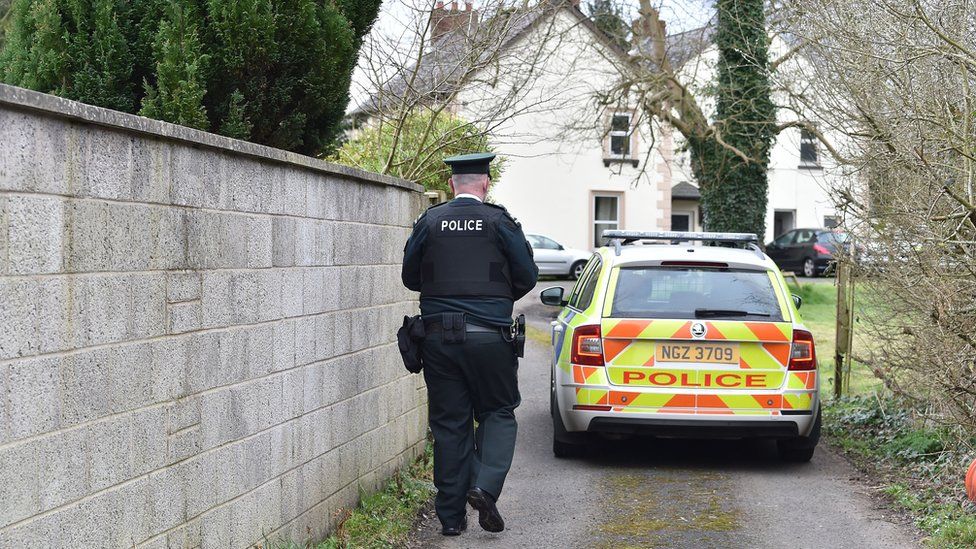 Early intervention is needed to tackle "offending behaviours" in the perpetrators of violence, the justice minister has said.
Naomi Long said it was an "absolute tragedy" to see women losing their lives to violence in Northern Ireland.
Police believe a man murdered his mother and girlfriend at separate homes on Friday before killing himself.
The women have been named locally as Karen McClean and Stacey Knell. The man was Karen's son Ken Flanagan.
Rev Billy Davison, from Newtownabbey Methodist Mission, said the community was "stunned" by the tragedy.
"When things like this happen the community of Rathcoole tend to rally round and offer their support," he said.
"On behalf of the local community I want to offer sympathy to the bereaved.
"We are here and if we can be of any assistance please come along and we will try to help," he added.
A double murder investigation was launched on Saturday, but police said they were not looking for anyone else in connection with the deaths.
Northern Ireland is the only part of the UK without a specific strategy.
The justice minister told the BBC NI's Sunday Politics that it is "an absolute tragedy when we see violence like this occurring and when we see women losing their lives, when we see anyone losing their lives".
"I think it is hugely important at this time that we focus on these issues, it is something that I have made a priority in my time in the justice department," she added.
"What we need to do, I believe, is move the focus upstream so that we start to tackle why offending behaviours occur so we start to deal with perpetrators.
"That's something we do through the criminal justice system, but we'd like to do that earlier, in terms of early intervention."
Mrs Long said the issue needed to be tackled across all executive departments.
"Not all violence against women and girls is direct violence, it is to do with discrimination and societal attitudes," she said.
"We need to see progress made, for example, in education. In terms of relationship and sex education, in terms of dispelling rape myths, in terms of dealing with attitudes around victim blaming.
"To do that, what we need is a cross-executive strategy and that's what I'm proposing to the executive."
CEO of Women's Aid in Belfast, Kelly Andrews, said "what we've been doing has not been good enough" and said a gender neutral strategy was not sufficient.
"Seventy percent of domestic abuse victims are female and that really needs to be recognised.
"We need to be looking at workplace policies, we also need to focus as well on perpetrators and reducing reoffending.
"We need to get men involved in the conversation to call out misogynistic behaviour when they see it as well," she added.