Covid-19: Importance of touch and other lockdown lessons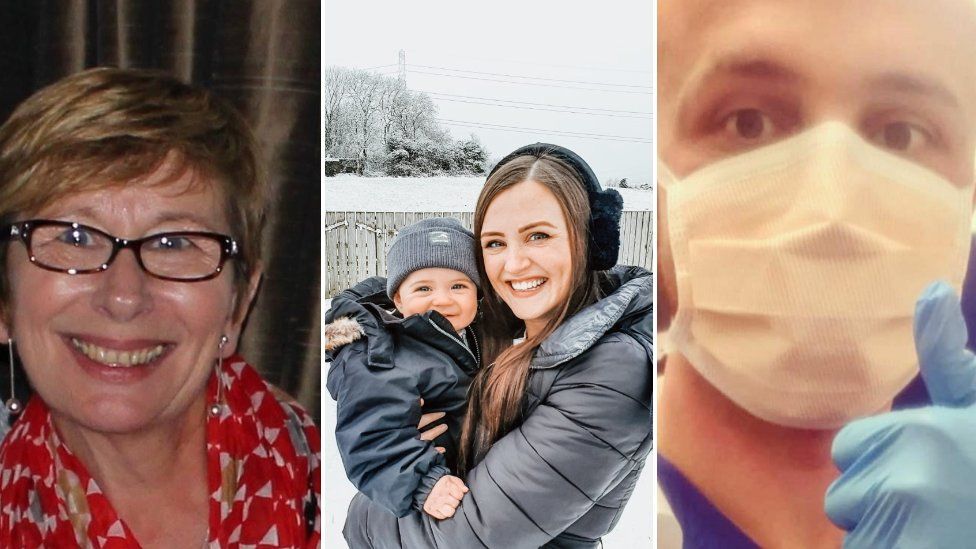 "There were times where I could have put my hands through the computer screen to touch someone."
The past 12 months have wreaked havoc on everyday life, and for some the Covid-19 pandemic has brought immense tragedy.
As society begins to gradually emerge from this latest lockdown, what have people learned in the past year?
BBC News NI put that question to three people who had vastly different experiences of lockdown.
The person living alone: 'I learned to celebrate by myself'
Maria Garvey has lived alone throughout the pandemic.
Before Covid she worked supporting people through challenging times in their lives.
"Much of my work was person-to-person but then, along came Covid," she said.
At the beginning, Maria says it was like the holiday she never thought she would have.
She spent time in the garden and her email box was close to empty.
However, she knew the novelty would wear off.
"I had an instinct there would be people who over time would get disconnected and I knew I would be one of them," she said.
After putting a call out on Facebook, she started an online café called Connect.
"For the first 100 days we met every day for an hour - many of us were living alone and it was so great to have a cup of coffee and a chat," she said.
They still meet three times week.
Maria, who is originally from County Cork and now lives in Belfast, also started online cafes for adults with learning difficulties.
While technology provided a lifeline, it was denial of touch which proved the hardest part for Maria.
"Just not being able to reach out and touch another human being."
Maria put herself in a permanent quarantine, not having personal contact with anyone, so she could visit her unwell mother in Cork if her condition worsened.
"There were times where I could have put my hands through the computer screen to touch someone," she said.
"I wanted to be able to put my hands on my mother's face and say: 'It's OK, Mum.'"
However, she has taken some positives from the past year.
"I learned to appreciate my own company and celebrate by myself - not allowing the lockdown to lock me down," she said.
"I had a picnic in the forest all by myself - I sat for hours and spread out a rug brought wine and food and felt like I had died and gone to heaven."
Nature brought Maria even more comfort than usual.
"I allowed nature to do what no human was free to do - I would sometimes lean up against a tree and say: 'Touch me.'"
Maria's mother died in March 2021 and she was able to attend the small funeral in line with restrictions in the Republic of Ireland.
There is immense sadness but "bigger than that is the joy that my mother lived until she died".
The healthcare worker: 'NHS staff have pulled together'
Nurses, doctors and healthcare workers have seen this pandemic at its worst.
For nurse Aron Sturdy, 28, from Donaghadee, County Down, the crisis highlighted the strength of his team at the Ulster Hospital.
For most of the pandemic, he worked in the Emergency Department and is now an infection control nurse.
Aron and his wife, Katie, a community psychiatric nurse, got married before Covid hit so most of their first year was spent on the front-line.
"Like most healthcare workers there was the initial anxiety and stress, and then it just became making it a part of your normal routine," he said.
"It was very much learning on a day-to-day basis and then adapting as much as we could in terms of our practice.
He said the idea of Covid burnout among health service staff was "very real" but the community was facing "that sort of burnout also".
"People are feeling the restrictions and what they can and can't do," he said.
There have been "highs and lows" for sure but Aron's take-away is how well the health service pulled together.
"At the start of the pandemic everything happened so fast, it was such a blur.
"But in the emergency department it really showed how a team could pull together, sort of move in one motion, and keep each other going through it."
On a personal level, he is looking forward to having friends round to the house.
Recently, he's done a few shifts working on the vaccine roll-out which has given him a "buzz".
"It's a big positive - we are really getting somewhere," he said.
"There's light at the end of the tunnel."
The new mum: 'We've been stronger because we needed to be'
Rachael Andrew became a mother at the start of the first lockdown.
The Belfast-based solicitor and blogger and her husband, Mark, welcomed Tobias on 31 March 2020.
The expectation of what those first few months would be like versus the reality of Covid was stark.
Rachael, who is in her 30s, says being separated from family and friends was "devastatingly" difficult at the beginning.
"I pictured this beautiful dimpled blue-eyed boy which is what I have but everything else was different," she said.
"My in-laws met him through the window at three days old.
"My sister met him through the window as she dropped off food."
Rachael's parents live in County Cavan, and due to travel restrictions they did not meet their grandson until he was 70 days old, through a window.
She said it was incredibly hard for her mother not to be there.
"It takes a village. We didn't have anyone cross our door for the first four months - I kind of look back and I am not sure how we did it," she said.
"We've been stronger because we needed to be."
Most of their extended family have still not met Tobias.
For Rachael and Mark there have been "shining moments and really dark moments".
It has been a rollercoaster ride, filled with the joy of their son but the loss of two grandparents.
Mark's grandfather passed away due to Covid complications last year and Rachael's grandmother died at Christmas.
Due to Covid restrictions she was unable to attend in person.
Rachael said her experiences over the past year have taught her to be more candid about her feelings.
"I reached out to my doctor as I was suffering from post-partum anxiety and I'm now talking to a therapist about this," she said.
"I've tried to be strong to voice what I need - which was hard for me.
"I'm solicitor and I am used to getting my head down, analysing risk and keep going.
"My husband is amazing and we are best friends - when we've both been struggling, we always have each other to talk to."
However, she said getting help from a therapist was a big step.
"I'm kind of I'm proud of myself for doing that and so thankful for the NHS," she added.
What is she looking forward to after lockdown?
"When life goes back to normal I am going to hug so many people - people better prepare for the biggest hug."