Irish Sea border trade service 'gradually improving'
By John Campbell
BBC News NI Economics & Business Editor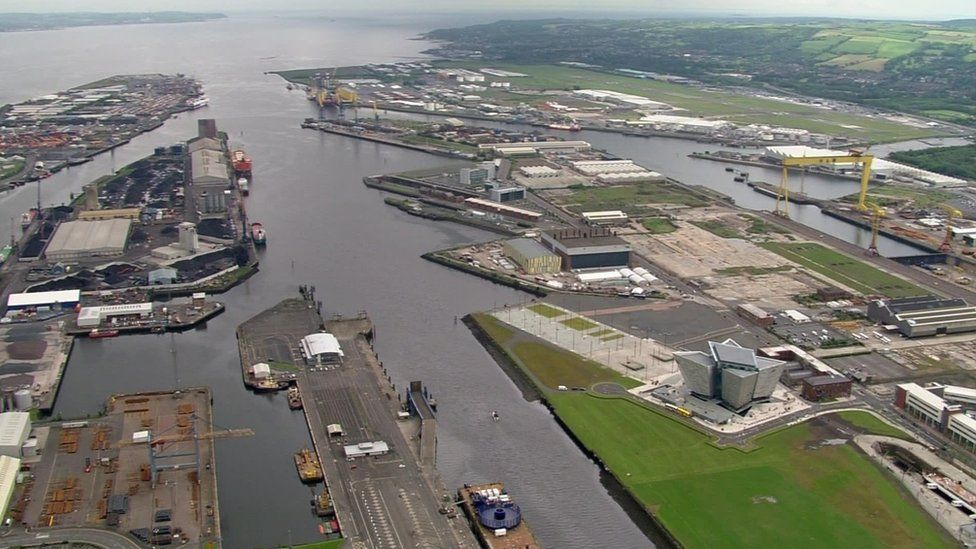 The head of the Trader Support Service (TSS) has defended its performance in easing trade across the Irish Sea border.
The TSS was set up with government funding to help businesses deal with new customs processes.
Christian Benson from Fujitsu said he was "incredibly proud" of what had been achieved and that the service was "gradually improving".
Mr Benson and other executives were giving evidence to NI assembly members at Stormont on Wednesday.
Last month, some hauliers told MPs there was an apparent lack of training among TSS advisers who were "pleasant", but often appeared to have "no previous experience" in customs and logistics.
There was also criticism that the TSS sometimes gave confusing and inconsistent advice.
TSS has a total of 1,000 staff; 750 of those are advisers who give advice by phone or online.
Mr Benson said his staff had processed 337,000 consignments since January.
He said training was taking place on a weekly basis and there was an improvement in how calls were being answered.
"We are not complacent," he added.
"We recognise there is still work to do."
About 36,000 traders are now registered with the TSS - they are roughly split between businesses in Northern Ireland and Great Britain, with a small number from the Republic of Ireland.
That means most commercial goods being sent from GB to NI require customs declarations.
Meanwhile, the prime minister has resisted a call for the government to prioritise negotiating a bespoke veterinary agreement with the EU to cut down on Irish Sea border checks.
That type of deal would mean the UK, as a whole, following some EU rules more closely.
Alliance MP Stephen Farry said it could resolve problems with the Northern Ireland Protocol.
But Boris Johnson told MPs he was satisfied with the actions his government had already taken in March to delay checks on some products.