Coronavirus: Summer foreign travel should be ruled out, says Robin Swann
By Colm Kelpie
BBC News NI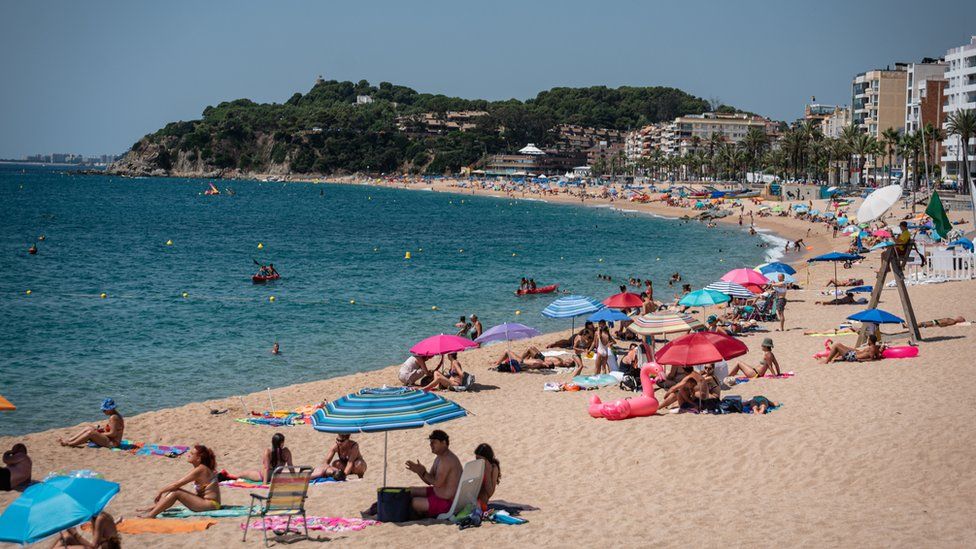 Foreign travel over the summer holiday months should be ruled out, Robin Swann has said.
The health minister said Westminster and the devolved governments were discussing the so-called "red list" for foreign countries.
He said travel to the Republic of Ireland would be dependent on its vaccine rollout.
Mr Swann also said fragilities in NI's health system underlined the need for caution as lockdown eases.
"Our health and care services have had the toughest of years. They still need our protection now," he said.
The "red list" is part of travel regulations aimed at stopping Covid variants entering the UK.
The health minister said the health system in Northern Ireland had been particularly strained in recent years compared with neighbouring jurisdictions.
Northern Ireland has begun taking its first steps out of lockdown, after restrictions were re-imposed nearly three months ago.
The current rules came into force on 26 December, in a bid to suppress the spread of Covid-19.
While there are no direct international flights arriving into Northern Ireland at the moment, Mr Swann said the executive was looking at establishing a hotel quarantine system for international arrivals.
Simon Hamilton, the chief executive of Belfast Chamber, said the health minister's comments on foreign travel would cause alarm.
He said there would be "many in the tourism industry" who will be "very disappointed to hear speculative comments that have not be endorsed and backed and supported by the executive".
Meanwhile Chief Medical Officer Dr Michael McBride said a change in the advice for people who are clinically extremely vulnerable (CEV) to Covid-19 was planned.
Since 26 December, CEV people have been advised to adhere to additional steps to keep themselves safe from exposure to the Covid-19, including advice not to attend their workplace if they can work from home.
That will now ease from 12 April.
"This is an important step to helping CEV people re-engage with everyday life with confidence," he said.
Dr Patricia Donnelly, head of NI's vaccination programme, said the target of reaching all adult age groups by the summer is "firmly within our sights".
A total of 694,863 individuals have received one dose of a Covid-19 vaccine, while 96,254 have received two.
Dr Donnelly said that meant almost half of the adult population in Northern Ireland had been vaccinated.
She said the vaccination centre in the SSE Arena in Belfast would open on 29 March and more than 300 community pharmacies would also join the vaccination programme next week.
Currently, anyone over the age of 50 and those with some underlying health conditions are eligible for a coronavirus vaccine.
The SSE Arena will operate alongside the seven regional vaccination centres run by health trusts across Northern Ireland as well as GP practices.
Dr Donnelly also warned those who are trying to "inappropriately access the service" that "they might travel as far as they like, they won't get vaccinated".
"It's going to be a wasted journey for anyone who does it," she said.
It has emerged that hundreds of people from the Republic of Ireland have been turned away from vaccinations centres in Northern Ireland in recent days.
Meanwhile the Department of Health has said it is investigating an apparent glitch in its online vaccination booking system.
It says a number of appointments were booked by people who were not yet eligible.
The BBC understands an online link, enabling people to bypass eligibility criteria questions, was circulating on some social media platforms for some time on Tuesday.
In a tweet issued on Wednesday, the department said: "Yesterday some members of the public in NI who are not yet eligible to receive a Covid-19 vaccine were able to make an appointment.
"This was as a result of an issue with the system's eligibility checker and we are looking into the circumstances that allowed this - but we want to clarify that such appointments are being cancelled.
"Ineligible appointments will in any event be turned away at the vaccination centre through checks that apply there.
"Our thanks to the vast majority of people who are using our services properly."