Grenfell Tower Inquiry: Kingspan executive says fire test 'not relevant'
By Kevin Sharkey
BBC News NI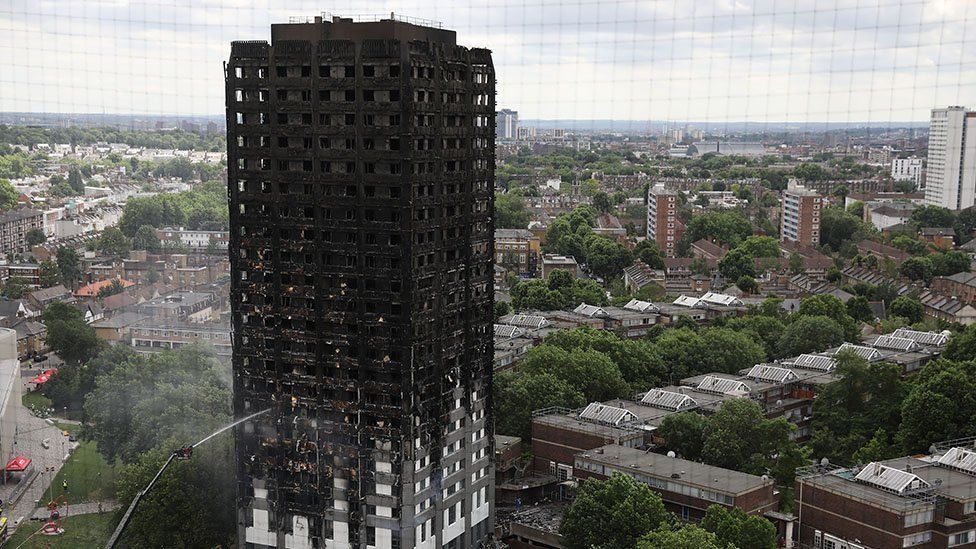 A senior Kingspan executive has said the company did not deliberately conceal information from a House of Commons committee.
Adrian Pargeter was responding to questions at the Grenfell Fire Inquiry.
The Grenfell Tower fire in June 2017 led to the deaths of 72 people.
Lead Counsel Richard Millet QC asked why information about a fire safety test, in 2018, was not shared with the Housing, Communities and Local Government Select Committee.
Mr Millet asked Mr Pargeter: "Do you accept that the fact and results of the May test (2018) was highly relevant, by which I mean something which the select committee would wish to know when considering your case, because it undermined your case?"
Mr Pargeter, head of technical and marketing GB at Kingspan Insulation Limited replied: "No, I don't think it was relevant."
The issue arose when the inquiry was examining a letter sent to the committee in January 2021 by Ralph Mannion, managing director of Kingspan Insulation UK & Ireland.
The letter said Kingspan wanted to correct what it described as a "misunderstanding" arising from Mr Pargeter's evidence in December 2020.
The Kingspan correspondence to the chairman of the committee, Clive Betts MP, said this led to counsel to the inquiry suggesting to Mr Pargeter that Kingspan "engaged in a wholescale attempt to mislead" him and the select committee and "a deliberate attempt to deceive Mr Betts and the select committee".
As the letter related to previous evidence from Mr Pargeter, counsel to the inquiry wanted to know what input he had into the letter.
Mr Millet asked Mr Pargeter if Mr Mannion "didn't even send it to you in draft for your comment or correction, is that right?"
Mr Pargeter replied: "I don't think so, I can't recall. I don't think he did."
Mr Millet then added: "You don't think he did... and this wasn't very long ago, this letter was sent two months ago."
The inquiry has previously heard that Kingspan K15 insulation - which had turned into "a raging inferno" when it was subjected to a fire test - was used on Grenfell tower.
Kingspan has already admitted that the inquiry has highlighted "historic process shortcomings and unacceptable conduct within a part of its UK insulation business" and it has apologised unreservedly.
The Irish company is a market leader and employs up to 15,000 workers in 70 countries around the world.
In Northern Ireland, it employs 450 workers at operations in Ballyclare, Portadown, and Newry.
The company also has a high profile presence at sports grounds, including the homes of Ulster Rugby and Cavan GAA.
Group Chief Executive, Gene M Murtagh, has previously told its workers across the world that "rebuilding trust will take time".