Brexit: NI Fishermen 'short-changed' in fish quota
By Conor Macauley
BBC NI Agriculture & Environment Correspondent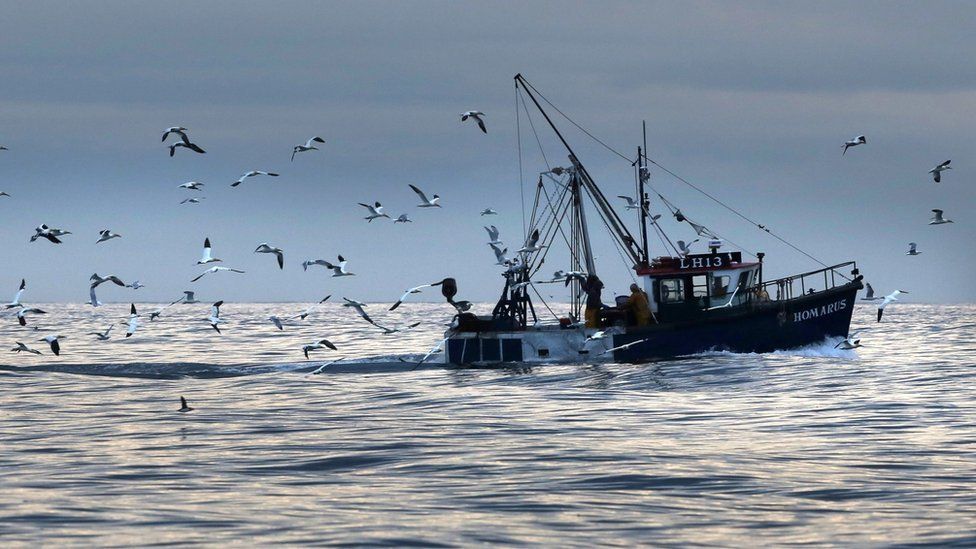 Northern Ireland's fishermen say they have been short-changed in a UK share-out of extra Brexit fish.
They say they got only £14m of the £20m-a-year worth of additional quota they believe they were due.
A spokesman for one of the two main fishing organisations, Alan McCulla, said Northern Ireland's Brexit fish dividend had been "plundered".
He warned last week that the government intended to give the bulk of the Brexit fish to Scotland.
Mr McCulla claimed it was part of a ploy to shore up support for the Conservative candidates ahead of key elections there in May, in order to see off a future Scottish independence referendum.
A Department of Food, Environment and Rural Affairs (Defra) spokesperson said: "We have worked closely with the devolved administrations to make sure that the additional fishing quota we have secured for the UK is allocated fairly.
"For the majority of Northern Ireland priority stocks, such as haddock, fishers receive a higher share than they did last year."
The UK negotiated a return of fish previously caught by EU boats in UK waters as part of the Brexit deal.
It was left to Whitehall to decide how to share it out in consultation with the devolved nations.
The detail of the share-out was quietly published on Wednesday.
Mr McCulla said Northern Ireland had got a fair share in the Irish Sea, but pointed out that 60% of the fleet's catch by value was taken in wider UK waters.
He said his members had been "mugged" of new opportunities in those areas.
"The London government's spin that the Brexit fisheries boost is distributed across the UK may be true, but the fact is that distribution has been rigged to favour some areas more than others," he said.
Northern Ireland's Agriculture Minister Edwin Poots said: "I am disappointed with the secretary of state's decision to allocate additional quota gained from the EU in 2021, using a method based on track record and geographical zonal attachment.
"I and the NI industry had argued strongly for allocation based on the existing system of fixed quota allocation units as this would have delivered the greatest gain in additional quota for Northern Ireland.
"Our industry fishes not just in the Irish Sea but all round the UK and any element of geographical zonal attachment in the apportionment calculation works to our disadvantage. I will continue to press for a fair share of additional fishing quota for 2022 and beyond."