Libya funds: Father of young IRA victim criticises government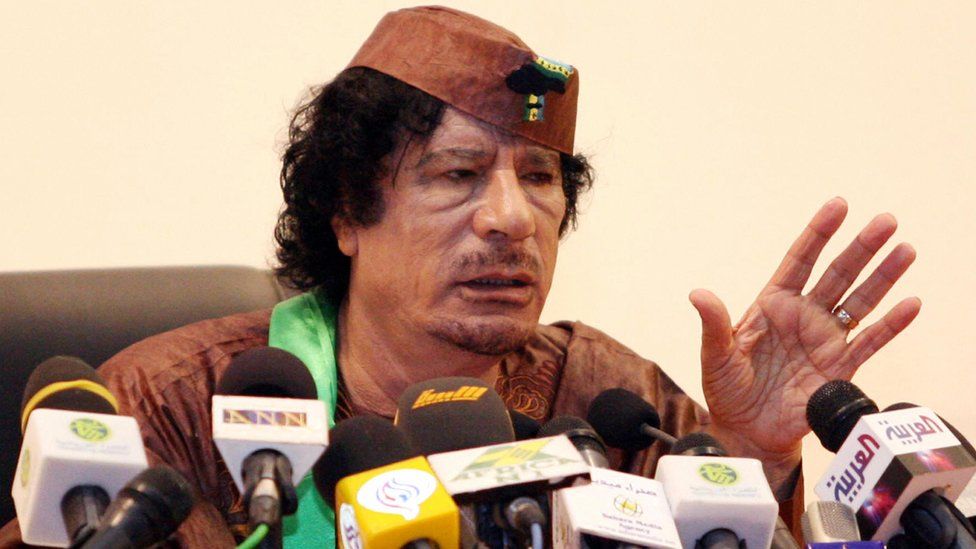 Victims of IRA bombs have expressed anger at news the UK government cannot use frozen Libyan assets for compensation.
The father of a 12-year-old boy killed in the 1993 Warrington bomb has also questioned the government's rejection of calls to publish a report commissioned to examine the issue.
Colin Parry's son Tim died in 1993 alongside three-year-old Jonathan Ball.
Libyan-supplied Semtex explosive was thought to have been used.
Speaking on the BBC's Good Morning Ulster programme, Mr Parry said the public "may never know" the reasons behind the government's refusal to compensate the victims of Libyan-backed terrorism.
"It's not as if it's a financial block - it's clearly a political decision," he said.
"It's a decision I can only imagine is based on the multi-layered complexity when it comes to historical issues related to Northern Ireland terrorism.
The government has said it would be against international law to use some £12bn in frozen Libyan assets to compensate victims.
Mr Parry asked why William Shawcross was given the remit to look into the issue "if [the government] weren't prepared to act upon what he might say".
"It's easily resolved through seized Libyan assets, but for reasons we may never know, the government is sitting on this report. I can only conclude that the government fears it will open up all sorts of matters which have been buried deep for some time now."
Mervyn Lewers, from Londonderry, who lost his legs following an under-car booby-trap bombing in 1988, said the government "wants all victims to die off and go away".
He said his life is "a continuing battle".
He told the BBC's Good Morning Ulster programme: "It's 33 years since I was injured and I'm heading again to Musgrave Hospital today."
Compensation would have "meant a lot", he said, as he has to pay someone to assist with "ordinary things around the house".
Former Libyan leader Muammar Gaddafi's regime supplied large amounts of weapons and explosives to the IRA during the Troubles.
Mr Lewers questioned why William Shawcross, who was appointed by the government to look into the issue of compensation, met representatives of Sinn Féin, but not victims, before filing his report.
"It's public knowledge that members of Sinn Féin were convicted terrorists. For me, it's wrong."
Mr Shawcross, who appeared before the NI Affairs Committee on Wednesday, said he could not disclose details of his own report.
In a written statement to parliament on Tuesday, Minister for the Middle East and North Africa James Cleverly said the "internal scoping report" was commissioned to provide advice to ministers and draws on "private and confidential conversations".
He said the "frozen assets may not be seized by the UK government".
He also ruled out using public funds to pay compensation to victims and then recouping the money from the Libyan government.
He said the responsibility for providing compensation lies with the Libyan state and the government had urged the authorities at the "highest level" to engage with UK victims.
Unionist peer Lord Empey described the refusal to use the assets to compensate victims as "a very murky business".
"Other countries - the United States, France and Germany - all of them have got compensation for their victims. The United Kingdom hasn't even asked for it. So there's something wrong."
Kenny Donaldson, of Innocent Victims United, said: "For two years the UK government has been responsible for heaping further pain upon those already treated so shamefully.
"The Shawcross Report can't even be described as a 'whitewash' because it continues to be held back from victims, the full contents remain hidden."