Covid: More than 700,000 vaccine first doses given in NI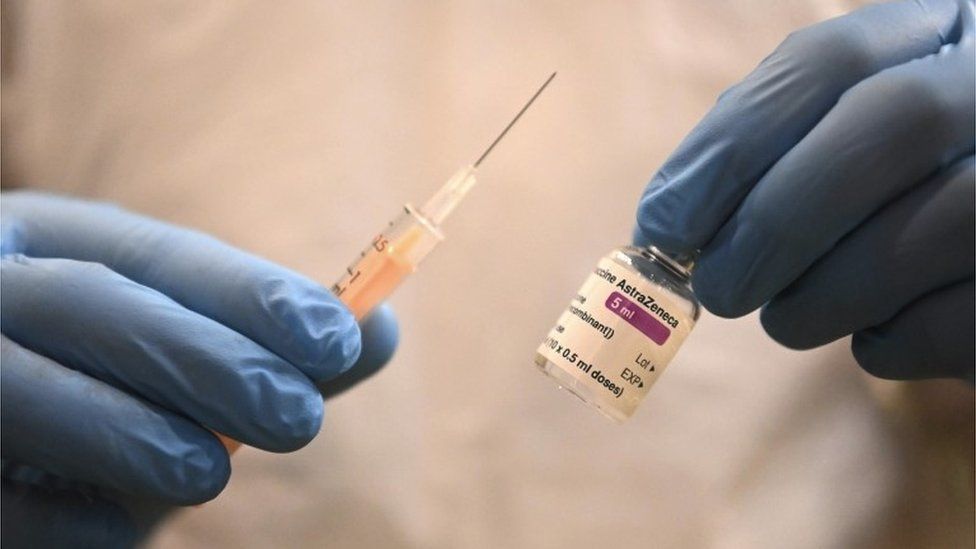 More than 700,000 people in Northern Ireland have now had their first dose of a coronavirus vaccine.
It means that nearly half the adult population - 703,334 people - has received at least one jab.
Official figures showed 104,907 people have now received a second dose.
No further coronavirus-related deaths have been recorded by the Department of Health in Northern Ireland, which means the total number of deaths remains at 2,107.
The executive has agreed to introduce "managed isolation" for those arriving into NI from certain countries once international flights resume.
Travellers from so-called "red list" countries will have to quarantine in a pre-booked hotel for 10 days, Deputy First Minister Michelle O'Neill said.
Passengers must also complete a pre-departure Covid test and undertake two tests after arrival.
The red list is part of travel regulations aimed at stopping Covid variants entering the UK.
Ms O'Neill and First Minister Arlene Foster were speaking at a joint press conference in Dungannon, County Tyrone, on Thursday.
They revealed the 'R' number, which measures how fast the virus is spreading, is now estimated to be between 0.75 and 0.95.
There are currently no direct international flights arriving in Northern Ireland, but passengers can travel from abroad through Dublin and airports in the UK.
From this week, anyone who travels into the Republic of Ireland from from a red list country must now complete a mandatory 14-day quarantine period in a hotel there.
The Irish Department of Health said people travelling the Republic of Ireland via Northern Ireland who have been in or through a red list country in the previous 14 days must make their own way to a pre-booked quarantine hotel within four hours.
Earlier, Chief Medical Officer Dr Michael McBride said there were ongoing discussions between the Stormont Executive office, and the governments in Dublin and London to ensure there was alignment in terms of travel arrangements for people flying into airports in the Republic of Ireland and the UK.
Dr McBride said co-operation on the issue was "good" and progress was being made.
Ms O'Neill said there were too many uncertainties to give assurances over travel.
"It's important that we work across these islands in relation to travel," Ms O'Neill said.
Mrs Foster said it was too soon to be able to say when people would be able to travel abroad, noting the government's global travel taskforce is not due to report until April.
The taskforce is considering a tiered or traffic light system for international travel.
"It's perhaps too soon to be booking your holidays, but it is also too soon to be ruling them out," Mrs Foster said.
Brian Ambrose, chief executive of Belfast City Airport, said "ministers and senior civil servants must carefully consider the severe economic consequences of their public comments".
"As an airport we would never challenge decisions made by the health minister in relation to the running of the health service," he said.  "However, we would expect decisions on international air travel to emanate from the NI Executive, rather than the health minister or an advisor."
The executive also agreed the limited reopening of Sure Start and Youth Services programmes.
Payments will also be extended under two business support schemes - the Covid Restrictions Business Support Scheme (CRBSS), Part A and Part B, and the Large Hospitality and Tourism Business Support Scheme (LHTBSS) will continue beyond 31 March.
A virologist at Queen's University has also raised concerns about foreign travel in the coming months.
Professor Ultan Power told Good Morning Ulster that at least 80% of the population of Northern Ireland should have two doses of a coronavirus vaccine before travel to Europe is allowed again.
He said: "If we have mass foreign travel we run the risk of picking up new variants that may not be covered by the vaccine and that could being us back to a pretty bad place."
He urged caution, and said it would be a shame if the success of the vaccination rollout in Northern Ireland "came to naught" if a vaccine-resistant strain was brought back here because of travel abroad.
"We can't lose sight of the fact the virus isn't going away", he added.