Londonderry: Foyle College asks former pupils to help pay debt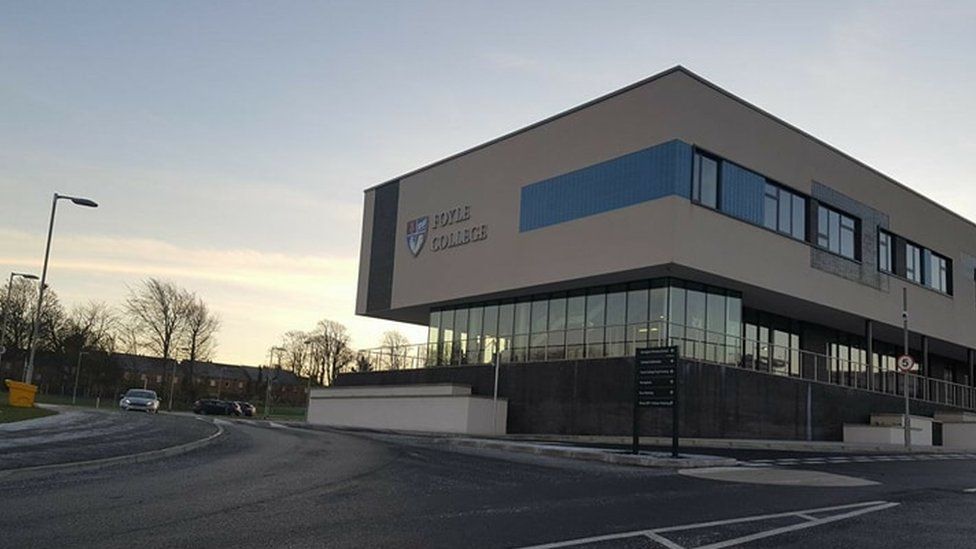 A Londonderry grammar school has asked former pupils to help pay an outstanding debt of £821,000 to the Department of Education (DE).
A letter, which has been seen by BBC News NI, was sent to former pupils of Foyle College last month.
The DE said it would continue to work with Foyle College "to secure repayment of funds related to their move".
The letter to former pupils said that the school "owes DE £821,000 in relation to our share of the cost of the new school".
It said that DE had offered to defer repayment of the money, but that could involve terms and conditions that would threaten the school's voluntary grammar school status.
However, the chair of Foyle College's governors said he was confident the money would be repaid.
Voluntary grammar schools are funded directly by DE but then have independence to manage their own budget.
The budgets of controlled schools, by contrast, are managed and overseen by the Education Authority (EA).
The Foyle College letter was first revealed by the Derry News newspaper and then obtained by BBC News NI.
It said that when the school moved to its new campus it had decided to build additional facilities "beyond what public funding could provide".
Those facilities cost the school an additional £2.4m, and it still needs to find £821,000 of that money to repay DE.
Speaking to BBC Radio Foyle's News at One programme, the chair of Foyle College's board of governors Gavin Killeen denied that the school had "overspent".
"The Department of Education that fund capital builds such as this are very restrictive in the type of facilities that the school can build - the classroom size, the number of classrooms, the size of your assembly hall, the size of your sports hall, the amount of playing fields that you would have," he said.
"The board of governors quite a while ago decided that we're not going to move very often - you're going to do it once every two or three generations.
"We wanted to make sure that we were moving to the best possible school that we possibly could have and the board of governors were very happy to enhance the budget that the department had already agreed to fund that.
"We were able to add extra playing facilities, extra rugby pitches, extra hockey pitches - we have a sports hall that's able to accommodate five badminton courts."
Mr Killeen said that some former pupils had previously donated "very significant" contributions towards the school building, which was "second to none".
"We have raised well in excess of over £1m already," he said.
"You don't know exactly what you have until everything is finalised so it's only really over the last eight months that we know the final position."
But Mr Killeen admitted that the school's status as a voluntary grammar could be at risk if it could not repay the outstanding £821,000 to DE.
"It we weren't able to repay the department our future like any other business or any other organisation would come into question," he said.
"But we're very confident that we will repay the money."
He also said the local community had also been able to benefit from the additional facilities the school had decided to build.