Keith and Kristyn Getty: At home with world's most successful hymn writers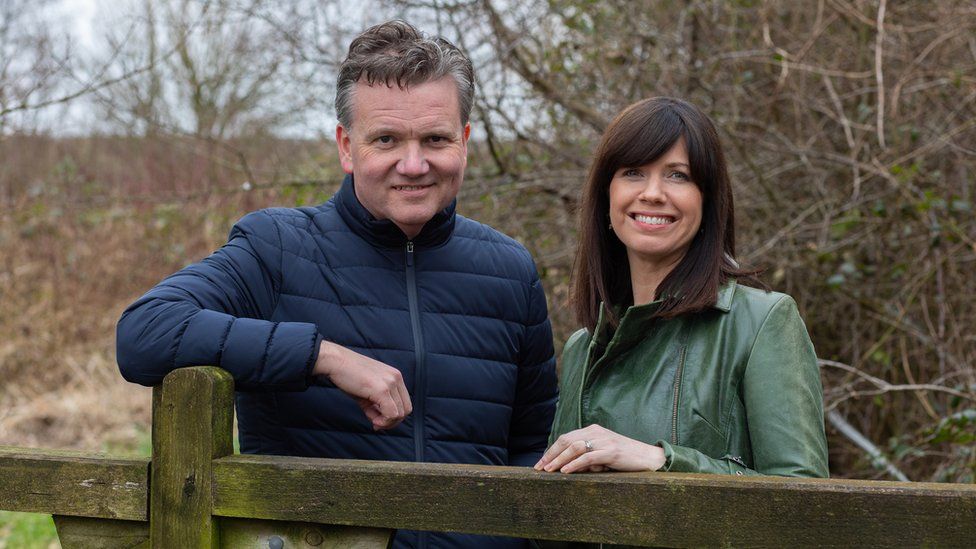 They have been described as the world's most successful modern hymn writing duo.
Keith and Kristyn Getty's most famous hymn, In Christ Alone, is sung an estimated 100 million times every year.
Easter of this year marks the 20th anniversary of its release. However, it's far from a one-hit wonder for the Northern Ireland couple.
Consider the Stars from the Getty Evensong album knocked Frozen off the top of the Billboard charts in the USA.
Born and bred in Lisburn and Belfast, the couple have for years split their time between their homes in Northern Ireland and Nashville, while performing and touring across multiple continents in between.
However, the Covid-19 pandemic has impacted their gruelling workload and, for the past year, the Gettys have swapped the Grand Ole Opry and Royal Albert Hall for the home in Ballybogey in north Antrim they share with their four young daughters.
BBC NI caught up with them for a new 30-minute documentary, made by Imagine Media.
Viewers will see inside the private world of Keith and Kristyn, who also share performances of some of their most famous songs.
"Being home in Northern Ireland for the last year has been very special," Keith Getty said.
"After 15 years on the road touring, lockdown has given us the opportunity to do things as a family which we have missed.
"We realise this has been a difficult time for everyone, and we hope the programme helps enrich people's lives this Easter."
The couple tell the documentary, At Home With the Gettys, how they first met, their move to Nashville and their work reinventing the modern hymn.
Viewers will also follow them to Down Cathedral where they recorded a monthly family "hymn sing", this time to celebrate St Patrick's Day.
During lockdown, there have been over one million views across 100 countries of these events on social media.
The Gettys describe their mission in life as spreading the word of God through song.
The documentary has been produced by BBC News NI's Stephen Watson.
"This is a remarkable story of how two talented musicians from Northern Ireland combined to produce some of the most popular modern hymns in the world," he said.
"I was truly amazed to discover the impact these songs have had in so many countries.
"Keith and Kristyn's music will be sung for centuries to come, and we should be very proud to say they originated from here."
At Home With The Gettys is on BBC One Northern Ireland on Thursday 1 April at 10.45pm and will also be available on BBC iPlayer.