Covid-19: Swann 'delighted' by jab at Ballymena pharmacy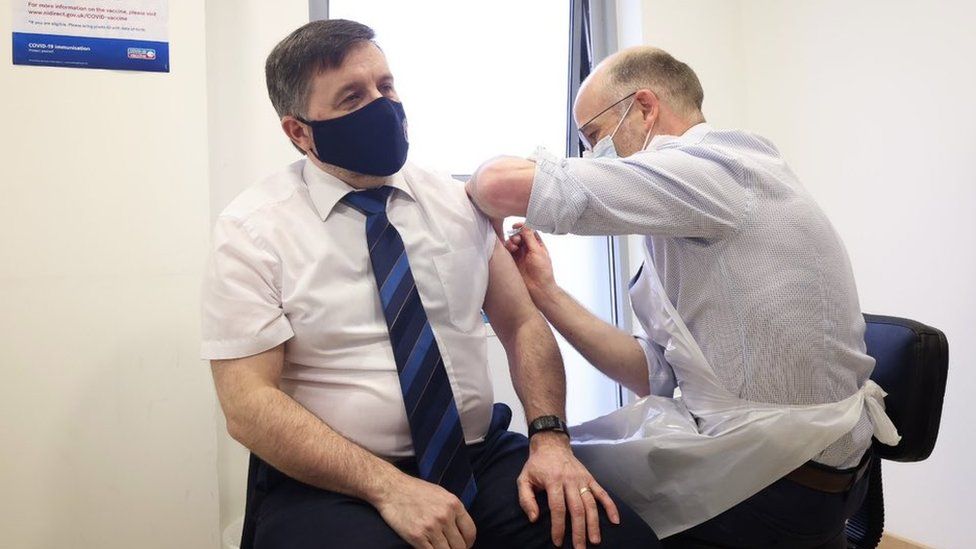 Health Minister Robin Swann has said he was "delighted" to join almost 750,000 others who have been vaccinated in Northern Ireland after receiving his first jab.
Mr Swann received the Oxford-AstraZeneca vaccine at a community pharmacy in Ballymena.
It came on the day people aged 45-49 became eligible to receive a vaccine.
Mr Swann said "it was important that we get as many people vaccinated as soon as possible".
"I would just like to thank our community pharmacy colleagues for stepping up and joining the other vaccination teams in the regional vaccination centres and our GP practices because this is very much a joint effort as to how we come out of the current restrictions that we're in," he said.
Mr Swann also said he had no qualms about getting the AstraZeneca dose of the vaccine and that he hoped it would help any others who might be worried about getting theirs.
"For those people who are still hesitant, still thinking about it, I'm comfortable to come here today and take the Oxford-AstraZeneca because my age profile now suits," he said.
"So when yours does as well I'll ask anybody, please come forward, there's booking slots there, we're making them available now across Northern Ireland in our regional centres, our GPs and now community pharmacies as well."
Those in the 45-49 age bracket can now book their jab at a vaccination centre or participating community pharmacy.
People have been urged to book online or, if that is not possible, to use the telephone booking number 0300 200 7813.
Those eligible for vaccination can also wait for their GP to contact them to arrange their jab.
The 45-49 age bracket is defined as everyone born between 01/04/1971 and 31/03/1976.
Northern Ireland's new mass vaccination centre opened at the SSE Arena this week while almost 350 community pharmacies have also joined the vaccination programme.
As of Wednesday, 749,112 individuals in Northern Ireland had received one dose of a Covid-19 vaccine, while 138,486 have received two.
The total number of number of vaccines administered is 887,598.
The chairman of Northern Ireland's GP Dr Alan Stout said that there was a "background fear" uptake of the vaccines will reduce as the roll-out moves to younger age groups.
Various factors such as social media and rumours could influence people, he said.
However, Dr Stout said there hadn't been a huge amount of vaccine hesitancy so far in Northern Ireland.
Meanwhile, the Northern Ireland Statistics and Research Agency (NISRA) has released further details about deaths in Northern Ireland during the pandemic.
Between 1 March and 31 December 2020, there were 1,831 Covid-19-related deaths registered in Northern Ireland.
Covid-19 was the underlying cause of death (the disease which initiated the train of morbid events leading directly to death) for 1,626 deaths (88.8% of Covid-19-related deaths).
There were no pre-existing conditions - a condition that pre-dated or was independent of Covid-19 - for 157 of the 1,626 Covid-19 deaths (9.7%). On average, there were 2.4 pre-existing conditions per Covid-19 death.
Dementia and Alzheimer's disease were the most common pre-existing condition, appearing in 524 of the 1,626 Covid-19 deaths (32.2%).
The next most common pre-existing conditions were diabetes (335 deaths) and hypertensive diseases (332).
Over the entire period between 1 March 2020 and 28 February 2021, there were 2,814 Covid-19 related deaths registered in Northern Ireland.
Covid-19 was reported as the underlying cause of death for 2,451 deaths, and for 216 of these 2,451 deaths (8.8%), there were no pre-existing conditions.