Concern at lockdown impact on sex crime reporting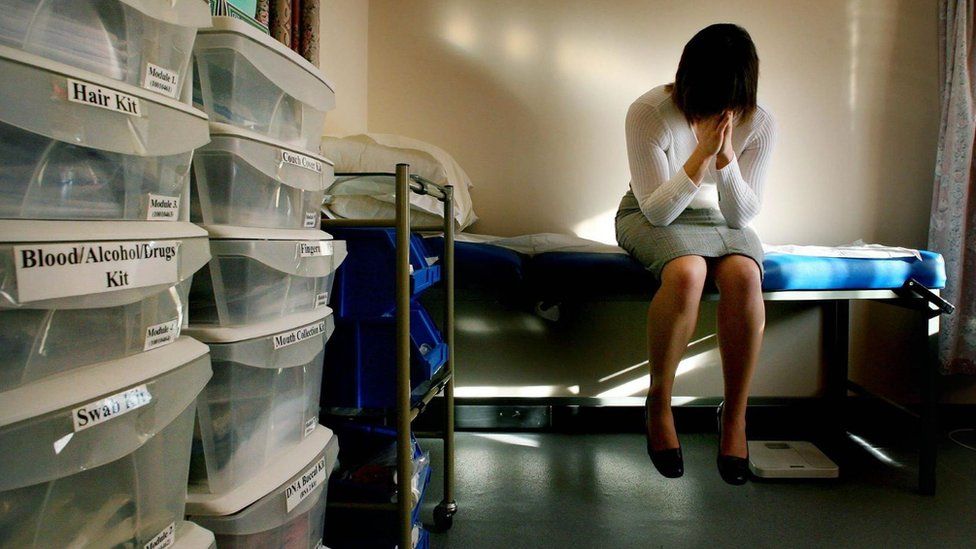 The number of sexual offences reported to police in Northern Ireland dropped dramatically during the Covid-19 pandemic, criminal justice inspectors have said.
In the second quarter of 2020, overall sexual offence reports fell by just over one third.
Rape reports fell by 39% and other sexual offences fell by 32%.
The Criminal Justice Inspectorate said progress has been made on helping victims, but more needed to be done.
The report by the CJI found in the 12 months from 1 December 2019 to 30 November 2020, sexual offences decreased by 6.6%, with reported rapes falling by 2.3% and other sexual offences decreasing by 8.4%.
Reports of sexual crime were at their highest level in 15 years at the outset of the pandemic, but those figures dropped markedly during the health crisis.
Inspectors expressed concern that this could be linked to the lockdown and the fact that victims were often living with their attackers.
The concerns were raised in a follow-up review of how sexual offences are handled within the criminal justice system.
Chief Inspector of Criminal Justice Jacqui Durkin called for "all recommendations" to be implemented.
Ms Durkin said she was aware that the Covid-19 pandemic had had a delaying effect on some of the changes recommended to criminal justice organisations, but said it could not be used as a reason for not trying to implement reform.
"As criminal justice organisations seek to recover and restore, it is important work continues to fully implement all the inspection recommendations they have accepted," said Ms Durkin.
"This includes those recommendations still to be progressed, so vulnerable victims and witnesses also affected by the Covid-19 lockdown, and those who have yet to report sexual crimes, benefit from improvements aimed at addressing the specific issues identified in the Without Witness inspection."
The review praised the work being undertaken on draft legislation that could reform committal proceedings at magistrates court level, meaning trials would be listed quicker and victims "will not be further traumatised by having to give their evidence in a court twice".
It also reported favourably on the number of staff working on sexual offence cases at both the police and Public Prosecution Service (PPS), as well as technological advances, such as CCTV and body-worn camera footage being sent in a timely fashion to prosecutors.
One area Ms Durkin said inspectors were disappointed with was the decision by the PPS not to record their decision-making rationale for all cases, choosing instead to limit it to Crown Court cases only.
The PPS said it remained committed to implementing recommendations made by the CJI report and the Gillen Review.
Assistant Director Ciaran McQuillan, head of the serious crime unit, said "we have made progress but we recognise there is much to be done across the system" and that it would take time for that work to "bear fruit".
"The PPS is playing a central role in ongoing work to improve how the criminal justice system deals with these cases," he said.
"This includes significant work with partners to implement recommendations made in the 2018 CJI Without Witness inspection and from the Gillen Review.
"We will study this follow-up report closely as part of our on-going work to improve the service we provide."
Detective Chief Superintendent Anthony McNally from the Police Service of Northern Ireland welcomed the review's findings and said officers would continue to "work collaboratively with our colleagues in the criminal justice sector" to improve performance.