Coronavirus: NI scientists play 'global role' in response
By Marie-Louise Connolly
BBC News NI Health Correspondent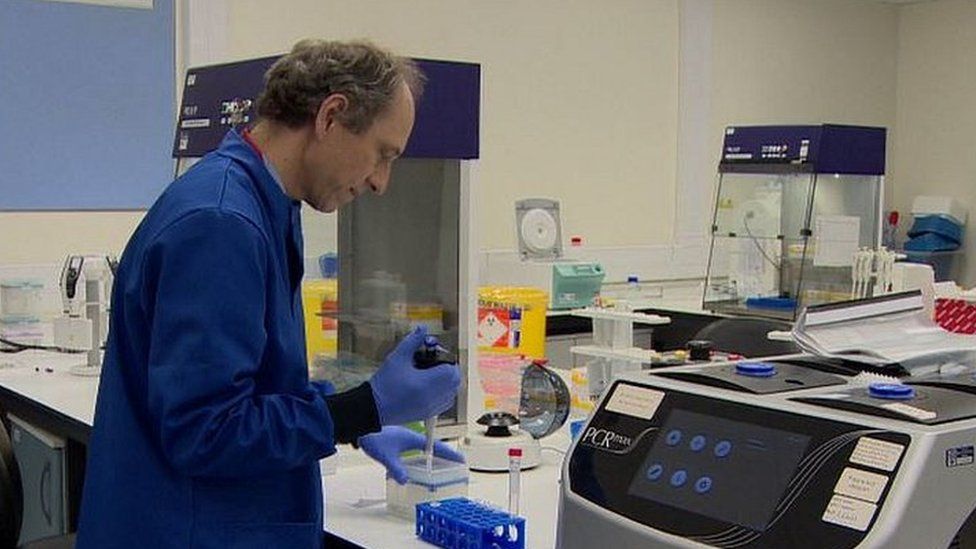 Scientists from Northern Ireland are playing a global role in developing treatments around coronavirus.
Data from trials in local hospitals and universities has been key in forming national policy and influencing the public health response.
One of the most high-profile clinical trials involving people from NI has been for the Novavax vaccine.
Another trial is exploring why some people experience mild symptoms while others react more severely.
Dr Victoria McGilligan, from the InflaTMP study, is a lecturer in personalised medicine at Ulster University.
She said the team was hopeful that the outcome of the trial could be a "powerful" treatment strategy for other human coronaviruses.
"We are hopeful that this approach to therapy, where we target both viral replication and inflammation, could also be a powerful treatment strategy for other human coronaviruses and other viruses, including influenza virus, which exploits similar infection and inflammatory responses," she said.
The cross border project also involves Trinity College Dublin.
The project is another example of science and medicine merging at speed over the past year in order to understand the virus and then tackle it.
Experts believe science is winning the race and that is down to a global effort involving doctors, scientists and the public's willingness to get involved in health trials.
One of those trials is looking at the best way to manage Covid-19 patients with lung failure - patients in NI have been taking part in the global research which will influence treatment in the future.
Danny McAuley is a professor of intensive care medicine at Queen's University Belfast and said more than 100 patients took part in the trial, which is ongoing.
"Our trial is all about exploring the best treatment for patients," he said.
"Whenever you come into hospital with lung failure you can get standard oxygen therapy or you can get higher flow oxygen therapy or you can get ventilation via a face mask.
"What we are trying to find out is which of these is the best therapy when you come into hospital ill with Covid-19."
Professor McAuley paid tribute to everyone who has taken part in trials and described their contribution as "invaluable" in the global fight against the virus.
"While Northern Ireland is small the contribution from every single person who took part - and at whatever stage in their treatment - has contributed to global research that will influence how we tackle Covid for years to come."
As well as tackling coronavirus on hospital wards behind the scenes, scientists in NI have been attempting to keep pace with the virus by tracking and tracing it.
Unlocking the Covid-19 genetic code - or genome sequencing - has been critical in detecting the Kent and South African variants.
Once a person tests positive, their sample is analysed back in the a lab, which helps influence the public health response.
Dr David Simpson, a senior lecturer at The Wellcome-Wolfson Institute for Experimental Medicine at Queen's University, said the work undertaken so far had been able to detect the Kent and South Africa variants of the virus.
"This work is really important as we can via genome sequencing detect the type of variant and more importantly, with the authorities, reduce the spread of it," he said.
"We then feed in the data from NI into the UK-wide data base and then that goes on into an international database, so that allows scientists to study the spread of the virus as well in NI.
Speaking to BBC News NI, Professor Ultan Power said the pandemic had shown that "nobody is safe until everyone is safe" and that required science and medicine to continue working together.
He said it needed commitment and buy in from governments around the world.
"If we invest properly in biomedical research there will be delivery and that is shown by the vaccines and the drugs that have been produced in an extremely short period of time - so if the investment is there things will happen," he said.