Men 'privileged over women' in Irish traditional music
By Robbie Meredith
BBC News NI Education Correspondent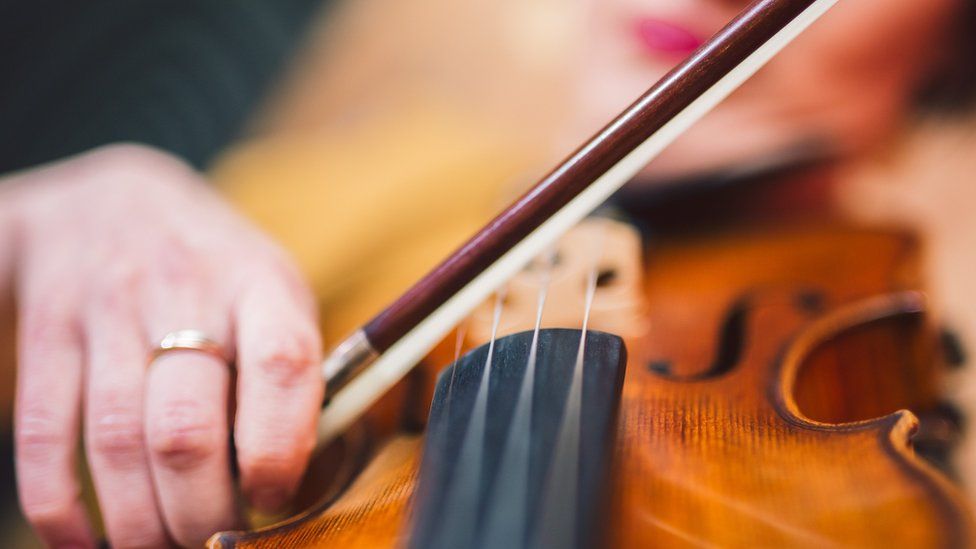 The Irish traditional music scene continues to "privilege the contribution of men" over women, a new research paper suggests.
A number of women who are experienced musicians have also faced repeated discrimination, sexism and isolation during their careers.
Dr Úna Monaghan carried out the research into experiences of sexism in Irish traditional music.
She is a Belfast-based musician, composer, academic and sound engineer.
Dr Monaghan carried out research for the study while at Cambridge University in 2018 and 2019 but it has just been published.
In the paper, entitled "121 Stories: the impact of gender on participation in Irish traditional music", Dr Monaghan analysed the experiences of 83 Irish traditional musicians and singers.
They had completed a detailed online questionnaire and in some cases also made additional submissions telling their stories.
"Respondents' experiences demonstrate that the mechanisms and structures of the Irish traditional music scene privilege the contribution of men," Dr Monaghan wrote.
Many female musicians spoke of feeling vulnerable, isolated and silenced as a result of their experiences.
A number of respondents to her study gave details of how they had encountered sexism in Irish traditional music.
"An agent we really wanted to work with baulked when he heard I was getting married," one said.
"He said I needed to let him know if I wanted to have children."
Another musician said she was continually treated as a "prop" by male colleagues.
"At one gig the guitarist insisted my fiddle be unplugged so I was basically miming throughout the gig," she said.
"At a practice one of our male tutors said that having me as 'eye candy' for the adjudicators and audience was a bonus," another said.
Many respondents said wider gender bias in society often recurred in the Irish traditional music scene.
This included female musicians having to listen to "sexual innuendo" from male musicians or being described as "fiery or a battle-axe or a handful" when they were assertive.
Other respondents reported experiencing a "boys' club," "laddish behaviour," or being made to feel uncomfortable during Irish music 'sessions'.
One musician talked about asking a tour manager for money for lunch.
"He took out a wad of cash, pulled out a few notes and then stuffed them into my bra - yes, my bra - in front of everyone," she said.
"I was humiliated - humiliated and felt so degraded."
Eleven responses to Dr Monaghan's study also detailed a sexual assault and 16 incidents of sexual harassment.
However, 10 respondents to the study stated that "the author had not seen any form of gender discrimination or that it does not happen."
Dr Monaghan concluded that gender "affects participation across all contexts in Irish traditional music."
"Impacts are not confined to the professional sphere, nor are they confined to the past," she wrote.
"When considering the implications of the findings, although the complexity of this issue makes it difficult to define and address, it does also mean that everyone is in a position to help bring about change."
Sixty-nine of the 83 musicians who responded to Dr Monaghan's research were women and 72 regarded themselves as experienced or expert musicians.
Almost two-thirds of submissions were from Ireland - though it is not clear how many were from Northern Ireland and how many from the Republic of Ireland.
Dr Monaghan's research paper has just been published in the journal Ethnomusicology Ireland.
The study received ethical approval from Cambridge University faculty of music ethics committee.