Climate change: Plans revealed to slash carbon emissions in NI
By Conor Macauley
BBC NI Agriculture & Environment Correspondent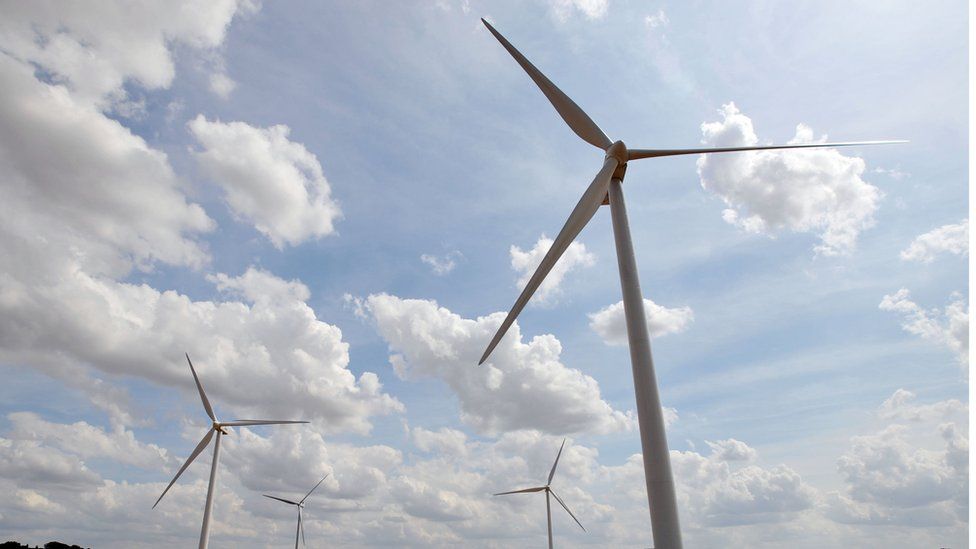 Ideas to dramatically reduce carbon emissions from homes, businesses, transport and power sectors go out to public consultation on Wednesday.
It comes as Northern Ireland begins to formulate plans to deal with the climate challenge.
People in NI are heavily reliant on fossil fuels for almost every aspect of their lives.
The plans announced today aim to all but eliminate carbon emissions from our energy use.
It will mean more renewables, greater energy efficiency in homes, an end to petrol and diesel cars and a move to clean power sources like hydrogen.
Among the proposals is a new target of generating 70% of electricity from renewables by 2030.
But the scope is much wider than simply power generation and will affect how we get around and heat our homes.
The ideas are in the Economy Department's Energy Strategy, which aims to set future policy in the area and now goes out to public consultation until 30 June.
Once the public has had its say, the executive will use the responses to set policies that will attempt to deliver huge reductions in carbon emissions.
Alongside attempts to cut emissions will be a commitment to keep costs down for consumers and protect the most vulnerable.
Retrofitting existing homes to make them much more energy efficient is one of the central planks - creating green jobs.
So too is improving public transport and encouraging drivers to move to electric vehicles.
We will be expected to decarbonise home heating, with existing natural gas customers moved onto clean fuels such as hydrogen supplied through the existing network.
People reliant on home heating oil could be asked to burn a green fuel, such as hydrogenated vegetable oil, or switch to heat pump technology.
There's also to be a push for off-shore wind, something that has so far not been achieved here.
There are proposals for a new support mechanism for renewables, similar to the one in Britain.
Economy Minister Diane Dodds said: "In order to eliminate carbon emissions from energy, our business and domestic consumers will need to make cleaner, leaner energy choices which will include moving away from fossil fuels by switching to renewable technologies and doing more with less."
A recent executive-funded report by academics at Exeter University criticised the overly complex governance arrangements for energy in NI, with different departments having responsibility for different sectors such as housing and transport.
It recommended a new climate department be established to centralise decision-making.
Coal, which is still used by 72% of homes in NI as a secondary heating source, could be phased out along with other fossil fuels, with only kiln-dried logs for burners still available.
The proportion of electricity generated from renewables - almost 50% - is often held up as an example of how well Northern Ireland is doing in this areas.
But the reality is that electricity generation only accounts for 16% of our total energy usage.
Transport and home heating are two big areas of consumption which are still almost totally reliant on fossil fuels such as petrol, diesel and kerosene.
Minimum energy efficiency ratings for homes being sold or rented are also potentially on the cards.
Homes in NI use more energy that anywhere else in the UK.
There may be financial support to help people make the necessary improvements to bring buildings up to a higher standard.