Bobby Storey funeral: PPS announces review of decision not to prosecute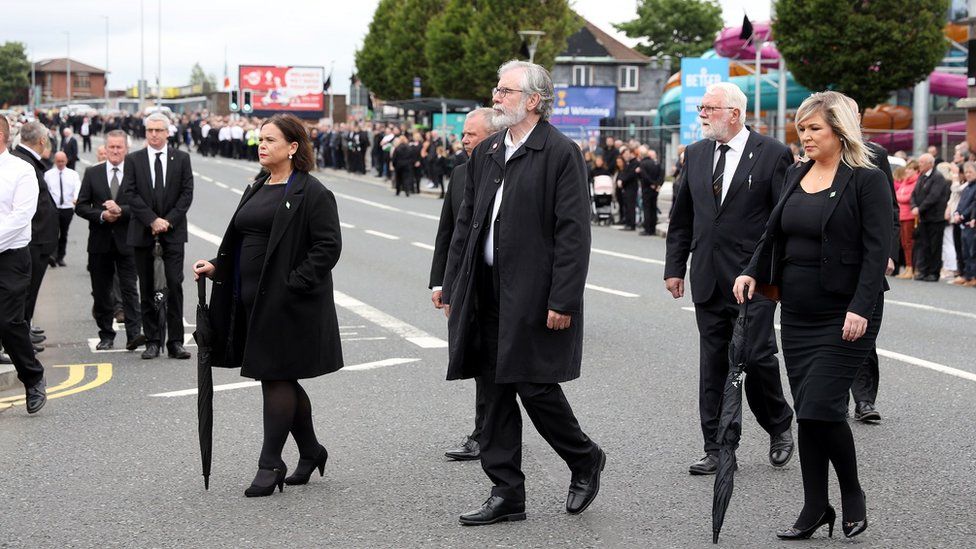 The Public Prosecution Service (PPS) has announced a review of its decision not to prosecute anyone in relation to the funeral of Bobby Storey.
The funeral last June attracted 2,000 mourners - including Deputy First Minister Michelle O'Neill - at a time when Covid restrictions were in place.
The actions of 24 Sinn Féin politicians were examined, including Ms O'Neill.
Separately, Health Minister Robin Swann urged people to stick with restrictions and not be distracted by politics.
The PPS said it has received requests for a review, including one from a politician on behalf of the public.
UUP MLA Doug Beattie said he had submitted that request to the PPS on Tuesday on behalf of his constituents "who have been materially affected both financially and emotionally by the original decision not to prosecute".
Mr Storey, 64, was a senior republican figure and had formerly been the head of intelligence for the IRA in the 1990s.
The attendance of many senior Sinn Féin politicians at his funeral in west Belfast, at a time when strict limits on gatherings were in place, caused a political furore.
She said he had lost the confidence of the unionist community, but he has rejected calls to step down.
On Wednesday, the PPS said its review process will be carried out by a senior PPS lawyer who was not involved in taking the original decisions.
"This lawyer will be assisted by obtaining the advice of senior counsel who is independent of the PPS and was also not in any way involved in the original decisions," the body said.
DUP MP Ian Paisley said he welcomed the review decision and that he had, on behalf of a constituent, instructed solicitors to commence a judicial review of the decision, but that has been paused until the review is completed.
The Northern Ireland Assembly will be recalled on Thursday for a censure motion against Sinn Féin for its members' attendance.
Mrs Foster told Good Morning Ulster that it was "folly" to ignore unionists' concerns, and those of the wider community.
"If Simon Byrne believes that he can dig in and stay, then we will have to look at other ways to deal with these issues."
She added: "It cannot continue as normal."
Mrs Foster said Mr Byrne had "engaged in leading an organisation into a position where they have lost the confidence of the unionist community".
Party colleague Gordon Lyons said on Wednesday morning that it continues to be the party's position that Michelle O'Neill should also resign.
The Progressive Unionist Party (PUP) and the TUV have also called on the chief constable to resign. They have questioned whether unionist representatives should remain on the policing board.
Mr Byrne said he would not step down, and that such an action would undermine his predecessor.
On Wednesday, Mr Byrne told the Nolan Show that police warned the organisers of Bobby Storey's funeral in advance that their plan would be a breach of Covid regulations.
He also insisted that no deals were done with the organisers.
"Nobody in the PSNI did a deal or looked the other way," Mr Byrne said.
It is understood that the Police Ombudsman is giving "careful consideration" to issues raised in correspondence to the office, believed to be from the DUP.
This review should not be overstated - it is something that happens, if not on a routine basis, certainly on a regular basis.
There is a well established internal process within the PPS whereby people who are unhappy with the original decisions can have an internal review of that decision.
This isn't a new call for evidence.
This is simply a fresh pair of eyes and a different mind casting their eye over the same evidence and seeing whether the original decision is one that they agree with.
In my experience, it would be unusual for the original decision in these cases to be overturned.
Mr Byrne said on Tuesday that enforcing the coronavirus regulations has been a "consistently challenging and often uncomfortable role for my officers", and that police did recommend prosecutions in the case.
"The decision not to prosecute does not change our view that what happened last summer when large numbers of people chose not to 'stay at home' at the height of a global pandemic was unnecessary, irresponsible and insensitive. It was wrong," he added.
Meanwhile, a meeting of the Northern Ireland Policing Board will be held in private on Thursday, but the public element of the meeting has been cancelled.
Mrs Foster said it was not possible to table a motion of no confidence in Mr Byrne, as 10 days notice is required.
She stopped short of saying whether DUP members of the board would step down, but did not rule it out.
DUP MLA and board member Mervyn Storey said he would challenge the chief constable over the "appalling" actions of the police in relation to the funeral and seek to find out how decisions were reached.
"Any senior officer who approved of or contributed to the decision-making around this policing operation is also in an untenable position," he said.
Ms O'Neill said in the wake of the PPS announcement on Tuesday that she wanted to once again apologise "for the hurt that has been caused to so many, including to Bobby Storey's own family who have been thrust into the headlines at a time of immense grief".
On Wednesday, the party's North Belfast MP John Finucane, who also attended the funeral and was interviewed by the PSNI, said "mistakes were made" over the way the funeral was organised. He also apologised.
But he said there was confusion over the Covid restrictions in place at the time.
"Mistakes were made, and I think that's very clear, and there are those who will struggle to accept our apology for that and I totally understand that," Mr Finucane said.
What have the other political parties said?
SDLP MLA Matthew O'Toole said the recall of the assembly would provide a "forum of accountability".
The South Belfast MLA said the motion, which does not have any binding consequences, was not "political game play" but was about holding Sinn Féin ministers to account.
Simon Byrne has made it clear that he's not for turning on this. There is a massive divide here - we know the anger that the DUP feels about this.
Arlene Foster said she has written to the Police Ombudsman, she's also raised it with the secretary of state and has called for Her Majesty's Inspectorate of Constabulary to get involved and carry out their own assessment.
There are those today questioning why the DUP appear to be piling pressure on the chief constable rather than Sinn Féin, although we know that the DUP position remains that Michelle O'Neill should have stepped down at the time.
Clearly, Sinn Féin isn't going to do that and the DUP feels it also has to direct its anger at others involved.
All of this more widely reflects the view held within grassroots loyalism and unionism for some time now that they feel frustrated that the PSNI doesn't have their confidence in terms of how it has handled events over the last year.
The motion calls for the assembly to place on record its regret that the Sinn Féin representatives, who attended the funeral last June, breached political messaging and undermined efforts to prevent transmission of the virus.
Health Minister Robin Swann has urged people to stick with the Covid restrictions in place.
"What I would say to the people of Northern Ireland is don't let the political distraction that has come out over this take away from the public health message," he said.
Mr Swann said we are entering a challenging period over Easter, but we are facing a "joint enemy".
UUP leader Steve Aiken said his party had "real concerns" about the PSNI's senior leadership, and would be referring the matter to the Police Ombudsman.
He said attendance at the Storey funeral had undermined the health message, but added that people should continue to follow Covid regulations and not be "distracted" from that.
Alliance deputy leader Stephen Farry said that the party continues to have confidence in Mr Byrne.
"What we are very conscious of is the primary responsibility for what happened lies with Sinn Féin and it would be perverse if we end up in the situation where the agencies who had to handle the situation are being held to account rather than those who were primarily responsible for what unfolded last June."
TUV leader Jim Allister has backed calls for Mr Byrne to resign, and said the decision not to prosecute had "trashed" Covid regulations.
He added that the recall motion would keep a "spotlight on those who were the lawbreakers and got away with it and those at the same time who were the lawmakers".