Stormont: Arlene Foster 'blocked' final budget, says Conor Murphy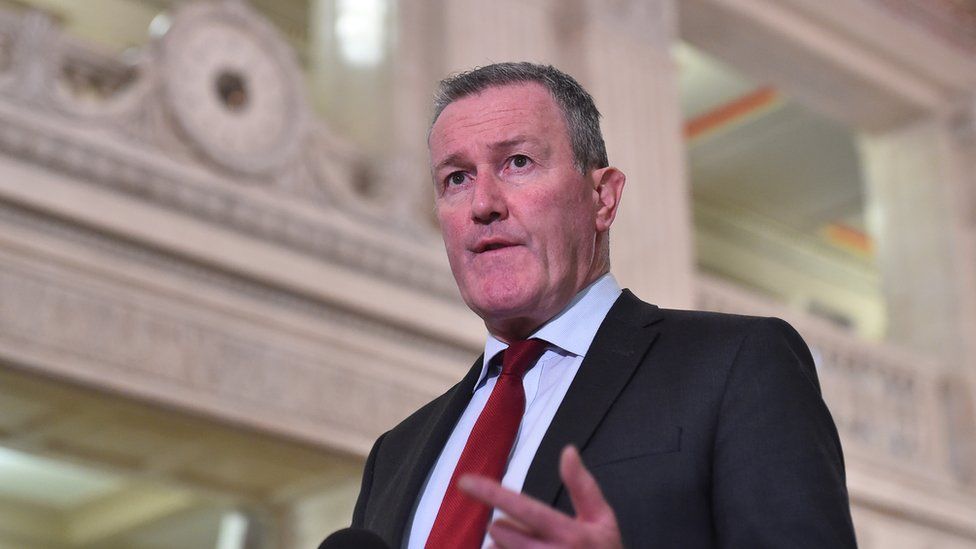 Stormont's finance minister has said the First Minister Arlene Foster has blocked him from presenting a final budget for the new financial year.
Conor Murphy has written to MLAs, saying it will affect the ability of departments to make financial plans.
A DUP spokesperson said it was "a failure of no one but the Sinn Féin finance minister".
BBC News NI understands a budget will now be presented at an executive meeting on Thursday.
A Sinn Féin source said Mr Murphy told his fellow ministers that the executive would allocate money once funding arrangements had been finalised with the UK government.
Mr Murphy presented a draft budget to the Northern Ireland Assembly on 18 January, which was then open for public consultation until 25 February.
In his letter, he said he had then circulated a paper to executive ministers on 15 March setting out a final budget that contained a number of "minor adjustments".
"Although the paper has been agreed by the deputy first minister, the first minister has not agreed to the paper being tabled for executive consideration," he continued.
Mr Murphy said the failure to agree the final budget could result in delays to the extension of Covid support funding for businesses.
He said it also placed him in a technical breach of the law, as Section 64 of the Northern Ireland Act requires him to lay a budget before the beginning of the financial year.
The DUP spokesperson said: "DUP ministers will be happy to discuss and agree a budget document capable of securing broad executive support whenever the finance minister comes forward with one."
UUP leader Steve Aiken said the delay showed a "shambolic approach to public finances in Northern Ireland".
Dr Aiken, who is chair of Stormont's finance committee, said that reading between the lines it "appeared to be about the internal feuding between Sinn Féin and the DUP".
"That the Troubles Permanent Disablement (Troubles pension) Scheme will be further delayed, essential funding for health curtailed, policing numbers not being increased, and support to our economy and infrastructure defrayed, just demonstrates that elements within our executive are still incapable of making the grown-up decisions that any other democracy would expect."
Stormont experienced a lengthy budget crisis in 2017 when the executive collapsed without agreeing a budget.
In that situation, the top civil servant at the Department for Finance used emergency powers to release cash and resources to departments.
So although the latest row points to deteriorating relationships at the executive there is an established process to keep the money flowing to public services.