Loyalist violence: Dialogue needed with police 'at all levels'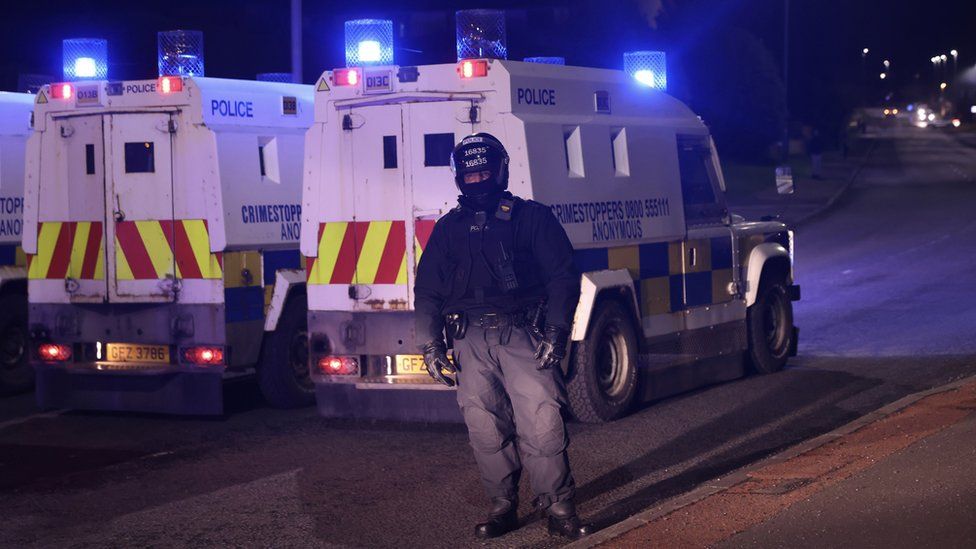 The NI Policing Board chairman has called for a redoubling of efforts to calm loyalist tensions and for dialogue with police at all levels of the force.
Mr Byrne briefed the Policing Board on Wednesday about the trouble over the Easter period in a private session.
There were no reports of serious disorder on Tuesday night, but police maintained a presence in many areas.
Ulster Unionist Party (UUP) leader Steve Aiken said the fact that Mrs Foster had not engaged with Mr Byrne in the wake of the violence was a mistake.
"I have issues with the chief constable because of past actions and decisions, but that should not be the cause for us to refuse to engage," Mr Aiken said.
"He is the head of the Police Service of Northern Ireland and while he is in post, we should continue to work with him and all his officers."
Following the Policing Board meeting, chair Doug Garrett said members were unanimous in their condemnation of the recent disorder.
"At this time, there must be a redoubling of efforts to calm tensions and for continued dialogue between the community and police officers at all levels of the PSNI (Police Service of Northern Ireland)," Mr Garrett said.
"Nothing is achieved without talking, and leadership is needed from all those with influence so that any concerns can be addressed through the democratic structures in place; and through the board mechanisms for policing oversight and accountability."
Some have linked the violence in parts of greater Belfast and Londonderry in recent days to the decision by the Public Prosecution Service (PPS) not to prosecute anyone who attended the funeral of former IRA man Bobby Storey in June 2020.
It was attended by 2,000 mourners - including Deputy First Minister Michelle O'Neill - at a time when Covid restrictions were in place.
Her Majesty's Inspectorate of Constabulary (HMIC) is to examine the PSNI's role in the funeral, after being called in by Justice Minister Naomi Long at the request of the Policing Board.
The Policing Board meeting was an opportunity in private session - it lasted about 90 minutes - for the chief constable to update the 19-member board on the events of the last number of days.
It was a factual analysis. He pointed out that 41 officers had been injured in a range of violent incidents.
This was not a re-examination or a questioning of policing around the Bobby Storey funeral, although I'm told that some members did express support for the chief constable, while others obviously didn't.
Board chairman Doug Garrett said afterwards that members were unanimous in condemnation of the violence.
He did say that there must be a redoubling of efforts to calm tensions and that nothing is achieved without talking.
That will be seen, certainly in some quarters, as implied criticism of Arlene Foster's position in terms of not talking to the chief constable.
Mrs Long has asked it to complete the inspection "by no later than May 14". Last week, Mr Byrne expressed surprise at the conclusion by the PPS.
Mr Garrett told BBC's Evening Extra programme that it was "not an ideal position" for senior politicians and police not to talk.
Mrs Foster earlier reiterated her calls for the chief constable to step down.
The leaders of the Democratic Unionist Party (DUP), UUP, Traditional Unionist Voice (TUV) and Progressive Unionist Party (PUP) have said Mr Byrne's position is untenable over the PSNI's handling of the funeral.
On Wednesday, Jonathan Powell, the former adviser to Tony Blair at the time of the Good Friday Agreement, said politics has got "quite hot" again in Northern Ireland and people are "playing with matches".
"Politicians trying to second guess the police when they're making operational decisions is really a mistake and I hope that the first minister will back off on this and allow the police to proceed with their job," Mr Powell said.
It was view shared by former NI Secretary Shaun Woodward, who said it was "potentially a dangerous situation".
"There's a moment here, where, to borrow Jonathan Powell's words, you need to state your position but now back off," he said.
"Continuing to needle this particular thing will undo much greater issues of community policing in Northern Ireland."
Mrs Foster said she had a duty to speak out about the PSNI's failure to uphold Covid restrictions during Bobby Storey's funeral.
"The police, of course, have my full support," Mrs Foster told the BBC's Good Morning Ulster programme, but added that ordinary police officers had been let down by their senior management.
Mrs Foster said Mr Byrne had not asked to meet her and she had not asked to meet him.
"I have spoken to him [Simon Byrne] on many occasions and told him that the differential treatment for Sinn Féin has to stop," Mrs Foster said.
"He has been warned about it on a number of occasions. However, it continues to happen. That sort of specialised treatment for a political elite is very, very damaging."
Sinn Féin's John O'Dowd said at a time when the police were "under nightly attack" from loyalists, it would be "helpful and send out the right signals" if the first minister would agree to meet the chief constable, along with the deputy first minister.
Mr O'Dowd said such a meeting would "show unity of purpose across the board, across the political spectrum".
He said it would "ensure that those who are orchestrating this violence, those who are putting petrol bombs into the hands of 12-year-olds, get a very, very clear message that it's not acceptable".
DUP East Londonderry MP Gregory Campbell told BBC's Talkback programme that he had no doubt that Mrs Foster will speak to the chief constable.
He said ongoing loyalist violence may be hampering unionist efforts to force Mr Byrne to resign.
Justice Minister Naomi Long told the Today programme that policing had been "undoubtedly" politicised at a difficult time."When any politician declares they have no confidence in the chief constable that is a very serious matter, and when that is the first minister of Northern Ireland, that becomes even more serious.
"It is incumbent on all of us in public life and those of us in positions of leadership not simply to declare whether or not we believe the chief constable has our confidence, but to work to ensure that he has the confidence of the public and of the community."
The disorder has also been linked to loyalist frustrations over the Northern Ireland Protocol in the Brexit deal.
The NI Protocol has increased checks and caused disruption for some goods moving between Great Britain and Northern Ireland, creating an Irish Sea border.
SDLP leader Colum Eastwood said politicians need to "dial down" the rhetoric around Brexit and policing.
"We can't use that kind of language, calling for people to resign, calling for protocols to be scrapped that are never going to be scrapped," he said."Eleven year olds with petrol bombs don't understand the intricacies of the trading relationship between Northern Ireland and Britain or Northern Ireland and the EU, but tension has been whipped up by politicians."
Shadow NI Secretary Louise Haigh said the prime minister should be speaking out about the recent violence.
"The consequences of Brexit always had the potential to upset the very delicate balance of identities in Northern Ireland," she told BBC Radio Foyle."I don't think enough consideration was given to the consequences of the border down the Irish Sea."
NI Secretary Brandon Lewis tweeted that he was being kept "closely appraised" of developments by the PSNI and that he was appalled that officers had been injured.
Meanwhile, the HMIC review into the Bobby Storey policing operation will examine whether the PSNI's approach "was within the parameters of national policing standards in the context of the Covid health protection regulations", according to the Department of Justice.
It will also "offer relevant learning" to assist policing the regulations going forward.