Timeline: How Northern Ireland's violence unfolded
By Jordan Kenny
BBC News NI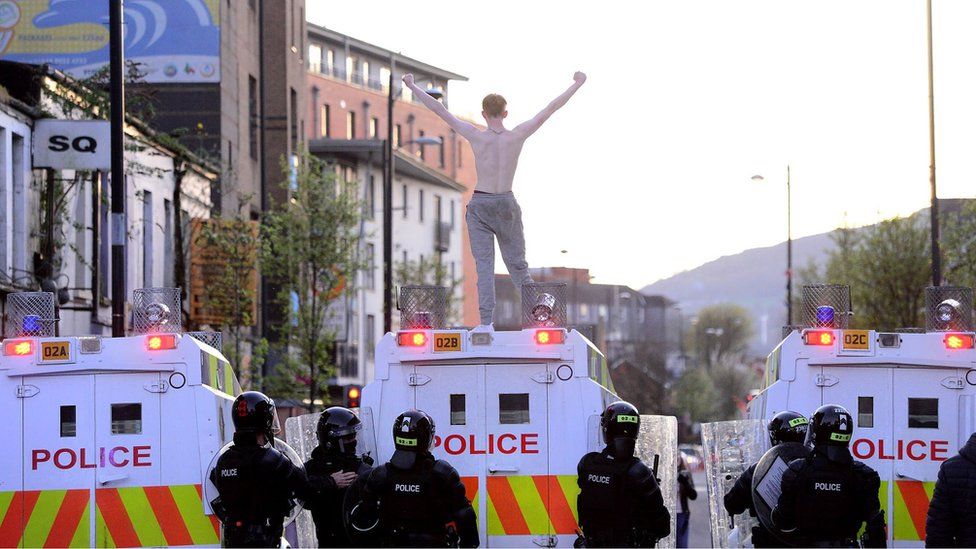 Northern Ireland has seen 12 days of sporadic violence, with crowds of predominantly young people rioting in towns and cities almost nightly since the end of March.
Armed with bricks, bars, fireworks and petrol bombs, people as young as 12 have attacked police in Londonderry, Belfast, Carrickfergus, Ballymena and Newtownabbey.
BBC News NI charts how the violence has unfolded.
A petrol bomb is thrown at a police vehicle while officers attempt to disperse a crowd of about 40 people in Londonderry.
A number of items, including wooden planks and iron bars, are seized at the gathering at the Tullymore Road area of the city.
No injuries are reported.
Petrol bombs are thrown at police in the Tullyally area of Derry.
A police vehicle is struck with a petrol bomb and has to be recovered from the scene.
Youths also reportedly throw masonry and start a small fire on the road during the disturbances.
For a third night, petrol bombs and masonry are thrown at police in the Tullyally area.
One officer is hit by thrown masonry but is able to carry on working.
Fifteen petrol bombs are seized during the disturbance.
A 17-year-old boy is arrested on suspicion of riotous behaviour.
Petrol bombs are thrown at both police and fire crews during a fourth night of unrest in Derry.
A parked digger is set alight, along with wooden pallets in the Rossdowney Road area.
12 police officers are injured in further trouble.
Petrol bombs, fireworks and masonry are thrown with officers sustaining head, leg and foot wounds.
A care home in Nelson Drive also comes under attack, causing what police call "untold fear and distress" to residents.
As many as 100 people gather in Belfast's Shaftesbury Square area for a loyalist protest.
A riot breaks out with petrol bombs, bricks and bottles thrown at police in Sandy Row.
Eight officers are injured and seven people arrested.
A small crowd of protestors gather at the Larne Road Link, which is closed by police along with the Crebilly Road.
Some 30 petrol bombs are thrown at police and three vehicles are hijacked and set alight during rioting in Newtownabbey, on the outskirts of Belfast.
A crowd of up to 30 people block the roundabout with two burning cars.
The crowd consists of young people and older men, some of whom are wearing masks.
NEW: Man injured by petrol bomb in Newtownabbey last night. The flames were eventually put out before his injuries were more severe. pic.twitter.com/AD6gflvnMJ

— Mark Simpson (@BBCMarkSimpson) April 4, 2021
Bricks and bottles are thrown at police and a bin set alight in another night of violence at the Cloughfern roundabout.
Some 20 to 30 people in masks set bins on fire and, when officers move in to the area, four petrol bombs are thrown at them.
One officer sustains a leg injury.
A 47-year-old man is charged with riot and throwing a petrol bomb following trouble in the area on Saturday night.
Petrol bombs and masonry are thrown at police in the loyalist Waterside in Derry.
About 40 youths are involved in the incident and the Dungiven Road is temporarily closed after pallets are set alight.
No officers are injured, but a senior officer says children as young as 12 were involved in the disorder.
Petrol bombs are thrown at police on the North Road in Carrickfergus, County Antrim.
A crowd of up to 50 people gather and 20 petrol bombs are thrown.
Four officers are injured after being struck by masonry, sustaining leg, foot and neck injuries.
An 18-year-old man is later arrested for alleged involvement in the violence.
Petrol bombs are thrown at police and vehicles set alight during further disorder in the Waterside in Derry.
Some 40 to 50 people with petrol bombs are involved.
Petrol bombs are also thrown at police during a security alert in the Templemore area of the city.
Two vehicles are set alight by youths in the Nelson Drive area, which escalates to bins being set on fire on the Limavady Road and a digger also being set alight.
There are reports of a brick being thrown at a taxi, which is carrying a passenger, on the same road at about 23:30.
Nine police officers are injured after trying to engage with people attending an "unnotified procession" in the Crebilly Road area.
A stretch of the M2 motorway is closed to allow debris, including a wheelie bin, to be cleared from the road following the disorder.
Meanwhile, about 300 people march through the Ballykeel estate in a reported "show of support for loyalist culture".
Police officers are at the scene but no unrest or arrests are reported.
There is also an un-notified loyalist parade in the Jervis Street area of Portadown.
No reports of serious disorder but police maintain a presence in many areas.
Police officers are attacked, petrol bombs thrown and a bus hijacked and burned in Belfast.
The rioting is "on a scale not seen in Northern Ireland for years", say police.
Eight officers are injured at an interface between loyalist and nationalist areas in west Belfast.
Several hundred people gather on each side of the peace wall separating the loyalist Shankill Road and the nationalist Springfield Road in west Belfast.
Petrol bombs are thrown in both directions and police officers say they fired six baton rounds to quell the disturbances after facing a "potential imminent loss of life".
Rioting breaks out on both sides of a west Belfast interface for the second night in a row.
Officers come under attack from both loyalists and nationalists near gates which separate the mainly loyalist Lanark Way (off the Shankill Road) from the mainly nationalist Springfield Road.
Dozens of youths, watched by hundreds of onlookers, throw petrol bombs, bricks and fireworks towards the peace line, but when police move between the rioters, they become the focus of attack.
BBC reporters on the ground say community workers tried to dissuade youths from violence.
The disorder continues for about four hours and while police face sustained attacks, the rioting does not reach the same level as the night before.
However, there is rioting in north Belfast's neighbouring loyalist Tiger's Bay and nationalist New Lodge areas.
In Tiger's Bay, police are attacked over several hours with petrol bombs, stones and other missiles.
A burning car is rammed against a police Land Rover and bins are set alight.
Officers are also attacked in the New Lodge. There is a lull, but attacks on police lines intensify shortly before midnight.
In all, police say 14 more officers are injured in the city. No-one is seriously hurt but one officer is knocked unconscious and is treated in hospital.
About 40 people, many of them masked teenagers, build a road block and set it on fire.
Petrol bombs are thrown at police and some of their vehicles are damaged. No officers are hurt.
It is the first night without major incident since Tuesday 6 April.