NI riots: Police say 19 officers injured in latest night of violence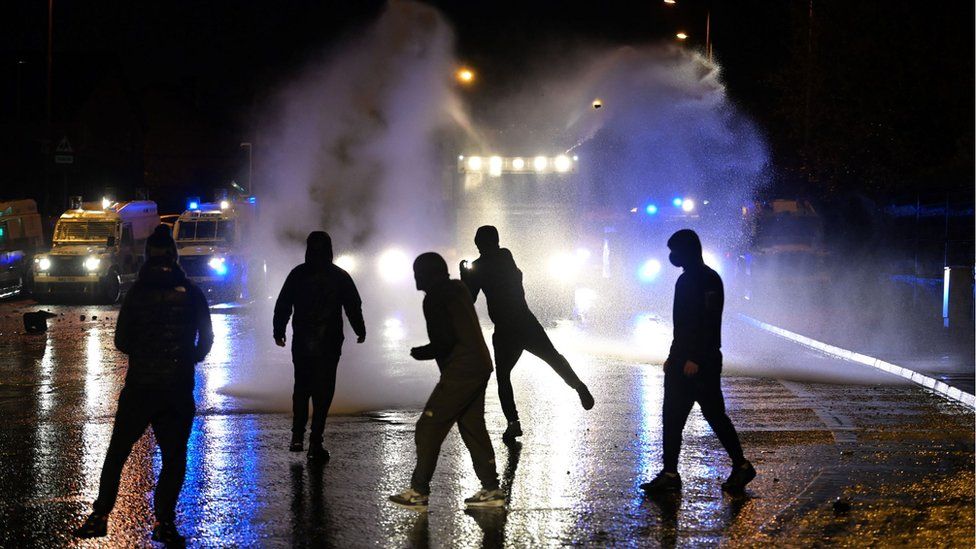 Nineteen officers were injured on Thursday night, bringing the number hurt in a week of violence across Northern Ireland to 74.
Police deployed water cannon for the first time in six years after coming under attack again in Belfast.
Crowds rioted on both sides of gates that separate a loyalist area and a nationalist area in west Belfast.
Assistant Chief Constable Jonathan Roberts said that on Thursday night there was "sustained violence directed towards police officers on both sides of the interface over a period of hours".
He said the majority of injuries to officers were to hearing due to fireworks being detonated close to them, one female officer suffered a broken bone in her foot.
Two men, aged 24 and 32, have been charged with riot, in connection with disorder in Lanark Way in west Belfast on Thursday.
They are due to appear at Belfast Magistrates' Court on Saturday.
The 32-year-old man was also charged with possession of a petrol bomb in suspicious circumstances.
NI Secretary Brandon Lewis has met political leaders at Stormont to discuss the latest night of disorder and violence in Belfast.
The five main party leaders were on the call, along with Simon Byrne, the chief constable of the Police Service of Northern Ireland.
BBC News NI understands all politicians reiterated their support for the police and agreed to hold further discussions about bringing the trouble to an end.
Some of the parties are also holding separate meetings with the Irish Foreign Minister Simon Coveney on Friday.
Kerbs and bollards were ripped up, their remnants turned into weapons.
Police responded by regularly firing their water cannon, but the soaking didn't seem to stop many of the rioters.
On the nationalist Springfield Road side, police Land Rovers moved up towards the rioters, weaving their way through traffic which was basically stuck in the road for a couple of hours.
Police came under attack too in the Shankill Road area from petrol bombs and stone throwers.
We asked a few people from the community to speak, but they were reluctant.
After midnight the streets were largely clear, but many people are feeling a fresh and familiar sense of worry that there could be renewed potential for more disorder, more disruption and more destruction.
The recent disorder began with petrol bombs and sporadic attacks in a number of mainly loyalist areas, but the unrest spread to a Belfast interface.
Crowds attacked police and each other at the junctions of Lanark Way, off the mainly loyalist Shankill Road, and the mainly nationalist Springfield Road.
The peace wall divides predominantly Protestant loyalists - who are in favour of keeping Northern Ireland as part of the United Kingdom - from predominantly Catholic nationalists who want to see a united Ireland.
A gate that divides the two communities was smashed open and, during several hours of disorder, police officers and a press photographer were attacked and a bus was hijacked and burned.
The group which represents loyalist paramilitary groups has said none of them has been involved "directly or indirectly" in any of the recent street disorder in parts of Northern Ireland.
The Loyalist Communities Council, whose membership includes the UDA and UVF, says people have a right to protest against the Brexit Irish Sea border, but it should be "entirely peaceful".
It also urged people not to get drawn into violent confrontations.
In a statement, it said it is seeking an end to all violence and to solve concerns about the Brexit deal.
On Thursday night, SDLP councillor Paul Doherty joined a number of political, community and youth representatives on the Springfield Road after crowds of youths gathered in the area.
"We stood at the main interface area creating a barrier almost between these youths and the gate at Lanark Way," he told Good Morning Ulster.
"They attempted to breach the gate several times, but when it was clear that they weren't going to gain access to this area they proceeded to attack police further up the Springfield Road."
He added: "From being on the ground last night and trying to engage with these young people, I'm also noticing that they're coming from all over Belfast, really, to be involved in these acts of violence."
Sinn Féin councillor Claire Canavan said it was "the actions of the previous night that brought the young people out onto the street on the Springfield Road".
"I would appeal for calm going forward into the weekend."
Billy Hutchison, a Progressive Unionist Party councillor for the Greater Shankill area, said fewer people were involved in the disturbances on Thursday night, compared to Wednesday.
"I think a lot of things that have been said over the last five or six days have been around for a long time," he told BBC News NI.
"We need to start thinking about the language we use, we need to start thinking about the information we give out in our communities and we need to support the communities.
"I'm hoping that we're over it and I'm hoping that people will see sense. It [violence] doesn't further the unionist cause, it doesn't further our neighbourhoods."
Prime Minister Boris Johnson and Irish Taoiseach (prime minister) Micheál Martin have spoken over the phone and called for a calming of tensions.
The US has also appealed for calm, with the White House saying it was concerned by the violence.
The violence in Carrickfergus and Newtownabbey over the Easter weekend was linked to police operations targeting the South East Antrim UDA, a paramilitary group involved in organised crime.
Speaking on Friday following two nights of violence at the west Belfast interface, ACC Roberts said of the hundreds who took part some were "operating independently", while some would be close to or involved in paramilitary organisations.
"It is not our overall assessment that those organisations as a group are directing young people to get involved or orchestrating the disorder," he added.
Mr Lewis, who travelled to Belfast on Thursday, has denied that the UK government has abandoned unionists through the new Brexit arrangements.
Ireland's Foreign Affairs Minister, Simon Coveney, said Dublin and Westminster will support Stormont parties in stabilising the unrest.
In a tweet on Thursday night, Justice Minister Naomi Long said it was "utterly reckless and depressing to see more violence at interface areas tonight".
"My heart goes out to those living in the area who are living with this fear and disturbance."
More attacks on police, this time from nationalist youths.
Utterly reckless and depressing to see more violence at interface areas tonight.

My heart goes out to those living in the area who are living with this fear and disturbance.

This needs to stop now before lives are lost. https://t.co/d1xKUIoGaM

— Naomi Long MLA (@naomi_long) April 8, 2021
Writing on social media, Labour's shadow Northern Ireland Secretary Louise Haigh called on Prime Minister Boris Johnson to "urgently rebuild trust that he has squandered in Northern Ireland".