Prince Philip: Hillsborough gun salute marks duke's death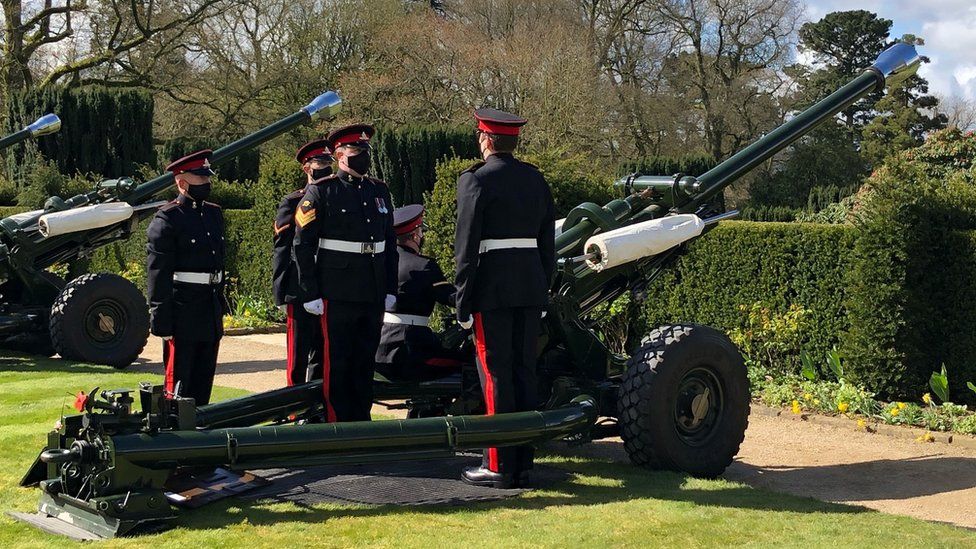 A 41-gun salute has been fired from Hillsborough Castle in Northern Ireland to mark the death of the Duke of Edinburgh.
All Northern Ireland's 11 councils have opened books of condolence, which can be signed online due to the pandemic.
Figures from across Northern Ireland society, including the first and deputy first ministers and the Archbishop of Armagh, have sent condolences to the Queen.
The Northern Ireland Assembly will sit at Stormont on Monday to pay tribute to Prince Philip, before adjourning for the rest of the day.
First Minister Arlene Foster said the duke, who visited Northern Ireland 56 times between 1949 and 2017, had a "profound and positive impact on thousands of our young people who found their purpose, passion and place in the world through participation in the Duke of Edinburgh awards".
Deputy First Minister Michelle O'Neill said: "To all those of a unionist tradition and of British identity - those who value and cherish the Royal family - I wish to acknowledge the sense of loss felt."
The Duke of Edinburgh, the longest-serving royal consort in British history, was at the Queen's side for more than her six decades of reign.
The union flag is being flown at half-mast on many buildings as a mark of respect, including at Hillsborough Castle in County Down, which is the Queen's official residence in Northern Ireland, and at Stormont.
They will remain at half-mast until the day after Prince Philip's funeral.
Floral tributes have been left at the gates of Hillsborough Castle, which Prince Philip visited on his last trip to Northern Ireland in 2017.