Covid-19: More than one million vaccines administered in NI
By Louise Cullen
BBC News NI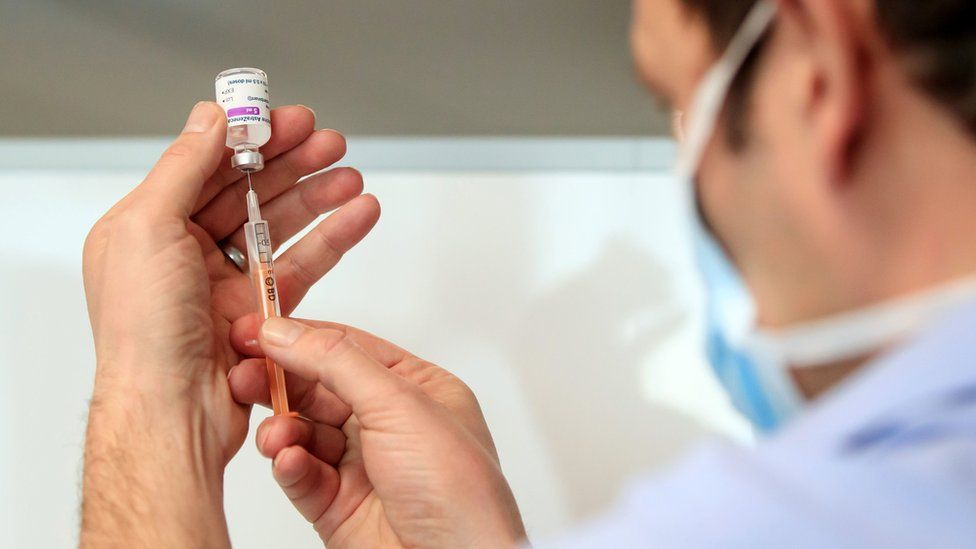 The number of vaccines delivered in Northern Ireland has passed the million mark.
The Department of Health made the announcement on Saturday, with more than 800,000 being first doses.
It comes a little over four months since the first dose given in Northern Ireland was delivered to nurse Joanna Sloan.
She received the Pfizer vaccine at the vaccination centre in Belfast's Royal Victoria Hospital in 8 December 2020.
Welcoming the news, Health Minister Robin Swann said it was "a landmark" and the public should remember "how serious the situation was at the turn of the year".
"We are in a much better place today, thanks to the AstraZeneca and Pfizer vaccines and to public adherence to public health measures," he said.
In Northern Ireland's most recent figures, a further three deaths related to Covid-19 were recorded along with 146 new positive cases.
The total number of deaths in Northern Ireland is now at 2,128.
Patricia Donnelly, head of the Covid-19 Northern Ireland vaccine programme, praised the "commitment and enthusiasm" of staff involved in its delivery.
"At every vaccination location I visit, the mood is the same - optimism and relief," she said.
"We are determined to maintain the momentum. As ever, progress will be dependent on the availability of vaccine supplies."
She said it was expected that there would be limited supplies for the next few weeks, with it picking up again at the end of April, into the start of May.
Vaccines are being administered at regional vaccination centres, GP practices and around 350 community pharmacists.
Currently, anyone aged 40 or over can book their vaccine appointments at the regional centres.
The department said given current supply limits, GPs and community pharmacists will be largely focussed on the 50 plus age group in the coming weeks.
It reiterated advice that the AstraZeneca vaccine is safe for the vast majority of adults over the age of 30.
Those aged between 18-29 will be offered an alternative vaccine when their age group becomes eligible.
It is after a very small number of reports worldwide of unusual blood clots, following a first dose of the AstraZeneca vaccine.