Covid-19 vaccine booking opens to 30-34 age group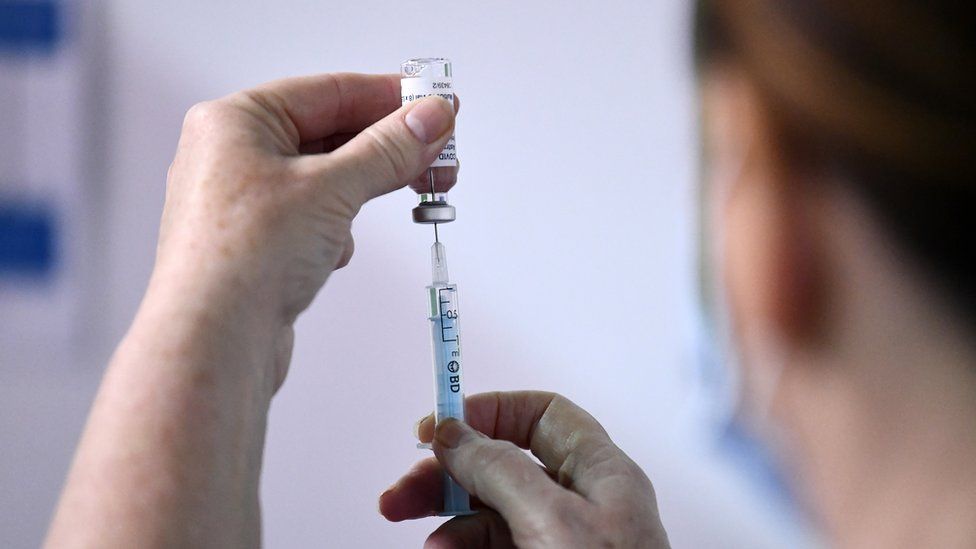 People aged between 30 and 34 are now eligible for a Covid-19 vaccine in latest expansion of Northern Ireland's vaccination programme.
The Department of Health said booking would open at 10:00 BST on Friday.
In a statement, the department said a "limited number of appointments" were mainly available at the vaccine centre at the SSE Arena in Belfast.
"Subject to vaccine availability, participating community pharmacies will also be able to take appointments," the statement added.
Health Minister Robin Swann said: "It is worth remembering the progress that our vaccination programme has made in a relatively short period of time.
"In less than five months we have vaccinated almost one million people and thousands of our citizens have been able to receive the vaccine well ahead of schedule.
"I know that we all long for a sustainable return to more normal times and vaccination offers the best hope for this. Uptake is very encouraging and I'm pleased that we are moving so quickly through the cohorts."
Vaccination uptake ahead of official projections
They show that the vaccination programme is well ahead of where the department projections indicated it would be at this stage.
This latest information shows that the vaccination rollout started slower than officials had hoped but quickly got to - and overtook - expected rates.
The department's data also include a breakdown of vaccinations by age group, showing a very high uptake rate amongst those older people most at risk from the virus.
The department records all of Northern Ireland's population of people aged 80 and over as having received at least one dose of vaccine.
Vaccination of people aged between 60 and 79 is well above 95%.
Almost 70% of people aged between 40-49 have had a vaccine, while the rate is somewhat lower in younger people.
More than half of the doses given out in Northern Ireland have been Astra-Zeneca, with the rest being Pfizer-BioNTech.
To date, 926,797 people in Northern Ireland have had at least one vaccine jab.