Good Friday Agreement negotiators call for NI Protocol suspension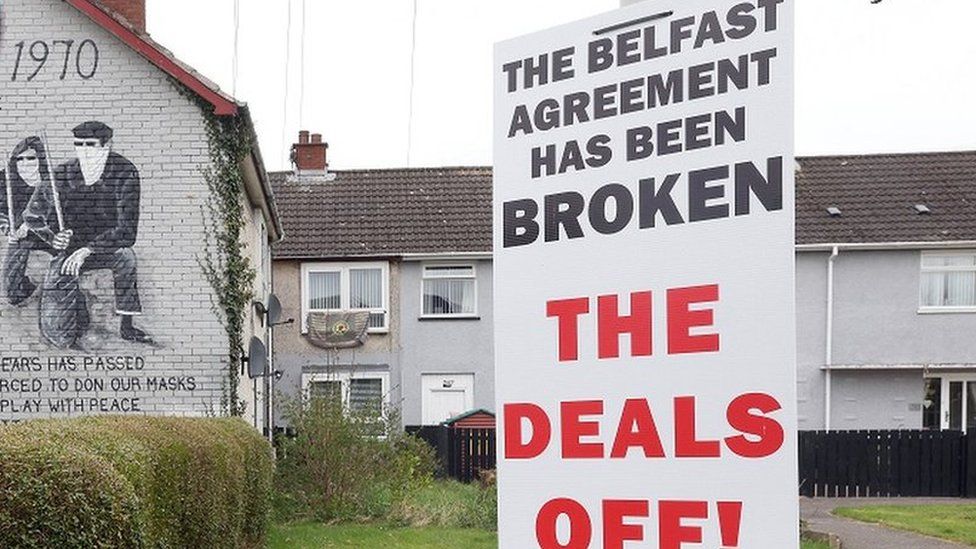 Eight prominent unionists involved in negotiating the Good Friday Agreement have called for the Northern Ireland Protocol to be suspended.
A letter has been sent to Prime Minister Boris Johnson, taoiseach (Irish PM) Micheál Martin, US President Joe Biden and European Commission vice president Maros Sefcovic.
Among the signatories are Lord Trimble, Lord Maginnis and Lord Empey.
The signatories of the letter said the protocol breaches many of the guarantees that were in Good Friday Agreement and that the mechanism works against the wishes of unionists in Northern Ireland and therefore is unacceptable.
Lord Trimble
Lord Kilclooney
Lord Maginnis
Lord Empey
Mr Dermot Nesbitt
Cllr Billy Hutchinson
Mr David Campbell
Mr Gary McMichael
The men wrote that they had signed the Good Friday Agreement - the key document that helped bring the Troubles in Northern Ireland to an end - "in the belief that that it guaranteed that our country's constitutional status would not change without the consent of its people exercised in a free vote".
They said it was their belief any "significant decision affecting the lives and livelihoods of all our people would require the consent of both communities here".
The letter continued: "A fundamental principle of international law is respect for the territorial integrity of a country.
"The protocol completely disrespects the territorial integrity of the United Kingdom.
"Consequently, you are collectively guilty of exceptional anti-democratic behaviour, of breaking a fundamental principle of international law, and are imperilling the very peace process you claim to want to protect and preserve.
"We expect you to now suspend the Northern Ireland Protocol forthwith and engage with the representatives of the people of Northern Ireland to agree new arrangements which are consistent with the guarantees and provisions of the Belfast Agreement and which command the support of both communities in Northern Ireland."