Brexit: 'No breach' of legislation through NI Protocol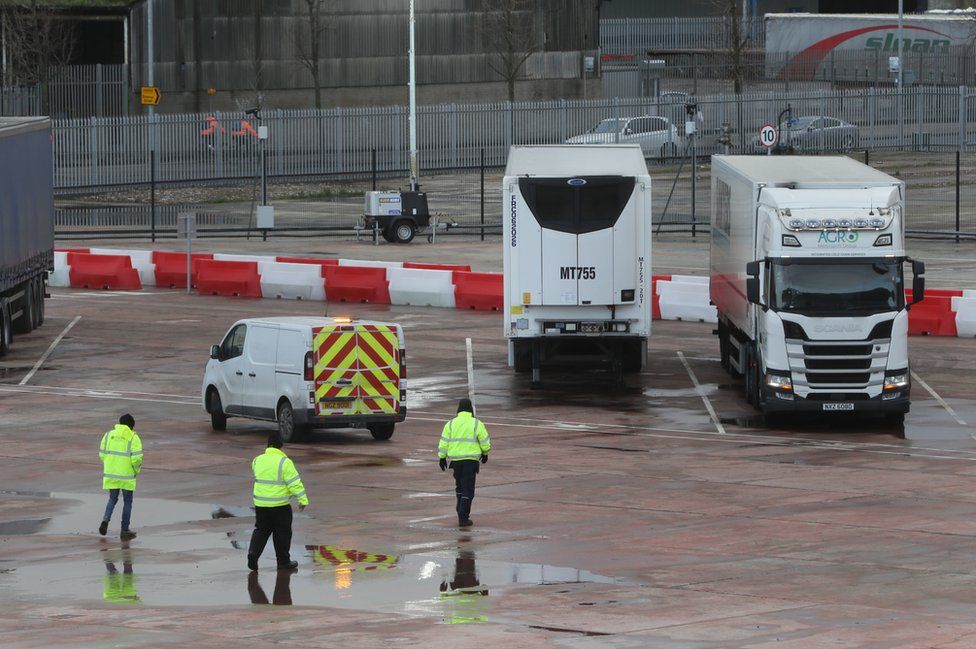 The Northern Ireland Protocol is legal on "an orthodox application of Parliamentary sovereignty" a lawyer for the government has told a court.
Unionist leaders are challenging the legality of the protocol in judicial review proceedings.
Tony McGleenan QC said they are effectively "asking the court to ignore the will of Parliament expressed in primary legislation".
Parliamentary sovereignty means it is the UK's supreme legal authority.
Much of the review has been focused on the way in which Parliament can repeal laws and whether repeal should be explicit or implicit.
The protocol is the part of the Brexit deal which means EU rules governing trade in goods still apply in Northern Ireland.
That has created a trade border between Northern Ireland and Great Britain.
John Larkin QC, for the unionist leaders, argued that the protocol is unlawful because it breaches the Acts of Union, the 1998 Good Friday Agreement and an aspect of EU law.
He said the protocol breaches Article 6 of the Act of Union which formed a customs union between Britain and Ireland.
Mr McGleenan's submission was that the Protocol leaves Northern Ireland within the UK's custom territory so there is no breach.
His secondary argument is that Article 6 of the Act of Union does not have interpretive supremacy over Brexit legislation.
Mr Larkin argued that the NI Act, which relates to the Good Friday Agreement, is breached because it states that "Northern Ireland in its entirety remains part of the UK" unless a majority of people vote otherwise in a referendum.
He gave an expansive interpretation of that section, saying it concerns more than the "final removal of the last vestige of sovereignty".
However, the government case is that the NI Act should be interpreted much more narrowly and therefore no breach has occurred.
The hearing has now finished and a reserved judgement will be delivered some time in the coming weeks.