Brexit: Arlene Foster argues NI Protocol 'narrows common ground'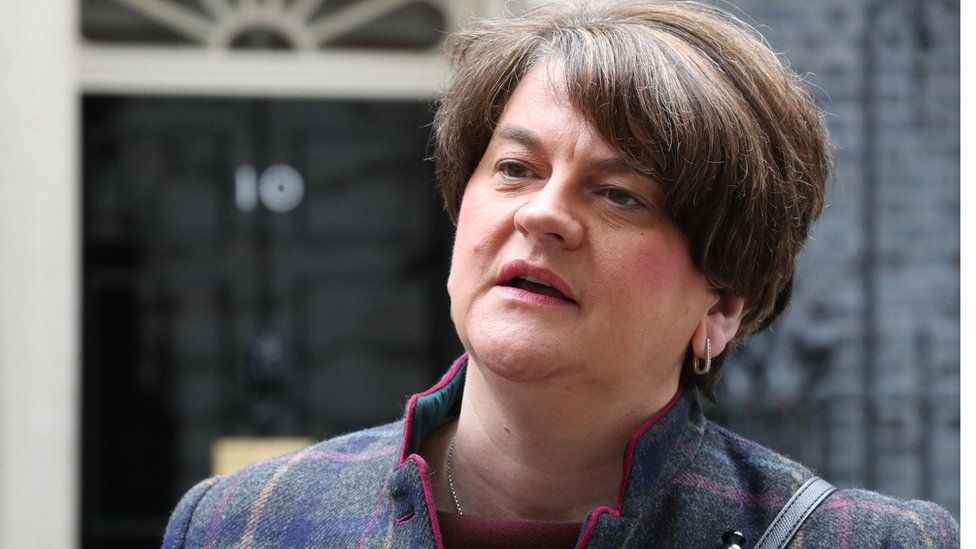 The Northern Ireland Protocol is "narrowing common ground" in NI and damaging the union, Arlene Foster has said.
Ahead of a meeting with the prime minister, the outgoing NI first minister said that was her "real concern" as she leaves office.
Mrs Foster is due to step down as DUP leader on 28 May and as first minister a month later. Sources have indicated that she will sever her ties with the party.
Mr Poots said he has made contact, through a third party, with the outgoing first minister to have a one-to-one meeting.
"I have made the offer of us meeting up and having that conversation. It is going to be difficult, hugely difficult for both of us," he told the Nolan show on BBC Radio Ulster.
On Thursday, Mrs Foster said she has not been speaking to Mr Poots, and has not had any contact with him.
"But I'm sure he'll speak to me in due course," she added.
Speaking outside No 10, Mrs Foster said that although it was her final day visiting the prime minister as first minister, she hoped it would not be her final day in Downing Street.
She also suggested that if Prime Minister Boris Johnson truly believes the union is "the greatest source of strength", then he needs to "deal with the protocol".
"My real concern, as I move to leave office is the fact that actually it's [the NI Protocol] narrowing the common ground in Northern Ireland and that is a real concern," she added.
Mrs Foster agreed that Article 16, which allows for parts of the Brexit deal to be unilaterally overridden, could be invoked if discussions over trade are not successful.
"When the European Commission tried to invoke Article 16 at the end of January, they were quite happy to do it in terms of vaccines. This is doing real damage in terms of our trade and also in terms of the union so the prime minister needs to act.
"Every day that the protocol is in place, it does more damage to Northern Ireland in terms of our trading partners in GB and does damage to the union as well."
She insisted that she believed in Brexit, but "if the UK is to have a place in the world, NI has to be part of it and at present, because of the protocol, we're not".
After the early morning meeting, she will remain in London to remotely chair Thursday's weekly Northern Ireland Executive meeting before returning home.
Mrs Foster said on Thursday that she has not spoken to Mr Poots about her departure date as first minister, but added: "I'm sure he will speak to me in due course."
Mr Poots, who discussed the protocol with Northern Ireland Secretary Brandon Lewis in Stormont on Tuesday, remains the DUP leader designate until his position is ratified by the party's executive.
He has also said he is keen to ensure a smooth transition when Mrs Foster goes.