Brexit: GB chilled meat ban 'will not hit NI Tesco supplies'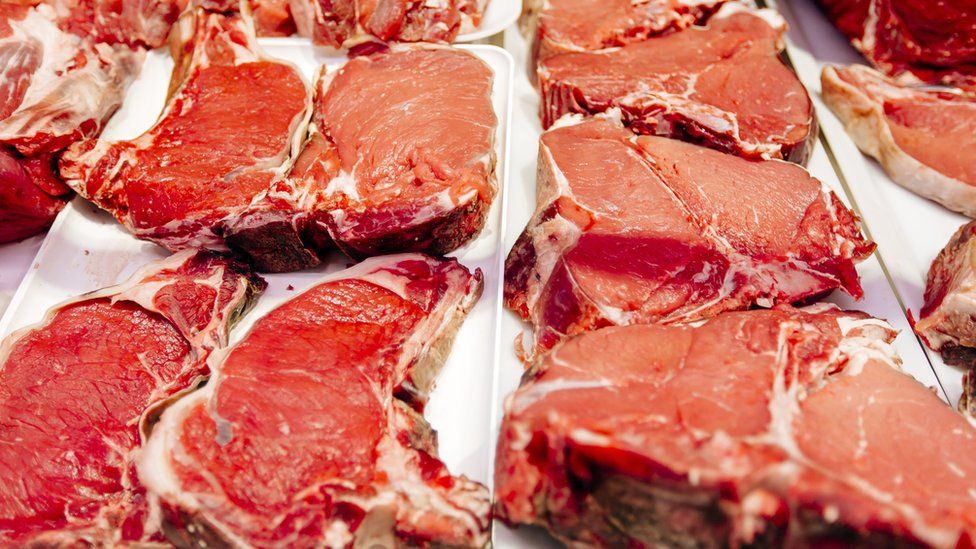 Tesco has said it will still be able to service its business in Northern Ireland if chilled meat products from Great Britain are banned from sale.
Chief executive Ken Murphy said the supermarket had already been able to switch to local sources for "challenging" products.
Fresh sausages and other chilled meats from GB are to be banned under the terms of the NI Protocol in July.
The UK has asked for the ban to be postponed until October.
The EU is considering that request.
"We'll be able to supply the vast majority of what we supply today at competitive prices," Mr Murphy said.
The BBC understands that two other major supermarkets are now sourcing almost all their sausages locally for sale in Northern Ireland.
Mr Murphy said that even if the UK and the EU fail to find a solution, Tesco would still be able to service its business in Northern Ireland.
"We're clearly very keen for the government to find a sustainable solution for the Northern Irish protocol with the EU and we're waiting with interest - we're looking forward to a resolution," Mr Murphy said.
"Where we have had challenges in terms of bringing product into the north we have been able to switch to local supply."
He said product availability at Tesco's 50 stores in Northern Ireland was currently "really good".
The EU does not generally permit the import of chilled meat products like mince and sausages from non-member states.
Since January, producers in Great Britain have not been able to sell these products in the EU.
However, in December 2020, the EU agreed to a six-month grace period to allow supermarkets in Northern Ireland to re-orientate supply chains away from Great Britain.
The UK has asked the EU to extend a grace period for chilled meats until the end of September.
The EU has warned it could respond with legal action which could ultimately lead to the introduction of tariffs on British goods.