School uniforms: Should schools face a price limit?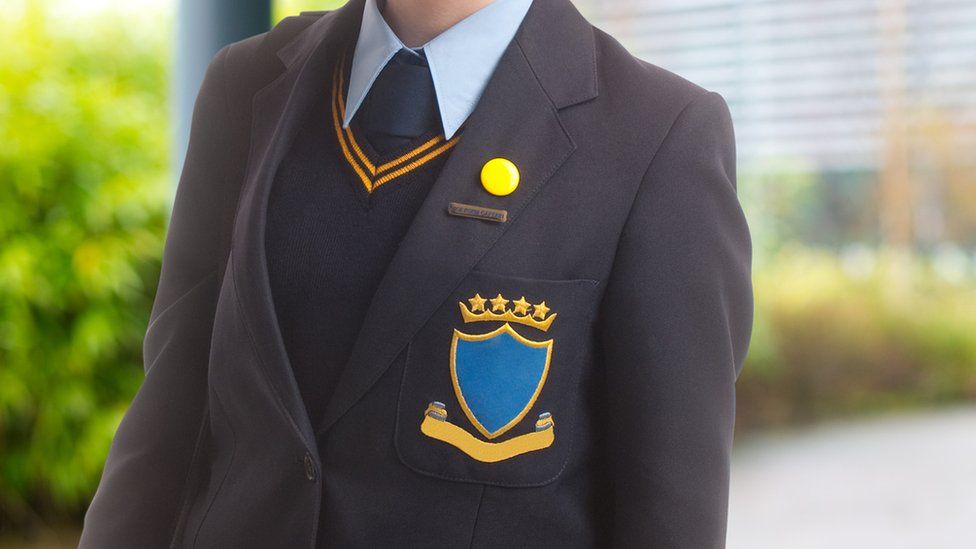 Should there be a maximum price limit for a full school uniform - PE kit included - that schools must adhere to when they set their uniform policies?
On top of the cost of the usual blazer, shirt, tie, trousers or skirt, some schools also insist on bespoke, branded sportswear for PE lessons.
Northern Ireland's commissioner for children and young people recently described school sportswear prices as "scandalous".
The overall back-to-school bill can add up to several hundred pounds for parents with more than one child.
For single mother Deirdre McCausland, it is a bill she cannot afford while raising two children on benefits.
"It puts a lot of pressure on parents," the former teacher told BBC News NI.
"But if the cost of uniforms was cheaper, it would alleviate some of the stress."
Ms McCausland has used her own family's experience to campaign for a change in the law in Northern Ireland to make uniforms more affordable.
Living on a Universal Credit allowance, she finds it difficult to budget for the list of clothing and sports equipment required by her children's schools.
Her 12-year-old daughter started grammar school last year and her seven-year-old son is entering Year Four.
£35.75 per primary school pupil
£73 per secondary school pupil under 15
£78 per secondary school pupil aged 15 and over
"That just about covered my daughter's blazer," Ms McCausland said.
There was not much change left from £73 to buy the required school skirt, jumper, tie, tights and a change of shirt for a growing adolescent.
"Then there is the PE top, the PE leggings, the PE hoodie," she adds.
"There are just so many extra costs... the hockey stick, the schoolbag, the stationery."
The school's must-have item includes a tennis racquet, hockey socks and two pairs of trainers - all described as "compulsory uniform".
Although her daughter's uniform is "really expensive", Ms McCausland praised staff for hosting an annual uniform exchange, where families can pick up second-hand items for a small donation.
"I'm really glad that the school has that in place and that they recognise there are parents who are struggling," she said.
But not every school runs an exchange scheme and the insistence on certain colour schemes, emblems or brands not only rules out cheaper supermarket options, it also makes the search for second-hand uniform more difficult.
When Ms McCausland's son's school changed its PE kit last year, the cost of a sports top more than tripled - swallowing up half of his uniform allowance.
She estimates the full kit cost about £50 - excluding trainers - a price she refused to pay.
Ms McCausland recalls feeling "embarrassed" at her son's sports day this summer, as he only had part of the PE uniform.
"It made me feel like we were poor... I realised that he knew that he didn't have what everybody else had."
She wants to see an end to school policies which stipulate expensive, branded clothing and uniform contracts which are only available from single suppliers.
But is cheaper always better?
The Schoolwear Association, which represents businesses and schools involved in the supply of "school specific" uniform, recently pointed out that the "quality and longevity of garments should be considered alongside their cost".
Many educators also insist uniforms instil a sense of pride and identity, as well as creating a "level playing field" for pupils from different economic backgrounds.
However, the cost of getting on that playing field is increasing.
Pastor Tony Meehan, who runs a school uniform appeal in Belfast, has spent the last three summers helping hundreds of families with back-to-school bills.
"A lot of schools go for branded PE kits, and sometimes the PE kit can be almost as expensive as the uniform," he said.
"The uniform grants don't cover the essentials, never mind the branded PE kit that kids might need for football or rugby or hockey... it puts a lot of pressure on families."
Pastor Meehan works with West Belfast Projects, a charity that supplies food and clothing to residents in the Falls and Shankill areas of the city.
They began distributing second-hand uniforms in 2019, helping 384 families.
Last year, they helped 536 families - a rise the pastor attributes to the hardship caused by Covid-19.
He, too, believes schools should reduce the cost of their uniforms.
But who is responsible for setting the rules?
"The wearing of school uniforms in Northern Ireland is not governed by legislation but falls to schools to determine," Stormont's Department of Education said.
"The day-to-day management of schools, including school uniform policy, is a matter for school principals, subject to any directions that might be given by the board of governors."
It asks schools to "ensure that items are available 'off the peg' from a number of retail outlets so that the school uniform does not become a barrier for children from low income families".
Although schools are expected to take note of this guidance, uniform policy is not subject to statutory regulation in Northern Ireland.
Is it just me appalled at the prices being charged for sportswear for children at schools? Can't go to other providers. Being charged nearly as much for a child's rugby shirt as you'd pay for a branded adult Ulster, Ireland or soccer top. Seems scandalous to me @ShriekingGreek

— Peter Osborne (@OsborneTweets) June 16, 2021
In contrast, a new law was passed in England in April which will "require schools to follow new statutory guidance on uniform costs".
The UK Department of Education is due to publish statutory guidance later this year "instructing" England's schools to keep prices down; consider high street alternatives and encourage the use of second-hand uniforms.
"It will also advise schools to make sure that when they take up contracts with uniform suppliers, they are competitive and transparent," a statement added.
BBC News NI asked Stormont's Department of Education if a similar law might be introduced in in Northern Ireland, but its spokesman replied: "There are no plans at present to introduce legislation in relation to school uniform".
However, Commissioner for Children and Young People Koulla Yiasouma said change is needed and she would welcome regulation.
She has previously raised concerns over "rigid and unaffordable school uniform prices, particularly with regards to very expensive sports kits".
"It further exacerbates inequalities in education and the chasm between those living in poverty and those who are not," Ms Yiasouma said.
The commissioner also confirmed she would support a price limit for a full school uniform, including PE kits.
"I am on record as saying that in view of the inconsistent application of uniform policies and adherence to NI government guidance I would support compulsory guidance, regulation or legislation that would ensure affordable uniforms for all children."
As the power lies with schools, BBC News NI asked the National Association of Head Teachers Northern Ireland if it would support a price limit.
"It's important to remember that a large number of schools already work extremely hard to ensure that their uniform is affordable," replied its director Helena Macormac.
"That being said, we support moves to ensure that high quality uniforms remain as affordable as possible in every school.
"We know that an increasing number of families have come under financial pressure due to the pandemic, so measures that could reduce the cost of uniform are certainly welcome."