Abortion: Reaction to Westminster's intervention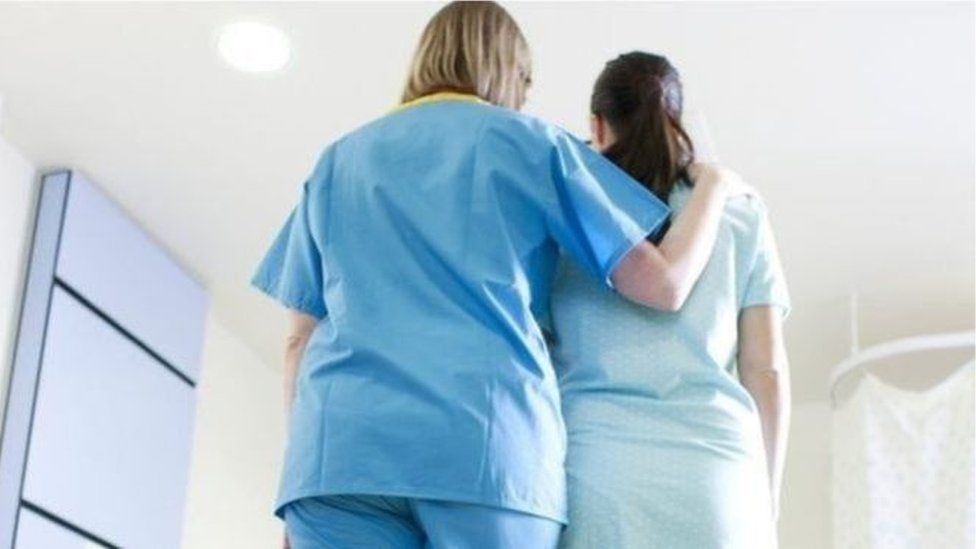 Secretary of State Brandon Lewis took the decision having previously warned the parties he would intervene if a delay continued.
That delay came about due to disagreement among the executive parties on whether the services should be provided or to what extent they should be provided.
"The Government's insistence on interfering on devolved issues undermines the institutions," Ms Lockhart said.
"Indeed, cynically some local parties know that by failing to engage constructively to find that local agreement, that the government will deliver their objectives by March 2022 at the latest.
"What incentive have they now to give any regard to the pro-life views held by hundreds of thousands of people in Northern Ireland?
"What we have in this statement from the secretary of state is a further example of a government acting with no respect to the local electorate and locally elected politicians."
Michelle O'Neill, Sinn Fein vice-president
"Finally women here can have access to the modern and compassionate healthcare services they are legally entitled to," she said in a tweet.
"The blockage of these rights by DUP and unionism has now been overcome."
Doug Beattie, Ulster Unionist leader
"Abortion is legal in Northern Ireland and therefore we need to have the services to make sure that they can be delivered," Mr Beattie said.
"The Ulster Unionist Party has a position of conscience on abortion but myself as an MLA, I think that we need to have safe abortion services for women here in Northern Ireland, and it needs to be delivered as soon as possible."
Stephen Farry, Alliance Party deputy leader
"This is necessary and inevitable direction from the government," he said in a tweet.
"Rather than interference, this is about upholding the law and human rights requirements around reproductive rights.
"(It is) Disappointing that the Department of Health and Executive didn't act.
The Department of Health must now urgently initiate the required steps."
Clare Bailey, Green Party leader
"The commissioning of abortion services must be coupled with safe access to healthcare facilities," Ms Bailey said.
"Harassment on the part of anti-choice activists in the vicinity of clinics has always existed, but it has heighted since the decriminalisation of abortion.
"I look forward to seeing the creation of a fully funded, stigma-free and safe abortion service at home that supports everyone who needs abortion care and the professionals that deliver it."
The Presbyterian Church in Ireland
The Presbyterian Church in Ireland (PCI) said there was nothing 'moral' about the secretary of state for Northern Ireland's direction to commission abortion services in Northern Ireland as soon as possible.
In a statement issued on behalf of the church by the Reverend Trevor Gribben, clerk of the General Assembly and general secretary, and the Reverend Daniel Kane, PCI's convener of the Council for Public Affairs, said the changes "removed the legal protection for unborn children".
"It is deeply regrettable that Mr Lewis did not take time to reflect on how destructive his imposed legislation will be for future generations of unborn children in Northern Ireland.
"It is also astonishing that in today's written statement seeking to further impose his will on the devolved institutions, he describes this as his 'moral obligation.'
"There is nothing moral about this destructive direction, nor indeed the original legislation that he previously inflicted on the people of Northern Ireland."
The PCI statement said the Church recognised the pain involved in the "extremely difficult circumstances faced by women and their families experiencing a crisis pregnancy".
"More must be done to bring forward practical, emotional and spiritual support for women and their families, which is absolutely essential, if we are truly committed as a society to life, well-being and human dignity," the statement said.
Ron McDowell, TUV North Belfast representative
"Today's statement by the Secretary of State on abortion makes it clear that devolution is a sham," he said.
"Brandon Lewis has made it clear that he has no regard for the powers of the Health Minister as he is directing him to secure the commissioning and availability of abortion in Northern Ireland.
"He has made clear that he has no regard for the powers of the Executive Office as he is directing that once proposals come forward the First Minister and deputy First Minister must include them on the agenda for the next Executive meeting.
"It is now clear that devolution is pointless".
"These are astonishing and unprecedented steps being taken by the secretary of state which effectively destroy the whole concept of devolution," a spokesperson said.
"Without a mandate from the people and without securing a single vote in Northern Ireland, Brandon Lewis has effectively appointed himself to the position of health minister in the Northern Ireland Executive and has given himself absolute authority over this devolved issue.
"We are calling on Robin Swann to immediately issue a counter direction to his department and to the Health and Social Care board to undo this act of tyranny from the secretary of state.
"Failing that we will be calling on the first minister, who is also being directed to play his part in full implementation, to resign".
Grainne Teggart, Amnesty International
"Once again action from Westminster has been necessary to ensure abortion rights are realised here," she said.
"Early medical abortion access remains on a cliff edge. It is therefore vital that the Department of Health ensures regional interim services are sustained whilst the commissioning process is underway.
"Choice must be respected and protected - the only way to achieve this is through a service that is fully resourced and accessible to all who need it.
"Abortion is healthcare, the sooner it is embedded in our healthcare system and any remaining stigma around it removed, the better."
'Finally, long overdue abortion services can take their place within healthcare in Northern Ireland," a spokesperson said.
"We remain hopeful that people will no longer have to endure the degradation of forced travel to England or navigating a precarious and limited service.
"AFC urges the Department of Health to ensure the commissioned services proceed unimpeded and with urgency."
Northern Ireland Human Rights Commission
"We welcome that the secretary of state has issued this direction today and view it as an important step in securing the full provision and funding of abortion services for women and girls in Northern Ireland," NI chief commissioner for human rights Les Allamby said.
"Nonetheless, we note that under the direction issued today the first and deputy first ministers are only required to place any proposals on the NI Executive's agenda once received.
"As a result, there may still be implications for enabling abortion services through the Northern Ireland Executive.
"The Human Rights Commission will continue to monitor the implementation of the current law to ensure a service is available to women locally.
"The responsibility remains on the secretary of state, the Northern Ireland Executive and the Department of Health to enable access to abortion services and treatment in Northern Ireland and we look forward to those responsibilities being met."