Victims campaigners protest Trouble legacy plans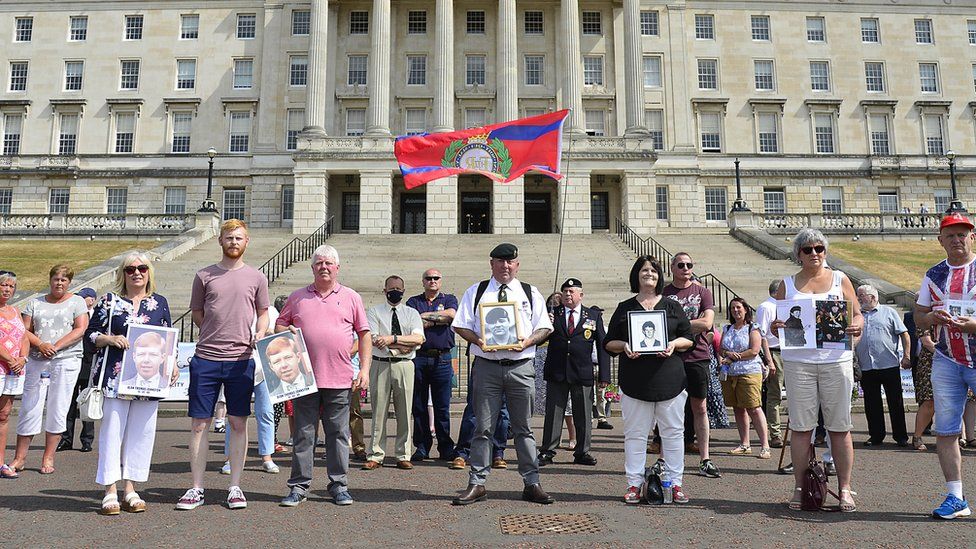 A number of victims campaigners have protested at Stormont over government plans to end Troubles-related prosecutions.
Members of the Innocent Victims United (IVU) group met outside parliament buildings.
They handed a letter of protest to the Northern Ireland Office opposing the government's plans.
It is understood it would apply to former members of the security forces as well as ex-paramilitaries.
The government also wants to explore ways to halt live court proceedings in Troubles-related cases.
Rev Alan Irwin, whose father and uncle were murdered during the Troubles, said: "We have those who identify as unionist, nationalist and neither. Our members are civilians and formers members of security forces and services.
"We have been inundated with representations from members and others who are gravely concerned of the direction of travel proposed.
"They feel the current proposals would mean their abandonment by a state which they and their loved ones have given so much to.
"Our ask is quite simple: Please abandon proposals which will bring about the final corruption of the criminal justice process."
It comes after another protest on Tuesday in which victims' campaigners, under the Time for Truth banner, were joined by some Sinn Féin assembly members.
The group handed a letter to Deputy First Minister Michelle O'Neill opposing the government's plans.
There are currently eight live court cases based on alleged Troubles-related offences.