Reimagining Northern Ireland's cities after lockdown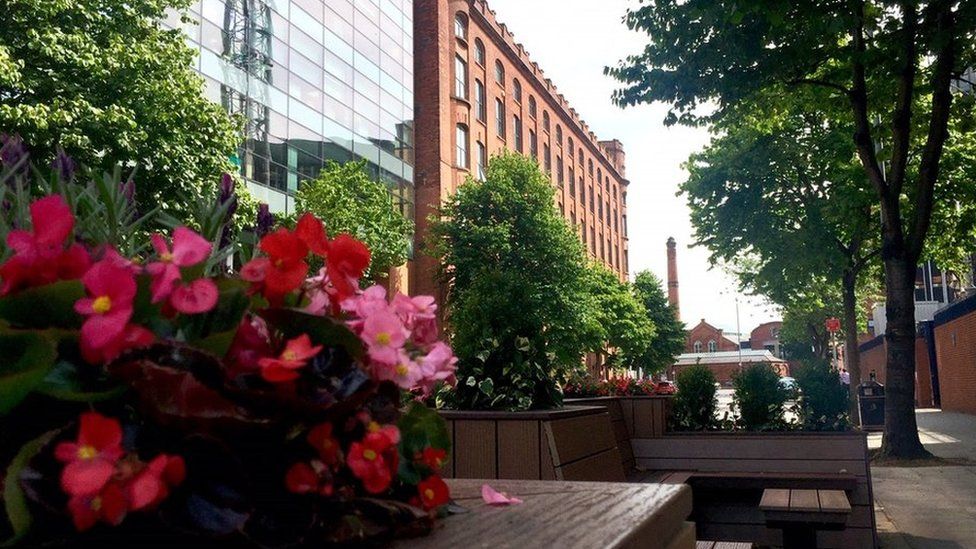 Lockdown turned many city centres across Northern Ireland into ghost towns with people working from home and shopping online.
Now that things have re-opened, what can be done to bring more people back?
One idea is turning spaces for car parking into places for people - these are called parklets.
Unlike pavement café licences, which allow for outdoor seating, these are permanent structures that reflect how some temporary changes made during the coronavirus pandemic are now developing into longer term trends.
There are now two in Belfast city centre - on Ormeau Road and Linenhall Street - and there are plans for many more across Northern Ireland.
Chris McCracken from the Linen Quarter's Belfast improvement district was behind the Linenhall Street project.
"These sorts of products are worldwide and they are very popular from San Francisco to London - we are very confident that in Belfast it will be embraced," he said.
"We're going to be taking over the whole of Brunswick Street and creating this fantastic space with entertainment space and outdoor games.
"We're going to bring French boules to Blackstaff Square.
"If we want to have a vibrant city centre in the future, we have to build it around people," he added.
How do you get a parklet?
A council or business improvement district can apply for help to the Department for Infrastructure.
Infrastructure Minister Nichola Mallon said: "At the height of the pandemic my department and the Department for Communities worked with councils across Northern Ireland around pavement café licensing, we gave greater flexibility so businesses could use their outdoor space.
"What we now want to do is put that on a permanent footing.
"If we're all working together in the same direction, if we're all bringing resources to it and expertise then we really can transform spaces in a holistic way and a sustainable way to ensure the changes we are making work and the changes we are making last."