Omagh ruling: Victims' families and politicians react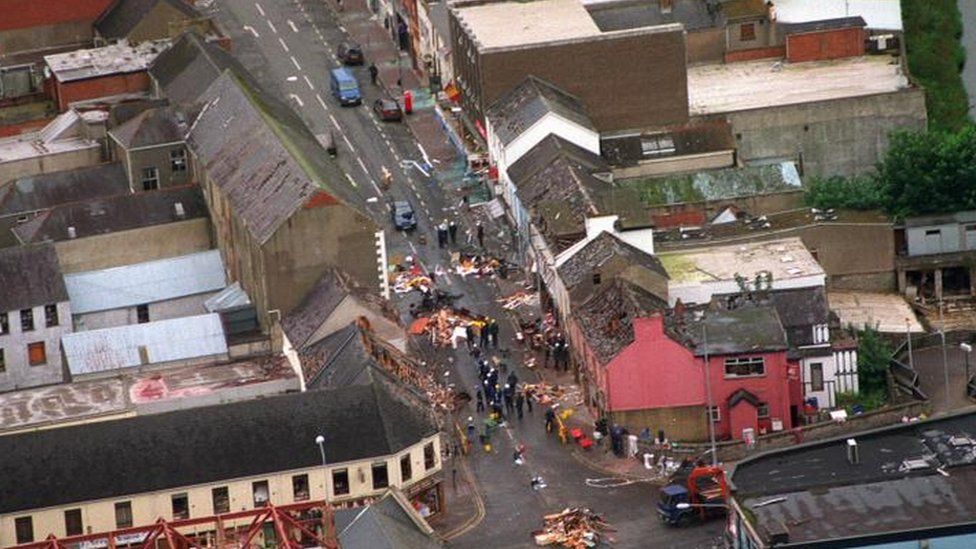 Victims and politicians have been reacting to a High Court judge ruling that there was a real prospect the 1998 Omagh bombing could have been prevented.
The case was brought by Michael Gallagher, whose son Aiden was one of the victims of the bombing.
Ms White's father and brother, Fred and Bryan White had just returned from holiday when they were killed in the explosion.
She described the High Court findings as "devastating day".
"To think they didn't have to die in the way they did, the fact that it could have been prevented and to be told that officially," added Ms White.
"It is brilliant in the sense in that it confirmed our opinion that this could have been prevented.
"It is devastating that my father and brother had to die and so many others had to die."
Mr McCombe's wife Ann was one of those who died in the 1998 blast.
He said: "We are delighted with what the judge said. It was short and sweet. The best news we have heard in over 20 years.
"You ask any victim about their loss. You miss them every day. You wake up and they aren't beside you, you go to bed at night and they aren't there. You are on your own apart from your immediate family.
"We've had this judgement today, but God knows before we get to the real truth."
Secretary of State for Northern Ireland, Brandon Lewis
In a statement, Mr Lewis said "the Omagh bombing was a terrible atrocity that caused untold damage to the families of the 29 people who were tragically killed and the 220 who were injured".
"We recognise that today the court has set out that there are 'plausible allegations that there was a real prospect of preventing the Omagh bombing' and that more should be done to investigate this," he added.
"The UK Government will take time to consider the judge's statement and all its recommendations carefully as we wait for the full judgment to be published."
Irish Prime Minister, Micheál Martin
The taoiseach (Irish prime minister) said "there is an obligation on governments to examine what could have been done, if anything could have been done to prevent the atrocity, with a view to inform future practice".
Mr Martin added that "evil people" carried out the 1998 attack which he described as "absolutely reckless, appalling and gave such heartache".
"We're going to analyse the judgement and do what is necessary in terms of the citizens on the island of Ireland."
Sinn Féin West Tyrone MP, Órfhlaith Begley
Ms Begley said the High Court's finding would "undoubtedly add to the distress of the families and leave them with further questions".
"That is why it is vital that the British government act on the judge's recommendation and immediately move to announce a full, human rights compliant investigation into the exact circumstances of what happened.
"Grieving families should not have to face any further delays or face any more obstacles when it comes to finding out the truth about the deaths of their loved ones," added the West Tyrone Member of Parliament (MP).
Daniel McCrossan SDLP MLA
Daniel McCrossan of the Social Democratic and Labour Party (SDLP) welcomed the judgement and added his backing to calls for a public inquiry into the atrocity.
"Families still have many unanswered questions and have been let down by the justice system time and time again," said the member of the legislative assembly (MLA) for West Tyrone .
"They have the right to know if their loved ones' deaths could have been prevented if greater police and army action was taken against the paramilitaries involved.
"There can be no more excuses, the truth must be heard and justice must be done."
Mike Nesbitt, Ulster Unionist Party
Ulster Unionist MLA and former Ulster Television (UTV) journalist, Mike Nesbitt, tweeted that his "thoughts are with the victims and survivors" following Friday's judgement.
I shall never forget the feeling as I drove into Omagh after the 1998 bombing. Journalists are supposed to be dispassionate but it was not possible that day. Thoughts are with the victims and survivors as Justice Horner makes his ruling

— Mike Nesbitt (@mikenesbittni) July 23, 2021
Mr Nesbitt wrote: "I will never forget the feeling as I drove into Omagh after the 1998 bombing.
"Journalists are supposed to be dispassionate but it was not possible that day."
Patrick Corrigan, Amnesty International
Mr Corrigan said Friday's ruling was significant and should be heeded by both the UK and Irish governments.
"Family members of those who lost their lives in Omagh deserve the fullest account possible of what happened, and there are questions of serious public concerns that remain unanswered," he added.
"A public inquiry is now the only way to answer those questions."