Brexit: More than 2,000 medicines face withdrawal over Protocol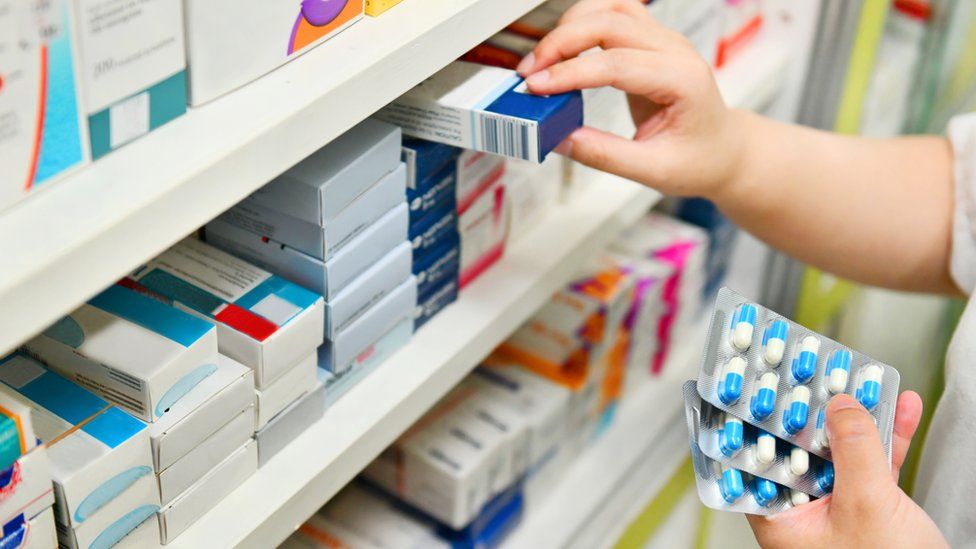 More than 2,000 medicines are set to be withdrawn from Northern Ireland due to the NI Protocol, a pharmaceutical trade association has warned.
The Protocol means Northern Ireland is still in the EU's pharmaceutical regulatory system unlike Great Britain.
The EU has proposed what it says is a 'creative solution' to ensure the continued long term supply of medicine.
The Department of Health (DoH) has said there is no immediate risk to the public.
Northern Ireland gets most of its medicines from GB distributors.
However, that is due to become more difficult in January.
The British Generic Manufacturers Association (BGMA) said it will be commercially unviable to sell some products in Northern Ireland at that point.
The movement of medicines from GB-NI is currently covered by a 'grace period' which is due to expire in January.
The UK government has expressed scepticism about the EU's post-grace period plan and says medicines should be entirely removed from the Protocol.
Stormont's Department of Health (DoH) says it is doing "everything possible" to ensure medicine supplies are maintained.
Mark Samuels, Chief Executive of the BGMA, said: "After months of asking for a stable agreement between the Government and EU, our companies have been forced to put on notice over 2,000 medicines for withdrawal from Northern Ireland."
"These steps have been taken with the utmost reluctance but our members are being forced into an impossible position," he said.
"We need all parties to set aside the politics of Brexit and put patients first."
Earlier this month, Northern Ireland's chief pharmaceutical officer told a Stormont committee that a "relatively small" number of products had been formally notified for withdrawal.
If a drugs company is intending to withdraw a product it must give six months warning.
Cathy Harrison said officials would assess the affect of the withdrawal of each product and that some products may have alternatives which are already on the market.
Mr Samuels said generic medicines face a particular issue as they have low profit margins.
"Our industry delivers high volumes of medicines at low prices and with small commercial margins," he explained.
"It thrives on simplicity and efficiency but is now caught in a complicated situation with Northern Ireland - which under the Protocol is treated as part of the EU - requiring different medicines regulation rules to the rest of Great Britain.
"The result of this duplication would be to require extra warehousing, laboratory testing and technical specialists.
"This duplication could make supplying Northern Ireland in many cases unviable in the longer term."
A DoH spokesman told BBC News NI it is working with the UK's Department of Health and Social Care to "assess the impact of each discontinuation on a case by case basis".
That will "inform any mitigating actions needed to maintain supplies," he said.
The spokesman added: "These include (but not limited to) communicating with the primary and secondary healthcare settings detailing any potential shortages or issues with the supply chain and the best alternative products".
There is no immediate risk to the public, he added.