Covid-19: Are NI's young people resisting the vaccine?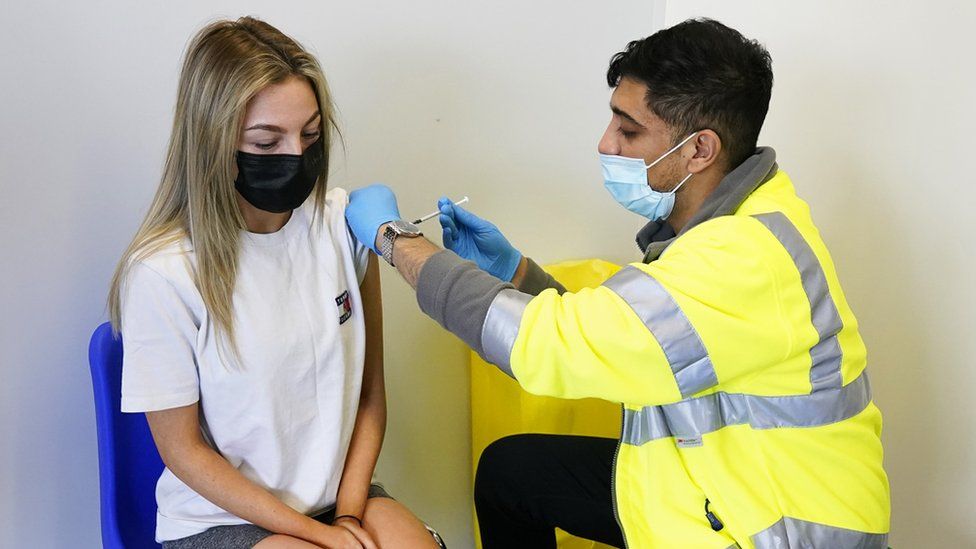 "Get the jab, grab a poke". It was a catchy slogan with a serious message about getting a Covid-19 vaccination, with a free ice-cream afterwards.
But despite such incentives and pleas for younger people to get the jab, figures show the number of young people being vaccinated remains relatively low.
Government advice states that vaccinated people are less likely to spread the infection by becoming ill.
But one young man, who spoke to BBC News NI, said he did not see the need for a jab.
"I couldn't be any fitter or healthier so why would I go and inject something into me to stop me getting something that would have zero effect on me," he told Good Morning Ulster last week.
"It's not that I'm dead against it - if I have to get one to fly I probably will - but if you get the double vaccine you still get the virus and you still pass it on anyway, so what's the point in it?"
Ellie-Jo Taylor, a secondary school student from Londonderry, disagrees with this viewpoint.
She believes the majority of young people are in favour of being vaccinated.
"We're in a situation where we can't afford not to be," she said.
"If we don't, we could potentially enter the third year of our education being hugely impacted."
Ellie-Jo said she knows many students are "incredibly unnerved" by the prospect of further isolation, particularly with exams on the horizon.
She also said some young people feel like vaccination is the only way to reclaim their youth.
"I entered the pandemic when I was 15 - I'm 17 now. I don't want to be 17 and come out with no experience of a teenage life," she said.
"Young people are entitled to much better things than self-isolation and social isolation. Let's take the steps to get them."
"I'm entirely jealous, Ellie-Jo said. "I wish it was me and I think all my friends feel the same."
Most people she knows do not take anti-vaccine messaging too seriously.
"The only place I've seen anti-Covid, anti-vax comments have been on the sides of buildings or on forums like Facebook, which predominantly aren't used by young people," she said.
Now, many people are being asked to prove their Covid status to attend future events.
The organisers of the Custom House Square and Belsonic music events in Belfast have announced similar requirements.
Promoter Joe Dougan said the plans had prompted some adverse feedback on social media.
"It is understandable because this is a new message to be put out there," he said.
"This might not have been the best commercial decision for us, but safety is important and if you don't have a vaccination there are other options."
However, there are real concerns that vaccine hesitancy among young people could have a serious long-term implications.
While younger people are less likely to die from Covid-19, a study found those who end up in hospital are almost as likely as other age groups to suffer from complications with kidneys, lungs and other organs.
Dr Laurence Dorman, chair of the Royal College of GPs in Northern Ireland, said some concerns expressed by young people were understandable.
"Some have a phobia of needles, some people are worried about this being a new vaccine," he said.
He said there had been millions of Covid-19 vaccine doses given, with "very few significant side effects".
"More importantly, it is working and we recommend it," he added.
He acknowledged young people were also worried about conspiracy theories.
"Various patients will tell us stories of things they have heard on social media and online but our advice is always the same - we accept the evidence that the vaccine is safe and works."
Dr Dorman said GPs have first-hand experience with young people who are suffering from Covid-19, adding that the under 30s should "grab all opportunities to get the vaccine" to help defeat the virus.
Emma, 27, recently decided to get the jab when she became worried she would be denied access to gigs, nightclubs or be forbidden from travelling.
She was apprehensive about the vaccine and delayed making an appointment due to a fear of needles.
"When it first came out people were freaking out because it came out so quickly and young women were worried about fertility and stuff like that," she said.
"That was the main fear for young girls, especially."
Medical experts have said claims on social media that the Covid vaccine could affect female fertility are unfounded.
The Secondary Student's Union of Northern Ireland (SSUNI), which represent up to 35,000 pupils, has called for vaccines to be rolled out for students on school premises.
"It's not that young people are against vaccines, more the hassle of getting it," SSUNI President Morgan Shuttleworth said.
"School halls have been used for vaccinations for years now.
"That would be a lot less hassle for an 18-year-old who, instead of having to get a bus from Carrickfergus to the Odyssey, could just walk into their school hall at lunch."
The SSUNI has also written to the Joint Committee on Vaccine and Immunisation (JCVI) calling for it to consider vaccinating all school year groups due to take exams over the coming year.
At present, health officials are not recommending routine universal vaccination of people under 18.
However, some children over 12 with specific underlying health conditions and who are at risk of serious illness from the virus are eligible for a jab.
'A feeling of invincibility'
At Stormont's health committee on Thursday, the chief scientific officer Prof Ian Young appealed to people to get the jab.
"There has been a concern that the willingness of the Northern Ireland population to come forward for vaccination, for whatever reason, seems less than that in other parts of the UK," he said.
"And that will lead to a larger susceptible population in Northern Ireland and therefore the potential for a more severe wave than on this occasion."
Chief Medical Officer Sir Michael McBride admitted that young people can have a "feeling of invincibility, almost that this is something which isn't necessarily going to affect you".
"Covid is not the flu, Covid is a very nasty virus which kills, and has killed, a lot of people," he added.
"Extreme tiredness, shortness of breath, heart palpitations, chest pain or tightness, problems with your memory and your concentration, changes to your taste and smell, joint pain, depression - as a young person is that what you really want?"