Covid-19: NI vaccination passport applications extended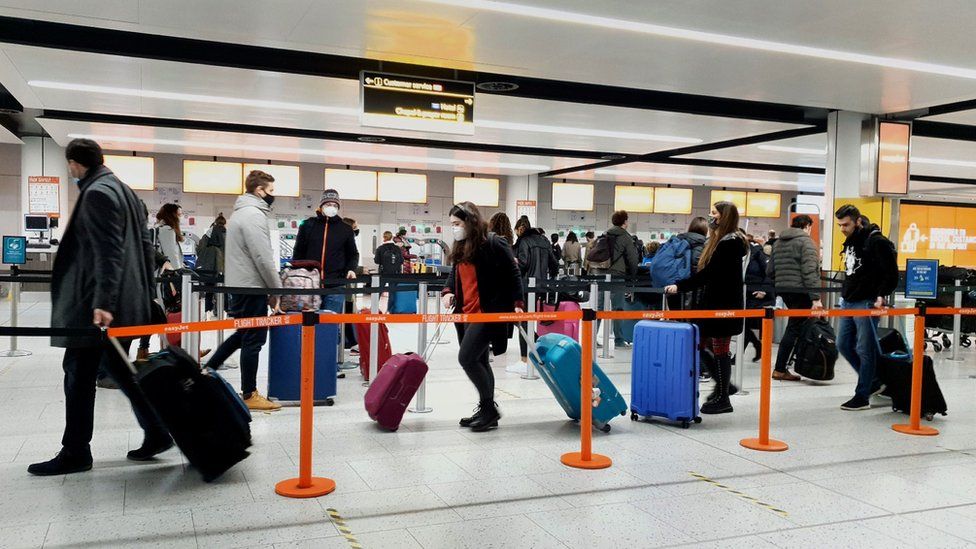 People in Northern Ireland who are travelling abroad up to and including 10 August can now apply for a Covid-19 vaccination certificate.
The certificate allows travellers to prove they are fully vaccinated against Covid-19 for countries which require that for entry.
Officials said anyone leaving after 10 August should not use the system yet.
The Department of Health said increased traffic on the site may mean others cannot get their certificates on time.
"We would appeal to those travelling later than 10 August that they do not apply at this time and help us help their fellow citizens," said the department.
'Large numbers of applications'
The system, which can be accessed through the NI Direct website, had been offline since last Tuesday amid concerns about some users being able to see other people's information.
The data breach that caused the suspension has been reported to the Information Commissioner's Office, which said it is assessing what happened.
Dr Eddie O'Neill, the official in charge of the system, said most applications were being processed automatically but a small number had to be manually assessed.
"Some of them we can't process because they don't meet the criteria, such as being less than 14 days since your second vaccination," he said.
"We don't make those rules - that's under EU regulations, we don't control that.
"The good news is that of 2,900 applications, 2,600 have got their certificates and we're well on course to completing [applications for] 2 August.
"All that we can possibly progress, we will process."
Dr O'Neill said he believed some people had been applying for certification without having an urgent need for it.
"These are pretty large volumes of applicants and I doubt that all of those people who have applied are travelling today or tomorrow," he said.
"We think that some people have not respected the request to focus on people with a more pressing need."
It added that officials were "aware that a limited number of users... may be presented with data relating to other users".
When asked about the security problems on Friday, Dr Eddie O'Neill, from the Department of Health, said: "The problem wasn't actually in anything that we built."
He said that the system is using the NI Direct website's identity facility, through which people can set up a personal user account to access services such as driving licence renewals.
"It was never built for the scale of applications that we've been getting - thousands and thousands - and as a result of that just one of the components in the back end just failed."
How does NI compare to the rest of the UK?
Adults registered with GPs in England can apply for a NHS Covid Pass, which allows users to show proof of their vaccination, test or immunity status.
They are available to download through the NHS app (in England only) or applicants can request a paper document to be posted to their home address.
However, the site suffered a security glitch on 22 May which enabled people to alter details on the document.
A fix was implemented on 25 May, which meant people in Scotland could only request the document be sent to them by post.
In Wales, public health advice still states that residents should "avoid international travel" but that is guidance rather than a ban.
At that time, the Welsh government advised people to register to download the digital pass at least two weeks before they were due to travel abroad.
Unlike England however, residents in Wales cannot use the NHS app to access the NHS Covid Pass.
Instead they need to register for an NHS login which requires submitting photo ID such as a passport or driving licence.