Belfast Mater Hospital nurse has car hijacked after night shift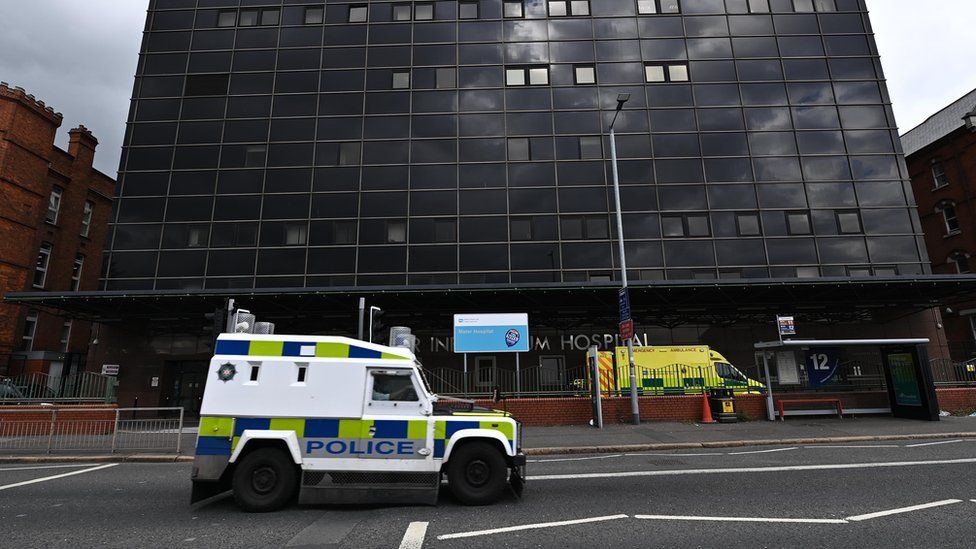 Police are appealing for witnesses after two cars were hijacked in separate incidents in north Belfast.
On Saturday morning a man ordered a woman who works as a nurse out of her car on Crumlin Road near the Mater Hospital.
On Sunday afternoon a man was dragged from his car on the nearby Hopewell Avenue and the vehicle was set on fire on Denmark Street a short time later.
Two men have been arrested in relation to the second hijacking.
The hijacking of the woman's car at about 07:55 BST on Saturday happened shortly after she finished working a night shift at the Mater Hospital.
Police said she was in her red Mini Cooper when she was approached by a man wearing a grey hooded top and grey trousers.
The man opened one of the car doors, ordered the woman out and then took the vehicle, driving in the direction of Annesley Street.
"The woman, while physically uninjured, has understandably been left shaken," Det Sgt Wilson said.
SDLP councillor Paul McCusker said some nursing staff at the Mater Hospital were "very distressed and upset" after the incident.
''Our nursing staff have been keeping us all safe and working very hard throughout the pandemic," he said.
"They certainly do not deserve to be treated like this and should feel safe going to and coming home from their workplace."
The Belfast Health Trust described the incident as "totally unacceptable".
"We would urge the local community to join us in condemning this behaviour and report any information they may have to the police," said the trust.
The second hijacking, which happened at about 14:50 on Sunday, was described by police as a "terrifying ordeal for the victim".
Two men, one aged in his 30s, the other in his 40s, have been arrested.