Covid-19: Mental health referrals in NI down 29% during pandemic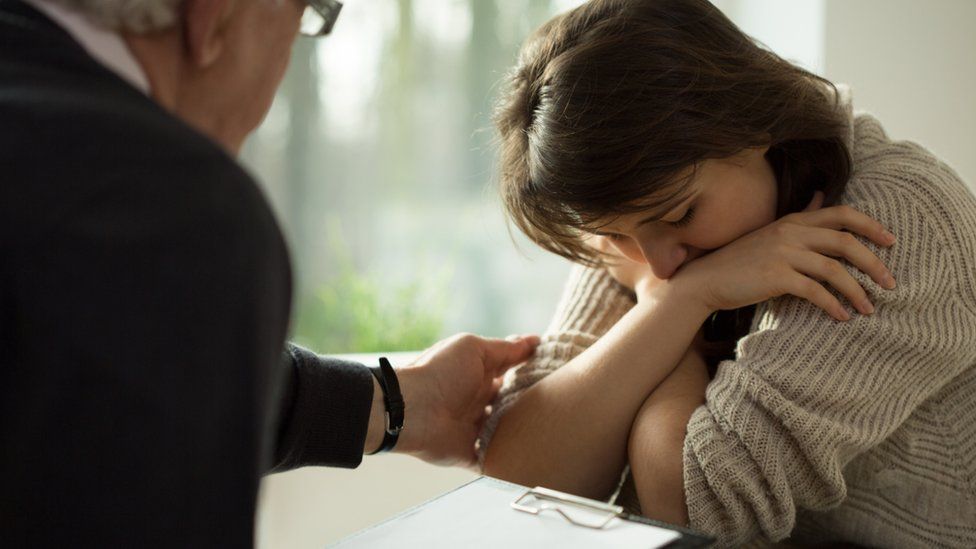 Mental health referrals from GPs in Northern Ireland fell by 29% in the 12 months from February 2020.
Across Northern Ireland there were 1,455 fewer referrals in January 2021 than before the Covid-19 pandemic.
Non-inpatient referrals decreased in each of the five health trusts, but the Southern saw a drop of more than 50%.
The Department of Health said the fall in GP referrals was an indication of people not seeking help, rather than not needing help.
Data compiled by the BBC's Shared Data Unit show referrals fell sharply during the first Covid-19 lockdown, from 5,086 in February 2020 to 1,969 in April 2020.
Numbers fluctuated throughout the pandemic, but in January 2021 there were 3,631 non in-patient mental health referrals.
A Department of Health spokesperson said the pandemic and associated restrictions to normal life has had a negative effect on the mental health of the population.
"Whilst referrals from GPs to secondary care went down between February 2020 and January 2021, this is an indication of people not seeking help, rather than not needing help," they added.
"Mental health services are under significant pressures. People are waiting longer before seeking help meaning that when they are seen by mental health services they are often presenting with more acute presentations requiring more specialised care.
"It is expected that this will continue going forward, combined with an increase in referrals. Current modelling is indicating up to 32% increase in referrals to secondary care over the next three years compared to pre-Covid-19 figures."
In June, the health minister warned an extra £1.2bn was needed to fully implement the recommendations in the 10-year Mental Health Strategy.
"To meet the increasing and new need, it is accepted that reform of mental health services are needed," the spokesperson added.
"The new strategy provides the strategic direction for the future of mental health services including reform to meet the needs created by the pandemic.
"However, successful delivery of the strategy will require significant additional investment and support from the whole Executive."